Teen Missions International founder Robert Bland dies at 92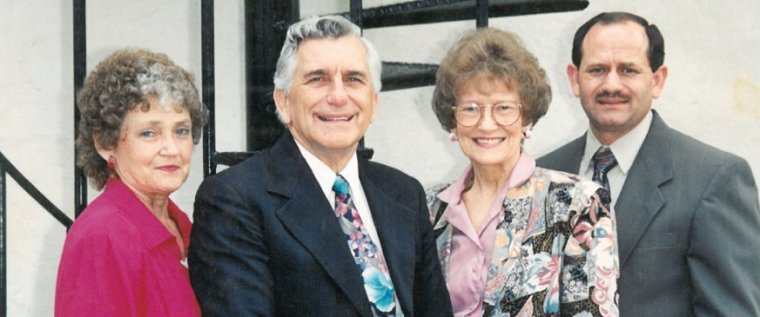 Robert Bland, who was affectionately known as "Bob" and led Teen Missions International for 50 years after he founded it in 1970, died peacefully at the age of 92 on Good Friday. The funeral service will be held Saturday at a church in Ohio.
"Bob was a great man of God. He was my Youth Pastor at Mt Tabor 75 years ago and I just reconnected with him within the past year," wrote one Mike Davidson on the Facebook page of Mount Tabor Community Christian Church in Chillicothe, Ohio, where the funeral service will be held Saturday morning.
Bland led the youth ministry for 50 years "with great vision and clarity along with his loving wife, Bernice Mae Bland, who preceded him in death," reads his obituary on the website of the Boyer Funeral Home.
Before founding Teen Missions International, Bland served as a Youth For Christ director for many years in Chillicothe, and as a recruitment director for the Christian Service Corps. The years he spent there gave him the idea of Teen Missions, the ministry says on its website.
"There were many young people who wanted to serve the Lord in missions, but lacked training, experience and the required skills," it shares.
"A young girl once said that everyone had explained to her, 'Come back when you have finished college and then you can get involved in the Lord's work.' She stated, 'I want to do something for the Lord now, not five years from now,'" the site adds.
Bland also learned that in many mission conferences, "there were no teenagers present at all," so they "evidently felt that missions were for older people."
Bland felt there was an obvious need to get teenagers involved "since they are the next generation of missionaries and leaders."
The ministry says it exists "to launch youth into lifetime missions involvement by training, discipling and mobilizing them to impact eternity around the world NOW."
It also says that a "large number of our alumni are in full-time Christian ministry serving the Lord worldwide as pastors, teachers, support technicians, and missionaries."
As Bland's ministry vision grew, he "developed a heart to reach widows and orphans in Sub-Saharan Africa, and he created another branch of ministry: Aids Orphans and Street Children," according to his obituary.
"This ministry built medical rescue units in the African bush, brought tens of thousands of shoes to orphans, and also built matron units for vulnerable young women, so they could have a safe place to stay while traveling. Another vision of Bob's was the Motorcycle Sunday Schools, fashioned after the famous circuit riders," the obituary adds.