Tenn. pastor dies from COVID-19 day after wife of over 66 years passes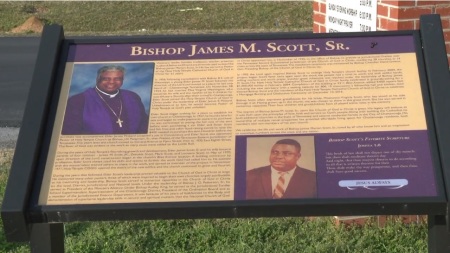 The family of a Tennessee pastor who died of COVID-19 complications within 24 hours of his wife dying says their love story will live on through the lives the couple touched through their ministry.
"[After mom], my dad passed away the next day. We just knew that only God could orchestrate something like that, where we didn't have to tell him about her and didn't have to tell her about him," Lotneice S. Hinton recalled while speaking to Fox 17 last week.
She referred to her late father, 87-year-old James Scott, who pastored New Holy Temple Cathedral Church of God in Christ in Chattanooga for 61 years, and her mother, 83-year-old Virginia Scott. They were married for over 66 years.
Virginia Scott passed away on Jan. 17 after recovering from the coronavirus, while James died from COVID-19 complications on Jan. 18.
Granddaughter Jada Smith recalled that they took care of each other "even when they were sick."
Last month, Church of God in Christ Presiding Bishop Charles E. Blake called the couple "great pioneers in ministry for our great church."
"Serving as the president of the Tennessee Eastern Second Jurisdiction was an assignment that brought Bishop Scott great joy, faithfully serving with integrity over 25 years," Blake stated. "As a passionate soul winner, Bishop Scott led young and old to Christ with great joy."
When they got married in 1954, Virginia Scott was 17 and her husband was 21. 
The family says their love story has not ended since it will live on through family members and the people they both touched.
Smith added that her grandparents' mission was to help families indiscriminately all over Chattanooga.
James was born in Pickens County, Mississippi, in 1933. He was the sixth of 10 children and was saved at a very early age, reads his obituary published in The Chattanoogan.
He lost his father when he was 14. Shortly after, he was called into the ministry.
"A born leader, his life was exemplary for others even in his youth, it was stated. As a young adult, he remained at home with his mother and younger siblings in an effort to assist her with the family farm," the obituary explained. "This decision did not allow him to go to college, but he was able to train the younger siblings to safely operate the necessary farm equipment. He would work his mother's land and then work his land."
According to the obituary, Scott was a "gifted leader" who knew how to reach and serve everyone no matter how old they were. 
"He was a great teacher for young men, often telling them how to be effective husbands and fathers," the article states. "He used his gifts to shepherd God's people and his talent and vision to edify the church. He has been credited with the construction and renovation of countless churches throughout the eastern part of Tennessee where he has left his footprints."
As for Virginia Scott, she was born as the second of 10 children. She was also saved early in her life. 
"Even from her youth, she was a witness for her family, friends and classmates," The Chattanoogan reports. "She often told of being teased for being saved, but later those that teased her would watch her and later accept Christ. Being the eldest daughter, she was often needed to help take care of her younger siblings.  She often talked about helping her mom and the nurse midwife with the delivery of her younger siblings."
In 1956, the couple moved to Chattanooga and joined the Holy Temple Church of God in Christ. James Scott was named to the position of pastor in 1957.
Hinton said that her parents loved the church and their church family. 
"With them being there so long, it was part of their family," Hinton explained.  
The Scotts have four children, seven grandchildren and four great-grandchildren.