Terry Crews Says Letter to Talent Agency That Employs the Man Who Assaulted Him Was Dismissed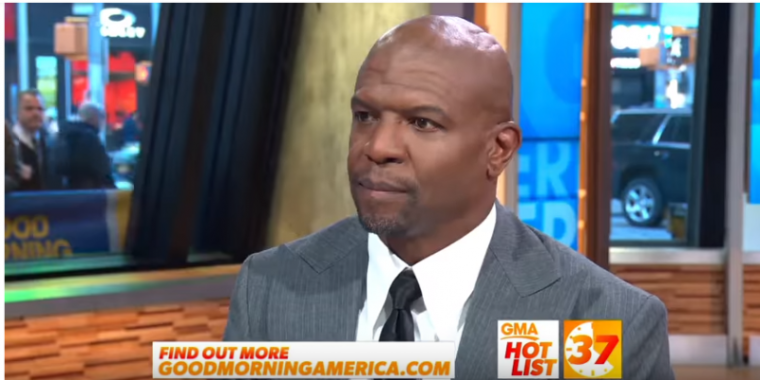 Terry Crews says the Hollywood agent who allegedly groped him last year has been given a pass to return to work after the comedic actor personally wrote to the agency he works for.
Crews, the 49-year-old star of the "Brooklyn Nine-Nine" sitcom, revealed that William Morris Endeavor executive Adam Venit groped him, causing the actor to feel violated. While Crews filed a police report against Venit last month, the agent was only given a 30-day suspension.
Now, Crews is publicly sharing how Ari Emanuel, the co-CEO of the William Morris Endeavor agency that employs Venit, dismissed a letter sent to him by the actor. In 2006, Emanuel wrote a blog for The Huffington Post where he called for the entertainment industry to hold actor Mel Gibson accountable for making anti-semitic remarks.
Crews decided to edit that piece and substitute the name "Venit" for "Gibson" to show Emanuel how the principles in his letter apply to his employee's behavior.
"Copy of the actual @HuffPost letter I gave @AriEmanuel in which he DEMANDED Mel Gibson be blacklisted for anti-Semitic remarks. I exchanged Adam Venit for Mel, and sexual assault for anti-Semitic," Crews revealed, pasting the letter to Twitter Monday. "He said 'it's different' and handed the letter back to me."
After The Hollywood Reporter revealed that Venit was back to work following a 30-day suspension, Crews tweeted, "SOMEONE GOT A PASS."
The agency demoted Venit from being the head of WME's Motion Picture Group, to serving as an agent at the company without his former title. Earlier this month, Deadline reported that Crews parted ways with the agency.
The comedic actor previously detailed the alleged assault that he suffered at the hands of Venit when speaking on "Good Morning America" earlier this month.
"Back in February 2016, I was assaulted by Adam Venit, who is head of the motion picture department at William Morris Endeavor, one of the biggest agencies in the world, period," the actor said. "He's connected to probably everyone I know in the business ... I did not know this man. I have never had a conversation with him, ever."
He explained that at the Hollywood function, when Venit approached Crews, Crews stuck out his hand "and he literally takes his hand and puts it and squeezes my genitals. I jump back like, 'Hey, hey.'" 
Crews first revealed his assault allegations on Twitter last month where he explained how hard it can be to come forward.
"... I understand why many women who this happens to let it go. Who's going 2 believe you? (few)," he wrote. "What r the repercussions? (many) Do u want 2 work again? (Yes)."
He went on to add, "R you prepared 2b ostracized? (No)...But it's a shame and the height of disappointment when someone tries to takes advantage of that."