Texas Doctor Behind 'Jesus Daily' Facebook Page Says Christ 'Was Master of the Viral Message'; Lauds Network for Creating Longest 'Roman Road'
Editor's Note: This feature on Jesus Daily is related to a Q&A with the founder of the Facebook page, Dr. Aaron Tabor. Read it here: Christian Doctor Behind Facebook's Most Popular Religious Page Divides His Life Between 'Jesus and Drugs'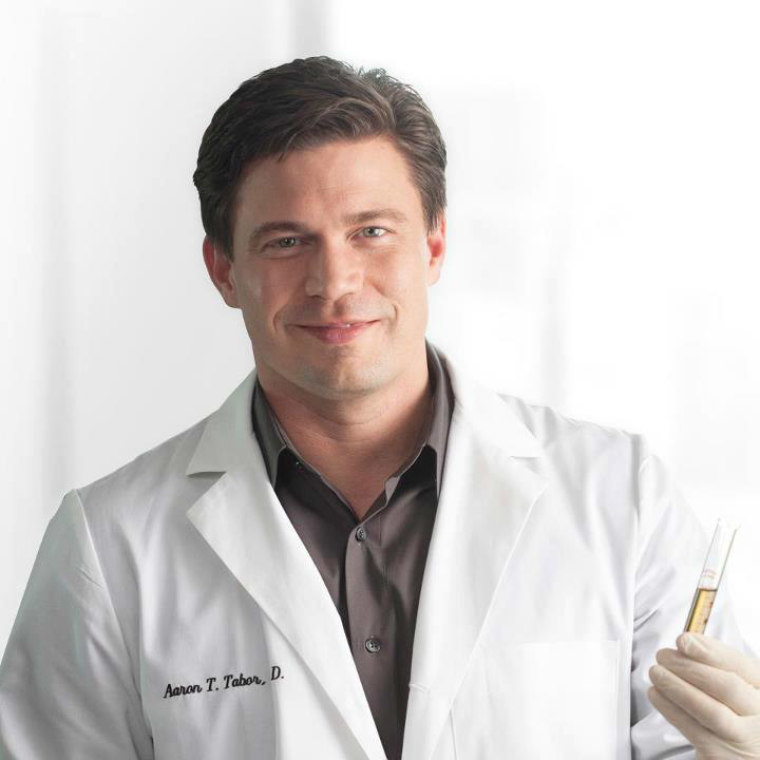 The uber popular Jesus Daily Facebook page has more than 27 million "likes" and attracts thousands of new followers from around the world every day. What's the magic behind its growth? One could point to the viral posts of videos of "adorable" babies and pets, personal affirmations, and Bible quotes (sometimes accompanied by haunting images of Robert Powell à la 1977's Jesus of Nazareth). But, according to the doctor who founded Facebook's most-engaged religious page, its ballooning growth and global reach essentially come down to good old fashioned mathematics, specifically probability and statistics.
"A lot of those techniques I learned in the medical research field, I simply applied to the Jesus Daily page, in terms of, for example, testing different times of day of posting Christ facing this way versus that way, etcetera and on and on. I treated the page as I would a medical clinical trial. I think what we learned from that has really been priceless in terms of keeping our engagement high in order to continue to spread the Gospel," said Dr. Aaron Tabor.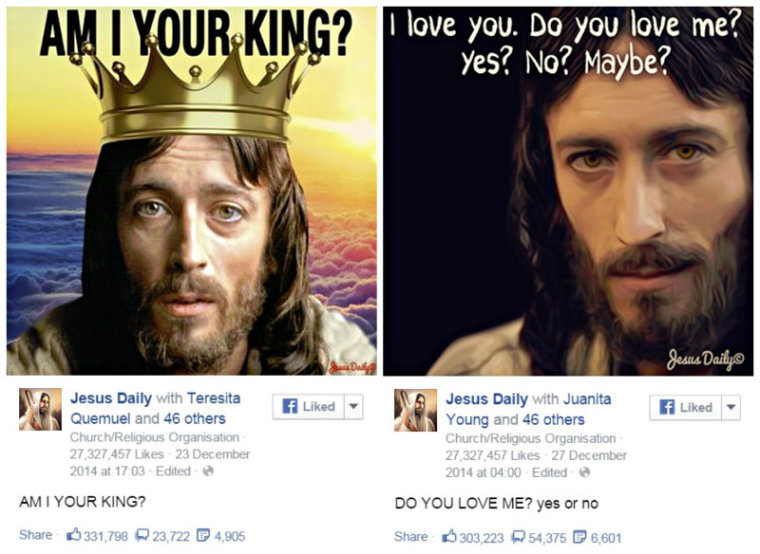 Tabor is the 44-year-old gene therapy researcher who launched Jesus Daily on April 7, 2009, as a Facebook page (it now has a website, too). The page proved so popular, that for more than an entire year (2011-2012) it remained, unrivaled, Facebook's most-active page, with fans commenting, liking, and posting to the page at a rate higher than fans of other pages. Nowadays, though, the title of most-active or most-talked about Facebook page is often claimed by athletes (Cristiano Ronaldo), TV shows ("America's Funniest Home Videos"), and public figures (Mario Teguh), according to Fan Page List. Fan Page List provides data on official Facebook fan pages and Twitter accounts of popular brands, celebrities, TV shows, and so forth.
"Most of the reporting services that reported on the most-engaged pages, I think they got tired of saying that 'Jesus was number one' each week," Tabor told The Christian Post when asked about other accomplishments for Jesus Daily. "They were coming up with ridiculous headlines, like, 'Justin Bieber edges out Lady Gaga for position number 3 this week.'
"That sounded like a horse race," he added after a chuckle. "So, mysteriously, all of those reports kind of disappeared along the same time."
Despite not getting much press since 2012, Jesus Daily still reigns as Facebook's most popular page in the Church/Religious Organization category. According to PageData and Trackalytics, online tools that provide various data for Facebook pages and other social networks, Joel Osteen Ministries is the second most-liked Church/Religious Organization page, though by a sizable margin.
"I'm really appreciative to Facebook, you know, they've created the largest Roman Road in human history, that as the early Christians used those roads to carry the Gospel to very far parts of the earth, we're really doing that now today but just doing it electronically on this wonderful Roman Road called Facebook," said Tabor.
As that "Roman Road" expands, Tabor plans on being there, every step of the way.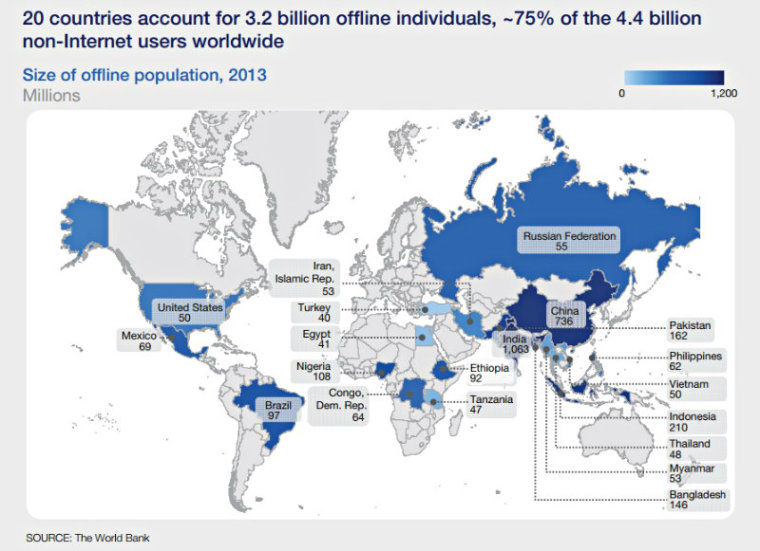 "So when Facebook and along with their other technology partners, gives another 4.4 billion people Internet access, along with broadband phones, we intend to be right there at the forefront spreading the Gospel," he added.
In the meantime, Tabor has been focused on promoting his recently-published daily devotional book, entitled Jesus Daily: 365 Interactive Devotions, and Jesusdaily.com, launched over the summer of 2014.
Jesusdaily.com informs visitors that they "can learn how to accept Jesus Christ as (their) Savior, read daily devotionals, learn about God, grow in (their) Faith, read Bible verses, and share the Gospel with friends!" For visitors who are moved — presumably by the "cute," "humorous" or this-is-a-miracle content (as there are no visible presentations of the Gospel) — to "Accept Jesus Now," there is a red button at the top right of the website which they can click on.
Upon clicking, visitors are taken to a sinner's prayer of sorts posted on the Jesus Daily Facebook page, that is dated Jan. 13, 2013. As of Jan. 1, 2015, the prayer, which begins "Dear Jesus, I am so sorry for the bad things I have done," has been "liked" by more than 2.4 million people and shared nearly 136,000 times. Readers are instructed to: "Write 'Amen' if you asked Jesus to save you today! Like to help your unsaved family and friends accept Jesus." Most of the 821,958 comments seem to be comprised of simply "Amen." If the responses are interpreted as genuine responses to the invitation to salvation, then the Jesus Daily website and Facebook fan page would be responsible for converting millions of souls to Jesus Christ.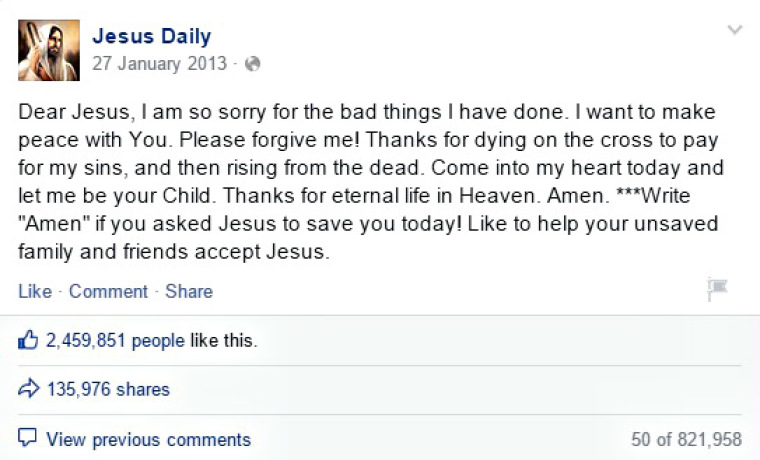 While Jesusdaily.com is driven mostly by cutesy, positive, and heart-warming video posts — and features a trademarked God's Little Helpers vertical focused on pets, Tabor's 400-page moderately-priced hardcover devotional book does go a little bit deeper. However, it doesn't stray too far from the formula: the end-goal of each day's entry, in many cases, seems to be to drive engagement to the Jesus Daily Facebook page and website.
Jesus Daily: 365 Interactive Devotions encourages readers to "do more" by following prompts, the "daily step mission" presented at the end of each day's reading. Most of these prompts, labeled "CONNECT," are, according to the book's introduction, "short Web missions that (take) only seconds of your time." And if readers "love Jesus enough to complete all 365 interactive devotions and each daily Web mission (they) will be closer to God than ever before" — so promises Tabor in the introduction. In addition to Web missions, readers are prompted to call, video conference, or go for a walk with a family member, co-worker, or friend for the purpose of encouragement, evangelism, prayer, etc. In some rare cases, readers are encouraged to log off and fast from the digital domain.