Texas Student's Bomb Clock a Hoax? Ahmed Mohamed Raises Over $15K, Planning Trips to Mecca and White House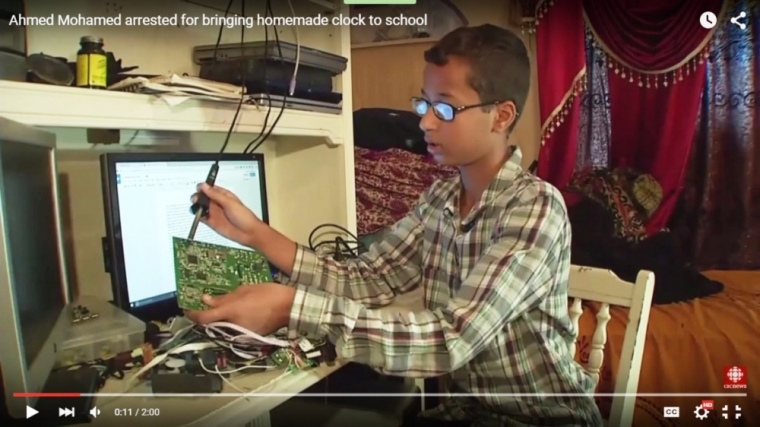 As public outrage grew amid reports of student Ahmed Mohamed's arrest for taking a homemade clock to school last week, new questions are emerging about the 14-year-old who became an international sensation and the authenticity of his clock.
Mayor Beth Van Duyne of Irving, Texas, where MacArthur High School is located, said Tuesday, "The other side of the story is not coming out," during a televised interview with Glenn Beck.
Van Duyne and local law enforcement officials in Irving are calling on Mohamed's parents to allow for the additional release of information regarding the incident at Mohamed's high school in the Irving Independent School District. However, according to the Council on American-Islamic Relations, the family's attorney has advised them not to agree to the information release request.
Mohamed's father has said the family is planning a trip to Mecca, which could be followed by a possible trip to greet President Obama at the White House. On Monday, Mohamed traveled to California for the Google Science Fair on the company's campus. The science fair is a competition of entrepreneurial inventors open to students between the ages of 13 to 18 years old.
A tweet from the president's official White House Twitter account reads: "Cool clock, Ahmed. Want to bring it to the White House? We should inspire more kids like you to like science. It's what makes America great."
The mayor of Irving disagreed with Obama's response, however, and asserted that the message from the president's Twitter account was blasted out before the image of the clock was publicly released.
A press release from the city of Irving Tuesday stated in part, "Upon questioning, the student stated the homemade electronic device was a clock, but the student did not provide additional information at that time about the purpose of the device, his reasons for bringing the device to school or his plans for using the device."
According to the social analytics site Topsy, 1 million people sent out supportive Tweets to the 14 year old under the hashtag #IStandwithAhmed.
Famed Atheist Richard Dawkins was one of the first public figures to start questioning the story.
"Wake up, sheeple! That clock 14-year-old Ahmed Mohamed built is a fraud, and his father has probably hoodwinked us all," tweeted Dawkins.
Television talk show host Bill Maher also chimed in with his sentiments, saying Friday that Mohamed's clock device looked " ... exactly like a [expletive] bomb."
"What if it had been a bomb? So the teacher is supposed to see something that looks like a bomb and go, 'Oh wait, this just might be my white privilege talking?'" Maher quipped. "'I sure don't want to be politically incorrect, so I'll just let it go?'"
Electronic experts have claimed that Mohamed's clock device was merely a 1980s Radio Shack clock that was simply stuffed inside a pencil briefcase. A blog post last week by one expert, widely circulated in some media reports, reportedly took apart Mohamed's claim that he invented anything.
Dallas Mavericks owner Mark Cuban offered his own suspicions after he talked with Mohamed by phone and asked him further details surrounding the controversy.
"We talked about science, but while I'm talking to him on the phone, as I ask him a question, 'Tell me what happened because I'm curious.' Right? His sister, over his shoulder, you could hear, listening to the question, giving him the answer," declared Cuban.
Mohamed's sister, Eyman, was suspended in middle school for a bomb threat scare in 2009, according to Brietbart.
"So, I don't know all the details of what happened, but what I do know, when I talked to him about science, when I talked to him about magnets, when I talked to him about creating things, he was very, very engaged."
The Federalist published a piece Wednesday which also delved deeper into some of the questions, titled "6 Unanswered Questions About Ahmed Mohamed's Clock." 
Fake bomb hoaxes are reportedly illegal in Texas. At Brietbart, Ben Shapiro offered his own lengthy takedown of Mohamed's clock.
As of Friday morning, Mohamed's GoFundMe scholarship account had over $15,000 in donations.
Mohamed's parents have pulled all of their kids out of public schools in Irving, citing "religious persecution." NBC News reported Wednesday that his parents are suing the Irving Police Department to return the clock that was confiscated.
No charges have been filed against Mohamed by the Irving Police Department, but the family claims that he has been "severely traumatized."
While many new allegations and facts have surfaced in the story, Mohamed's case may be another example of the decades-old zero-tolerance policy for public school students, which has caused many to be suspended or expelled over misunderstandings throughout Texas.