Texas Tornadoes Video Shows Twister Hitting Granbury; At Least 6 Dead (VIDEO, PHOTO)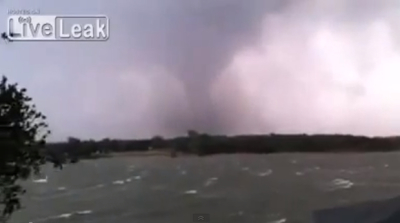 A flurry of tornadoes have hit Texas, leaving at least six dead and dozens injured, as widespread destruction was seen in the region Wednesday night.
It is believed that hundreds have been left homeless as at least 10 tornadoes hit Texas overnight, with Granbury seeming to be the worst hit city. Other areas where tornadoes touched down were Hood, Tarrant, Dallas, Parker counties.
Eye witnesses have claimed to see trailers thrown up into the air, cars piled up on top of other cars, and dozens of homes completely flattened.
In Granbury, about 40 miles southwest of Fort Worth, one tornado hit two neighborhoods at about 8 p.m. local time. Residents described seeing hail stones as big as a fist dropping as the tornado arrived, sparking panicked scenes as locals rushed for shelter.
Many of the houses in Granbury were completely torn to shreds, and trees were left uprooted with other debris scattered everywhere.
With many residents not having basements to shelter from the tornadoes, they took to their bathrooms for refuge. However, despite the rush for shelter, it was reported on Thursday morning that at least six people had died, and a search is currently being conducted for other missing people.
Hood County Sheriff Roger Deeds has said, "Some were found in houses. Some were found around houses. There was a report that two of these people that they found were not even near their homes. So we're going to have to search the area out there," according to The Associated Press.
At midnight still more than a dozen people were missing, according to authorities.
Local hospitals were overwhelmed, with about 50 people rushed to a hospital in Granbury for treatment, and yet dozens more taken to a local elementary school where paramedics were on site to offer medical treatment.
According to AP, Matt Zavadsky, a spokesman for MedStar Mobile Healthcare, estimated that about 100 people had been injured injured.
Here is a video news report into the Texas tornadoes: