Thanksgiving: Puritan or Pagan?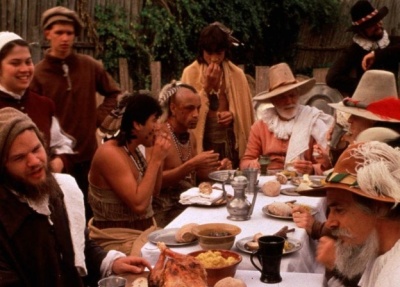 Thanksgiving is a "pagan" holiday? I thought I heard it all.
As a former witch, a quick recollection of my pagan roots substantiated that Thanksgiving was not observed on the Witches Wheel of the Year. Oh sure, friends enjoyed a turkey dinner with their families like most other Americans on the last Thursday of November, but there wasn't anything magickal (associated with Wicca or Wiccan beliefs) about it.
As Christians, we've heard the arguments against Halloween, Christmas and Easter but Thanksgiving? Aren't we stretching these "forbidden" holidays a bit too far?
Since my pagan background gave no reason to suspect Thanksgiving as anything other than an American holiday, I did a little research on the internet and found there are those attempting to tie the day back to ancient harvest festivals. I don't mean to disregard the many different pagan cultures who do celebrate harvest festivals and attribute a bountiful harvest to their gods and goddesses, but why presume that this was the pilgrim's intentions as they gathered to give thanks for surviving their first long winter?
We cannot overlook the mindset of the Pilgrims that arrived on the shores of the New World who sought to worship God freely. Many among them were Puritans who also rejected celebrating Christmas, Easter and the many Saint Days because they lacked scriptural justification. They even rejected the use of hymns since they also had no scriptural basis, choosing instead to sing Psalms during their religious services. Yet, those who claim that Thanksgiving is a pagan holiday expect us to believe these New World Puritans who held such strong spiritual convictions separating themselves from the Church of England would somehow offer their thanksgiving in the form of Old World pagan practices. Sadly, those who lay such claims have been blinded; not knowing who the enemy really is and in essence, rob the praise of "Thanksgiving" unto God.
One of the first original writings documenting the Pilgrim Thanksgiving of 1621 was from Governor William Bradford: "Now, therefore, I do recommend and assign Thursday, the 26th of November next, to be devoted by the people of these States to the service of that great and glorious Being who is the Beneficent Author of all the good that was, that is, or that will be; that we may then all unite in rendering unto Him our sincere and humble thanks for His kind care and protection of the people of this country previous to their becoming a nation."
Assuredly there was no pagan propaganda being implored into this historical event. Rather, the day was described as a time of thanks to God for their survival, shelter, food and peace with their new neighbors, the Native Americans.
To my knowledge, man has yet to carve a golden idol in the form of a turkey and declare Thanksgiving a feast in its honor. If he did, you can be sure that the turkey would no longer be seen as a festive delicacy and rather its consumption would be strictly forbidden. The real deception turns our attention away from the true purpose of Thanksgiving and casts it towards retail sales, bargains and in this case, pagan roots… luring Americans away from family and gratefulness to God.
I must admit I've often pondered the celebration of holidays at all. It seems we set one day aside for something that we should be doing all year long. We have a lot to be thankful for that far exceeds the turkey and trimming on our Thanksgiving Day table.
While we gather with family and friends in the warmth of our homes, let us remember our daily blessings that we sometimes take for granted and always offer up thanksgiving and praise to God, our provider.
Have a blessed Thanksgiving!