The Christian Post's Top 10 News Stories of 2017
2. Evangelicals in the Trump White House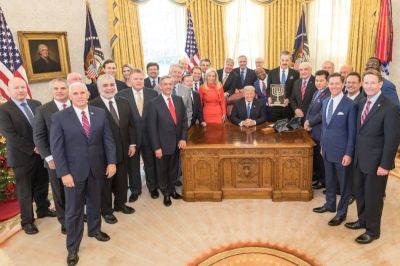 Donald Trump won the presidency by reaching out to, and receiving the support of, evangelicals, making "Trump and Evangelicals" CP's #1 story of 2016.
In 2017, evangelicals played a prominent role in the Trump White House as debates in the secular press and among evangelicals over their support continued.
Evangelicals had an ambivalent relationship to Trump in 2016 and that ambivalence continued in 2017. Evangelicals liked some of Trump's accomplishments, such as appointing Neil Gorsuch to the Supreme Court and getting rid of Obama's birth control mandate for religious nonprofits. They didn't like other Trump actions, such as his appointment of Anthony Scaramucci and a criminal sentencing memo from his attorney general.
Trump's braggadocio, narcissism, misogyny and race-baiting make him an odd standard bearer for politicized evangelicalism. But politics is inherently transactional and Trump promised to support the causes of politically conservative evangelicals. Trump's evangelical support is also race-based, with white evangelicals much more supportive than non-white evangelicals.
After becoming president, Trump formed an "Evangelical Advisory Council," later renamed the "Faith Leaders Initiative," comprised mostly of evangelical leaders who were on an advisory board during his presidential campaign. The Faith Leaders Initiative is unofficial and its total membership has not been made public, though most of the membership has been gleaned from statements and appearances. Pastor Paula White-Cain was appointed head of the Faith Leaders Initiative.
Besides selecting evangelical Mike Pence as his vice president, Trump filled his Cabinet and White House with many evangelicals. In a May 19 CP interview, Pastor Robert Jeffress, one of Trump's strongest supporters and a Faith Leaders Initiative member, said no president has reached out to evangelicals as much as Trump.
"People would be surprised at how many believers there are in the Trump Administration. Very dedicated Christians," he added.
Early in 2017, some Southern Baptist congregations attempted to steer funding away from the Ethics & Religious Liberty Commission over what they viewed as harsh rhetoric against Trump supporters from its president, Russell Moore. The conflict was resolved after Moore apologized. 
Jeffress was accused of idolatry in July after the choir of his church, First Baptist Dallas, sang a song based upon Trump's campaign theme, "Make America Great Again," at a "Celebrate Freedom" concert at the Kennedy Center in Washington, D.C. 
In late April, Liberty University President Jerry Falwell Jr., another one of Trump's strongest evangelical supporters, claimed that evangelicals have "found their dream president" in Trump.
On May 4, the National Day of Prayer, Trump signed an executive order promoting religious liberty. A signing ceremony at the White House was attended by many evangelical leaders and they had dinner with Trump the night before.
At the dinner, Trump broke protocol by giving a large group of the evangelical leaders a personal tour of the second floor of the White House, which contains the private residence of the president and is normally off limits.
The executive order was less than social conservatives had hoped for. It mostly expressed intentions to defend religious freedom, rather than making any concrete steps to defend religious freedom. An early draft leaked in February went much further. Some social conservatives criticized the order for not doing more while others supported the president for at least taking a step in the right direction.
The Faith Leaders Initiative met again on July 10 in the Executive Office Building. They spent the day meeting with various White House officials. The dialogue was two-way: They learned about some of the activities in the White House and shared their concerns.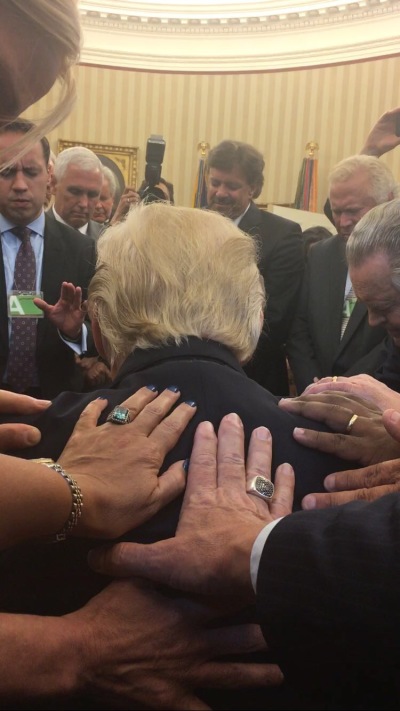 During the meetings, Pence surprised them with a visit to the Oval Office to meet Trump. The leaders laid hands on Trump and prayed for him. Johnnie Moore, president of the KAIROS Company and one of the main organizers of the Initiative, snapped a photo during the prayer that he later posted to Twitter. That photo then caught the attention of many media outlets and set off a debate about praying for presidents (see, for instance, here, here and here).
Board members were urged to end their associations with Trump after Trump appeared to defend white supremacists in speeches after the protests in Charlottesville, Virginia. A.R. Bernard, a black pastor in New York City, was the only Faith Leaders Initiative member to resign in protest. CP interviewed some of the members at the time. Even when they disagreed with the president, they argued, it was better to stay, and have access and influence on the White House.
"It's hard to be a prophetic voice if you're not even in the room," Bishop Harry Jackson told CP at the time.
The Faith Leaders Initiative used its influence during its July meeting to get the White House to delay implementation of a deportation order for Iraqi Christians, who would likely face persecution if sent back to Iraq. Later, a federal judge halted the deportations.
On Dec. 11, the Faith Leaders Initiative met Trump again at the White House and presented him with a "Friends of Zion" award after Trump announced he would move the U.S. embassy in Israel from Tel Aviv to the capital, Jerusalem. 
Trump's support from white evangelicals saw an overall decline throughout 2017. A September Reuters/Ipsos poll found an 11-point drop, from 73 percent to 62 percent. A December Pew poll similarly found a 17-point drop in job approval rating, from 78 to 61 percent.
About 3 out of 10 white evangelicals are Trump's strongest supporters. For a PRRI survey published in December, 30 percent of white self-identified evangelicals answered that "there's almost nothing President Trump could do to lose my approval."