The Christian Post's Top 10 News Stories of 2017
1. Sex Scandals and #MeToo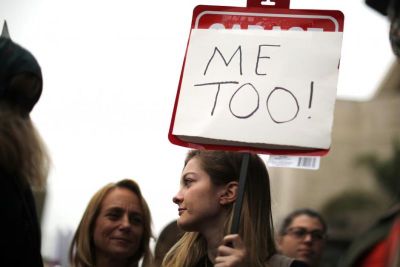 The #MeToo movement ignited a firestorm in October, taking down powerful Hollywood moguls, politicians, and media elites accused of committing sexual harassment, assault, and even rape.
It began with accusations of sexual assault and rape against film executive Harvey Weinstein and quickly ensnarled over 90 famous men, including trusted TV news personalities Charlie Rose and Matt Lauer.
On Oct. 15, actress Alyssa Milano urged women who'd been sexually harassed or assaulted to share their stories along with the hashtag "me too." And within 24 hours #MeToo was tweeted more than 500,000 times and appeared in 12 million Facebook posts. Nearly two weeks later, Milano said in a tweet that more than 1.7 million people in 85 countries had used the hashtag.
A Wall Street Journal/NBC News poll released on Oct. 30 found that 48 percent of employed women said they"have received an unwelcome sexual advance or other verbal or physical harassment of a sexual nature at work."
Notable women in Christian leadership positions, such as Beth Moore and Kay Warren, also revealed their stories of sexual assault and harassment under the #MeToo hashtag.
Kay Warren, co-founder of Saddleback Church in Lake Forest, California, and wife of megachurch Pastor Rick Warren, revealed: "A pedophile molested me when I was a little girl. It's taken decades to heal. #MeToo."
Along with the #MeToo movement, some Christian women started posting messages under #ChurchToo to share their stories of abuse committed by leaders in the Church.
Eighty-seven Baptist pastors in Alabama also released a statement condemning sexual abuse, assault, harassment and exploitation of women, especially by men in power, in the wake of sexual misconduct allegations against Republican candidate for U.S. Senate Roy Moore.
Moore, who has long been admired by many conservative Christians, was accused by two  women of attempting to sexually assault them when they were 14 and 16 years old, while others claimed he had tried to date them when they were 16 and 18, and he was in his 30s. The allegations set off a heated debate among politically conservative Christians. Some said the accusers were credible and Moore shouldn't be supported, others didn't believe the accusers, still others believed the accusers but said Moore should be supported anyway. Moore lost.
Many have blamed the sexual revolution and its promotion of sexual promiscuity — and feminist icons like Gloria Steinem for her decades of defending liberal men like former president Bill Clinton who was accused of committing sexual assault and rape — for society's failure in establishing clearly defined rules for appropriate and inappropriate behavior.
After all, the #MeToo movement came after Vice President Mike Pence was roundly mocked by the media for following the Billy Graham rule of never being alone with a woman who isn't his wife, while Hugh Hefner was lauded for his decades of work as a pornographer.
Similarly, Democratic women in Congress were slow in condemning Sen. Al Franken, D-Minn., who was seen in photos groping women's breasts and buttocks.
Many people on the right and left have been asking just how helpful the #MeToo movement has been, and if it has gone too far. While it has empowered many women to share their stories, the majority of victims haven't named their abusers and will never receive justice by seeing those who harmed them sentenced for their crimes. On the other hand, as noted by MSNBC "Morning Joe" co-host Mika Brzezinski, "Right now, any woman can say anything, and a man's career is ruined."
To find out what Americans consider to be sexual harassment, the Barna Group asked people to name specific acts that cross the line. Ninety-six percent of women and 86 percent of men said it's most often about being touched or groped. And 91 percent of women and 83 percent of men said it's about being forced to do something sexual.
Eighty-six percent of women and 70 percent of men also said harassment is about making sexual comments about someone's looks or body, and 85 percent of women and 71 percent of men said it's about sharing intimate photos or videos of someone without their permission.
In recognition of the #MeToo movement, Time magazine named "the silence breakers" as its 2017 person of the year, featuring actress Ashley Judd and singer Taylor Swift.
Melissa Barnhart, Lillian Kwon and Dr. Napp Nazworth contributed to this top 10 list.
Some men are fighting back against the accusations of sexual misconduct. For example, Tavis Smiley, who was suspended by PBS for alleged sexual misconduct, has gone on Fox News to state his case and proclaim his innocence, saying that he doesn't know who his accuser is or what actions he was alleged to have committed.