The Christian Post's Top 10 News Stories of 2017
10. Charlie Gard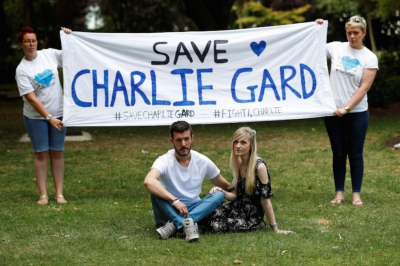 The issue of parental rights and healthcare came to the forefront last summer in the case of baby Charlie Gard.
Charlie, a British baby born with a rare disease called mitochondrial DNA depletion syndrome, which causes progressive muscle weakness and brain damage, was denied the right to be transported to the United States where he would have received experimental treatment for his condition.
His parents, Chris Gard and Connie Yates, first noticed his symptoms eight weeks after he was born on Aug. 4, 2016. Their baby was the 16th person in the world to be diagnosed with the condition.
Although Charlie was being cared for at the Great Ormond Street Hospital in London, the country's National Health Service did not provide the experimental treatment his parents were seeking. By April 2, the family had raised $1.6 million through a crowdfunding campaign to fly him to the U.S. for treatment.
The British High Court ruled, however, that Charlie's parents wouldn't be allowed to take him out of the country and instead permitted the hospital to remove his life support.
Charlie's parents appealed the ruling at the European Court of Human Rights in Strasbourg, France. On June 27, the court refused to intervene in the case, thus upholding earlier decisions by lower courts.
The case drew international attention with many criticizing the decision as a violation of parental rights. Both President Donald Trump and Pope Francis voiced their support for Charlie's parents and urged the U.K. to allow him to be transported to the U.S. for treatment. Similarly, the U.S. House voted to give Charlie and his parents permanent residence status so they could obtain treatment for their son.
Then, on July 10, Charlie's parents were given two days at a high court hearing to produce convincing evidence for why their son should be allowed to leave the U.K. to receive potentially life-saving experimental treatment in the U.S. It was said at the hearing that a "conservative estimate" placed a 10 percent chance on the experimental treatment in the U.S. working for the baby. The hospital, however, argued that Charlie's condition was irreversible, and that further treatment could lead to further suffering.
On July 24, Charlie's parents dropped their battle to seek experimental treatment for their son after brain scans showed that he had suffered irreversible damage, possibly due to  treatment having been delayed.
Charlie's life support was removed, and he died on July 28.
Now, Charlie's mother is fighting a new battle by supporting the parents of 18-month-old baby Alfie Evans. The parents are in a legal battle with a hospital in Britain that wants to switch off their son's life support.
Alfie is in a coma and suffers regular seizures, and the hospital has urged the High Court to rule that long-term ventilation and intensive care be withdrawn. But his parents, Thomas Evans and Kate James, want their son to be moved to a hospital in Italy that is willing to take him and provide ongoing treatment.
The Charlie Gard affair raised important issues regarding parental rights, many argued.
"The decision by the British High Court is an appalling overreach, and it sets a very dangerous precedent. In worldview terms, the government is well beyond its sphere of sovereignty, gobbling up authority that rightfully belongs to the family and to the church," John Stonestreet said. 
In response to Ian Kennedy who said in an op-ed for The Guardian that "children do not belong to their parents," Marissa Mayer, a senior writer for Alliance Defending Freedom, added, "Not only is this statement ludicrous, but it is antithetical to the history of Western civilization."
Melissa Barnhart, Lillian Kwon and Dr. Napp Nazworth contributed to this top 10 list.