The Christian Post's Top 10 News Stories of 2017
9. NFL National Anthem Protests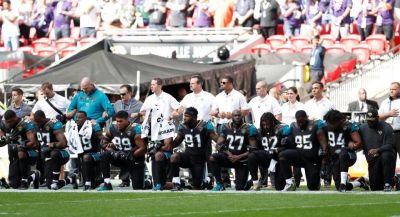 Though kneeling during the playing of the U.S. national anthem technically began last year with one NFL player — Colin Kaepernick — it exploded into a movement about a year later after President Donald Trump suggested that players be fired for such an act.
"Wouldn't you love to see one of these NFL owners, when somebody disrespects our flag, to say, 'Get that son of a b**** off the field right now. Out! He's fired. He's fired!'" Trump said in September.
Those comments immediately led to hundreds of NFL players, as well as coaches, refusing to stand during the national anthem as a way of protesting racial injustice, including police brutality.
The nation, including Christians, have been divided on whether they agree with the NFL player protests. A poll for ESPN found that 51 percent of adults said they disapprove of the protests while 39 percent said they approved. 
On the side of approval, devout Christian Benjamin Watson of the Baltimore Ravens said that the football players should have the right to express themselves, whether others agree or not. 
Bishop T.D. Jakes and Hall of Fame head coach Tony Dungy, who has spoken about his Christian faith, also defended the NFL players and their right to free speech.
The Rev. Jamal Bryant, senior pastor of the Empowerment Temple AME Church in Baltimore, Maryland, not only expressed his support for the protest but also led some 500 men to kneel in solidarity at a Ravens game. 
Opposing the move were former NFL player the Rev. Paul Blair of Fairview Baptist Church, Bishop E. W. Jackson of S.T.A.N.D., Ryan Bomberger of The Radiance Foundation, evangelist Franklin Graham and former president Jimmy Carter, among others.
Jackson, who is black, declared that the NFL protests were "not a black thing" but rather "a leftist thing."
Former football player and outspoken Christian Tim Tebow, meanwhile, offered this response: "I just think, for me, my goal has always been to bring faith, hope and love to people, especially in their darkest hours of need. I think what we need right now is bringing people together in this country more than separating people, so that's my goal." 
Amid the division, thousands of Christians from across the nation chose to take a knee in Washington, D.C., to ask God for forgiveness for the sins of racism and hate, and to pray for racial healing and unity.