The Christian Post's Top 10 News Stories of 2017
6. Deportations, Travel Bans, and Dreamers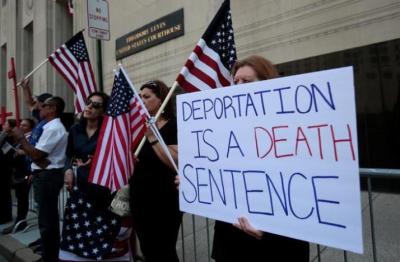 President Donald Trump campaigned on promises to end illegal immigration, deport unauthorized immigrants with criminal records, build a border wall, and temporarily ban all Muslims from entering the country. His attempts to make good on some of those promises were both praised and deplored by Christians in 2017.
Deportations
Trump increased deportations of unauthorized immigrants in 2017. Many Christian communities were alarmed at some of these deportations.
In June, U.S. Immigration and Customs Enforcement arrested about 200 Iraqi Christians and was preparing to deport them back to their home country. With the persecution of Christians currently taking place in Iraq, ICE's actions could've meant the equivalent of a death sentence, critics pointed out.
On June 19, seven evangelical groups sent a letter to the Trump administration urging a halt to the deportations. Rev. Franklin Graham, head of the Billy Graham Evangelistic Association and generally a supporter of Trump, also expressed alarm, calling it "very disturbing." U.S. Catholic leaders also condemned the deportation orders.
The deportions were one of the main topics brought up during the July meeting of Trump's Faith Leaders Initiative. After that meeting, some of these leaders crafted an internal memo, at the request of the Trump administration, laying out the legal arguments for not deporting the Iraqi immigrants. Before Trump acted on the memo, the deportations were halted by a federal judge.
Other controversial deportation attempts would continue, however. In November, about 50 Indonesian Christians in New Hampshire were going to get deported before a judge halted the orders.
Travel Ban
Trump did not attempt to temporarily ban all Muslims from entering the country, as he promised during the campaign. Instead, he banned all travel from certain mostly Muslim nations, a ban that critics still refer to as a "Muslim ban."
Trump sparred with federal courts throughout 2017 on the legality of the travel ban, producing three versions of the ban in the hopes of getting court approval. On Dec. 4, the U.S. Supreme Court allowed the third version of Trump's travel ban to take effect while an appeal is pending.
Throughout the process, Christian groups have urged the Trump administration to allow an exception to the travel ban for persecuted minorities, something Trump said he would do in a January Christian Broadcasting Network interview. The first travel ban had the exception, but then the exception was removed to satisfy the courts.
A February poll found that 76 percent of self-identified white evangelicals supported the travel ban.
In late January, after Trump was inaugurated and implemented the first travel ban, Franklin Graham said he supported it but was disappointed that it didn't go further and ban all Muslims. 
Others criticized Trump's actions. "I think it was mean spirited, I think it represents a rising tide of nationalism that is at odds with the Gospel," Pastor Dan Scott told CP in February.
DACA and DAPA
President Barack Obama protected "Dreamers," or unauthorized immigrants brought to the United States as children, and their parents through programs known as DACA, Deferred Action for Childhood Arrivals, and DAPA, Deferred Action for Parents of Americans. Texas and 25 other states won a lawsuit against the Obama administration declaring that DACA and DAPA were unlawful, a ruling upheld in 2016 by the U.S. Supreme Court.
In 2017, Trump said he would rescind DACA but keep the program in place while Congress debates a replacement, and he rescinded DAPA. Some criticized Trump for doing away with DAPA while others, including Trump himself, urged Congress to pass a replacement for both programs into law.
The Rev. Samuel Rodriguez, president of the National Hispanic Christian Leadership Conference, criticized Trump in June for rescinding DAPA in a way that would break up families. 
In August, the Evangelical Immigration Table sent letters to Trump and Congress urging them to pass a law to protect Dreamers. In October, a group of 50 evangelical leaders delivered a similar message.