The Christian Post's Top 10 News Stories of 2017
5. Talk of God's Judgment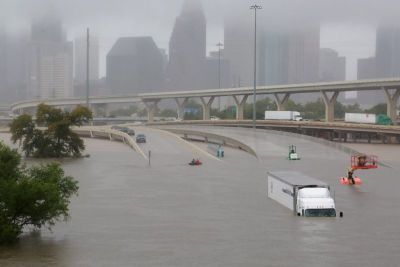 Is God trying to tell us something? 
This year was a record-breaking hurricane season, according to meteorologist Phil Klotzbach from Colorado State University. Hurricanes Harvey, Irma and Maria all made landfall in the span of around a month (August-September), causing hundreds of deaths and billions of dollars in damage in five states, Puerto Rico and the U.S. Virgin Islands.
And just days before the first hurricane made landfall in Texas, America experienced a total solar eclipse, which was visible across the entire contiguous United States. It was the first solar eclipse to be visible exclusively from the United States since 1776.
All of those combined with continuous threats of nuclear war from North Korea have sparked discussions about God's judgment and whether God is trying to warn America.
Harvest Christian Fellowship Pastor Greg Laurie has frequently spoken about the end days this year, expressing particular concern over conflict with North Korea.
"Here is what concerns me. We do not find the reigning superpower on the face of the Earth anywhere in the Last Days scenario. Other nations emerge. So where is America? I pray we are not out of the picture, because we have been in some kind of nuclear conflict," he said. 
Renowned evangelist Anne Graham Lotz posed the question "Is God's judgment coming on America?" ahead of the solar eclipse in August and called on everyone to repent and get right with God. "While no one can know for sure if judgment is coming on America, it does seem that God is signaling us about something. Time will tell what that something is," she stated. 
Agreeing with Lotz, the Rev. Mark Creech of Christian Action League said while solar eclipses are not necessarily a sign of God's coming judgment, the "darkening of the sun" certainly is associated with "forthcoming calamities."
"America is definitely ripe for judgment. This nation has become a fountainhead of moral putridity, and its influence is global. Judgment is always an act of God's justice against sin, but it can also be an act of his mercy," he stated ahead of the eclipse. "... Is it a sign from the heavens calling upon our nation to turn from its sins and to Christ or suffer the consequences? I don't really know. What I do know, however, is that we would be wise to treat it as though this very well may be the case."  
Evangelist Franklin Graham observed that the destructive hurricanes, wildfires and the rare solar eclipse were all "biblical signs before Christ's return," as he called on everyone to repent and ask for God's forgiveness.
Michael Brown of the Line of Fire radio program was less quick to pronounce all the events as a sign of God's judgment, especially considering the families that were affected by the disasters. 
But he agreed that America does need the Lord and His mercy now.