The Christian Post's Top 10 News Stories of 2017
3. Alt-Right, Antifa and Charlottesville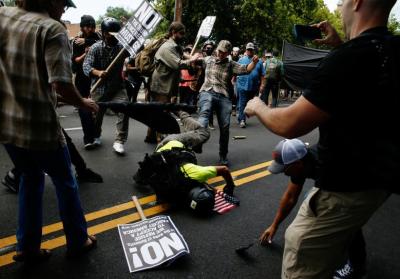 Activities of extremist groups known as the Alt-Right and Antifa became more pronounced in 2017.
Donald Trump won the presidency in 2016 partly by mobilizing racist sentiments. Not all of Trump's supporters were racists, but racists were among his supporters.
Steve Bannon was one of Trump's key campaign advisers. He was initially one of Trump's White House advisers as well, before being forced out. While executive chair at Breitbart, Bannon provided a platform for the Alt-Right, a term used to describe certain white supremacist groups.
Emboldened by the Trump presidency, some of these Alt-Right groups organized an August 11-12 protest in Charlottesville, Virginia. Radical leftists known as Antifa (for "Anti-Fascist") showed up as well and the protests turned violent. One of the white supremacist protesters killed counter-protester Heather Heyer. Many others were injured in the clashes.
All the major media outlets were covering the protests. As Americans viewed the events, in shock at the racist images and remarks, Trump made a public statement on Aug. 12, a Saturday, aimed at quelling the tension. But as Americans waited to hear their president condemn racism, he went off-script from his prepared remarks and heightened the tension by appearing to provide cover for the white supremacists. The following Monday, after hearing much criticism, even from members of his own party, Trump delivered another written statement explicitly condemning racism. The next day, however, in more off-the-cuff remarks to a gaggle of reporters, he again appeared to provide cover for the racists, saying there were "very fine people" on "both sides."
CP editors were among many urging Trump to do better. "When it comes to decrying white supremacy, Trump has a credibility problem. ... Candidate Trump failed to adequately distance himself from white supremacists. ... Trump has some rhetorical work to do," we wrote in an Aug. 15 editorial.
At the end of September, a group of prominent evangelical leaders signed a letter similarly urging Trump to speak out more forcefully against the Alt-Right.
"Now, we respectfully call upon you to respond to the resolution by speaking out against the alt-right movement. This movement has escaped your disapproval," the letter stated.
Antifa also engaged in violent protests across the country in 2017. At the end of August, an Antifa rally on the Berkeley campus in California turned violent. Democrats were urged to denounce the violent leftists, as Trump was urged to denounce the Alt-Right.
"The violent actions of people calling themselves Antifa in Berkeley this weekend deserve unequivocal condemnation, and the perpetrators should be arrested and prosecuted," House Democratic leader Nancy Pelosi said at the time.
The Southern Baptist Convention also passed a resolution (after some initial confusion) condemning the Alt-Right at its June meeting.