The Christian Post's top 10 news stories of 2018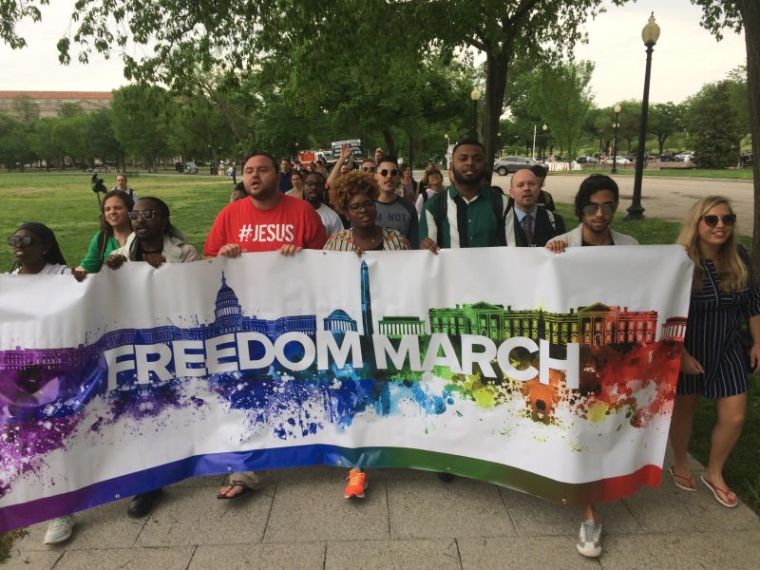 10. Ex-gay Christians contend with critics from inside/outside the Church
Men and women who no longer identify as LGBT made significant waves this year, as did those arguing that Christians need to "revoice" the subject of homosexuality within churches.
In May, the first ever Freedom March occurred in Washington, D.C. where former homosexual and trans-identified persons shared how God moved in their lives. Jeffrey McCall, who once lived as a transwoman named Scarlett and male prostitute, organized the event and said it was fundamentally about a great move of the Holy Spirit going on and His power to transform lives.
Notable among those who spoke was Luis Javier Ruiz, who survived the June 2016 Pulse nightclub shooting where 49 people were slaughtered by radical Muslim Omar Matteen in an ISIS-inspired attack. Ruiz, who said he no longer identifies as gay, told The Christian Post in an interview at the time that "conversion therapy" warnings amount to "fake news." 
"Honestly, I don't know what that is. I've never been through conversion therapy. I've been through Holy Spirit therapy. That's the only [kind] I know. All they are trying to do is, I think, it's lies," he replied when asked what he makes of the mainstream media's framing of the subject.
A second Freedom March took place in Los Angeles, California, in November, the same weekend the movie "Boy Erased," a film about a same-sex attracted teen who was put through an abusive therapy program, was released.
In July, a conference called Revoice held in St. Louis, Missouri, became the subject of fervent contention among Christians. The conference was put on to "encourage, support, and empower gay, lesbian, and other same-sex-attracted Christians so they can experience the life-giving character of the historic, Christian sexual ethic."
While organizers vigorously defended themselves, assuring that they adhere to the historic Christian view on marriage and sexual ethics, critics argued that the conference was deceptively designed to advance an unbiblical framework sympathetic to LGBT thinking and identities. Some of those critics have planned a response conference for February 2019, called God's Voice.
Across the Atlantic on the Maltese version of "X-Factor" called "X Factor Malta," in late October contestant Matthew Grech declared in a segment that played before his performance: "I used to lead a homosexual lifestyle, and then I found God. For a long time, I stopped following my passions to follow Jesus. There can be love between two men and two women, yes — but only friendship love. Everything else is a sin."
According to the Times of Malta, Grech's pre-audition interview led to his audition video being pulled from YouTube and Facebook soon after his audition was aired by national broadcaster TVM.
On the political front, in California, a bill that would have banned therapy for individuals seeking counseling for unwanted same-sex attraction was unexpectedly withdrawn amid massive public outcry. The bill had passed both chambers of the legislature and was headed to the desk of Democrat Gov. Jerry Brown for an almost certain signature.
Issues surrounding therapy for unwanted same-sex attraction also came up in the context of NIFLA v. Becerra, a 5-4 Supreme Court ruling in favor of a network of pro-life pregnancy centers in California that contested the Reproductive FACT Act, a state law requiring them to advertise for and promote abortion services. The network of pregnancy centers argued the law violated their First Amendment rights.
Writing for the majority, Justice Clarence Thomas cited previous cases involving the professional speech of counselors stating that they "might have a host of good-faith disagreements, both with each other and with the government, on many topics in their respective fields."
But certain appeals courts "have recognized 'professional speech' as a separate category of speech that is subject to different rules," yet "speech is not unprotected merely because it is uttered by 'professionals,'" Thomas continued. 
Such language marks a profound shift in Supreme Court jurisprudence, attorney Curtis Schube told CP, explaining that the justice's words "created broad protections for a significant number of Americans who hold professional licenses," and effectively dismantles any ban on therapy for unwanted same-sex attraction. 
Brandon Showalter contributed to this report.