The Christian Post's top 10 news stories of 2018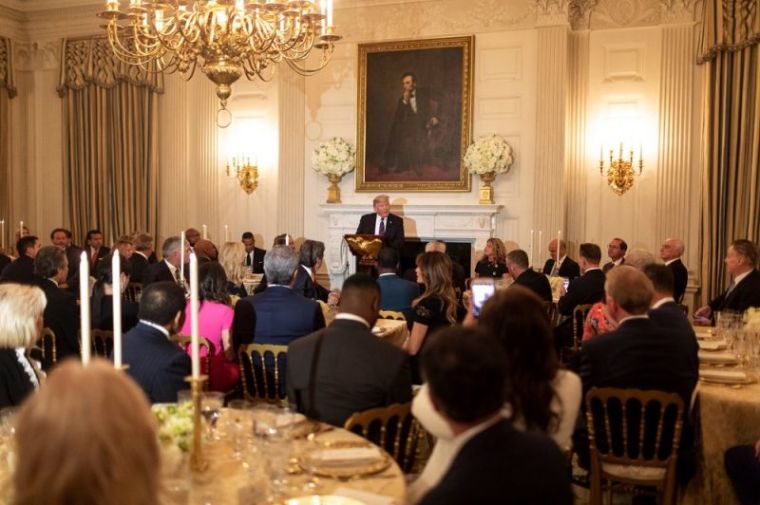 9. Evangelicals debate social justice, alliance with Trump
Debates over social justice and President Donald Trump were a central concern among evangelicals in 2018. Sometimes these debates were distinct, but they also overlapped in some areas, such as racism issues and Trump's immigration policies.
Evangelicals were about evenly split in their support for Trump during the 2016 election, and that split was strongly influenced by race, with most white evangelicals supporting Trump and most nonwhite evangelicals not supporting Trump. Since then, evangelical support for Trump has been hotly debated both within Christian and secular circles. "Trump and Evangelicals" was The Christian Post's No. 1 story in 2016 and "Evangelicals in the Trump White House" was CP's No. 2 story in 2017.
In April, a group of about 50 evangelical leaders met at Wheaton College to discuss the future of evangelicalism. Before the meeting, Doug Birdsall, honorary chair of the Lausanne movement of evangelicals, told The Washington Post that while the meeting wouldn't specifically be about Trump, Trump would be the "elephant in the room."
"When you Google 'evangelicals,' you get Trump," Birdsall said, summarizing the problem for evangelicals.
Much of the debate over the meeting was on whether the meeting was to address concerns about the politicization of the Gospel or whether the meeting itself politicized the Gospel. The Birdsall quote led some evangelical Trump supporters to criticize the meeting as Trump-bashing. Others said it wasn't anti-Trump.
"It is an attempt to try and show how we should be thinking in such a way that our theology is what is the central concern versus our political commitments," Darrell Bock, executive director of cultural engagement at Dallas Theological Seminary and one of the organizers of the invite-only meeting, told The Christian Post at the time.
Pastor Skye Jethani, who attended the meeting, wrote: "We gathered to have an honest, and at times uncomfortable, conversation about the current state of American evangelicalism. All of the issues discussed predated the 2016 election and the focus of the dialogue was not the president or any current policy matters. The focus was how to have a consistent Christian public witness that affirms the dignity of all people as created in the image of God."
In May, the National Association of Evangelicals released a statement clarifying what makes an evangelical. The statement, "Evangelicals — Shared Faith in Broad Diversity," pointed out that what unites evangelicals is their theological beliefs, not their political beliefs, and that within evangelicalism, there is much diversity. Not all evangelicals fit the stereotype of being white and politically conservative.
In August, about 100 evangelical leaders attended a White House dinner with President Donald Trump. In a speech, Trump thanked the attendees for supporting him. He also asked them to continue their support by backing Republican candidates in the midterm elections, and claimed that if Democrats win (they won the House but not the Senate in November) there would be violence.
Democrats "will overturn everything that we've done and they will do it quickly and violently. And violently. There is violence. When you look at Antifa — these are violent people," Trump said.
Trump was gifted a Bible at the event, signed by many of the evangelical leaders in attendance. After reading an inscription in the Bible praising Trump's "greatness," Pastor Paula White said, "And if all of you agree with that, say 'amen,'" and the crowd responded, "amen."
Other evangelicals criticized the event for what they saw as a cheapening of the Gospel for political ends.
Pastor J.D. Greear, who had just been elected president of the Southern Baptist Convention in June and dealt with a similar controversy over Vice President Mike Pence's SBC annual meeting speech, issued a statement clarifying his attendance at the dinner. Greear said he did not sign the Bible given to Trump and, "I chose to attend in order to listen and meet other leaders and offer perspective where asked."
Many other political events in 2018 served to highlight the strained relationship between Trump and evangelicals.
The independent investigation into Russian interference in the 2016 election revealed that Trump's lawyer, Michael Cohen, had paid hush money to a porn star and a former Playboy playmate just weeks before the election. Trump had previously denied making the payments but in May admitted that he did make the payments. In December, the investigation revealed that Cohen testified that Trump directed him to make the payments, which would be a felony under campaign finance law if they are determined to be unreported campaign expenses.
There were also disagreements among evangelicals over Trump's rhetoric and policies related to immigrants. In January, Trump allegedly referred to certain poor, mostly non-white nations as "s---hole countries" in a meeting with Democrats. ManyChristians criticized the remarks while Pastor Robert Jeffress defended Trump.
In June, Trump's "zero tolerance" border policy led to children being separated from their families. Members of Trump's evangelical advisory board worked to reverse the policy. Trump eventually relented, reportedly due to the influence of first lady Melania Trump, though there are reports that the policy has continued.
In September, Trump drastically reduced the number of refugees allowed to seek asylum in the U.S., which World Relief said "jeopardizes the safety of future refugees, including persecuted Christians." 
And, Trump demonized a migrant caravan from Central America in the weeks leading up to the November midterm elections, which some evangelicals described as lacking compassion and motivated by bigotry.
Trump was largely praised by evangelicals in 2018, however, for his efforts to bring Pastor Andrew Brunson home from imprisonment in Turkey, and his support for a prison reform bill.
These debates also overlapped with a debate over whether Christians should support "social justice."
In August, Pastor John MacArthur criticized what he described as evangelicals' "newfound obsession with the notion of 'social justice'" in a series of blog posts. That was followed by a statement signed by other evangelical leaders.
"Specifically, we are deeply concerned that values borrowed from secular culture are currently undermining Scripture in the areas of race and ethnicity, manhood and womanhood, and human sexuality. The Bible's teaching on each of these subjects is being challenged under the broad and somewhat nebulous rubric of concern for 'social justice.' If the doctrines of God's Word are not uncompromisingly reasserted and defended at these points, there is every reason to anticipate that these dangerous ideas and corrupted moral values will spread their influence into other realms of biblical doctrines and principles," the statement read in part.
Tim Keller, founding pastor of Redeemer Presbyterian Church in New York City, who attended the Wheaton meeting, argued the statement was "trying to marginalize people talking about race and justice."
Russell Moore, president of the SBC's Ethics & Religious Liberty Commission, made a similar point in a podcast with Jethani.
"The people who would say [they oppose social justice] don't really believe it [because they] don't act that way when it comes to the issues they care about and in most cases rightly care about," he said.
"In almost every case, we are not really talking about 'social justice' and we are not even talking about social engagement broadly. We are almost always talking about race," Moore added. "I don't even want to concede to the conceit that what we are talking about is a broader issue of social engagement because again, that is almost never the case. Some of the very people who would say this are the people who have talked about, and rightly so, abortion and the systemic public problem of abortion."
In an NPR interview last April, Liberty University professor Karen Swallow Prior summarized the current struggles of evangelicalism this way: "I think that this is a moment of revelation for the church, and even more than that, as a moment of refinement. And refinement is hard, and it hurts.
"Let's not forget that, you know, if 81 percent of people had voted for the other major party candidate, we still would've been exposing hypocrisy of our values because that candidate doesn't represent evangelical values either. So I think that there is much to examine, much soul-searching that is taking place concerning our hypocrisy, our racism, our sexism. It's difficult, but I see a bright future going forward simply because we are grappling with some things that have been hidden for a long time."
Napp Nazworth contributed to this report.