The Christian Post's top 10 news stories of 2018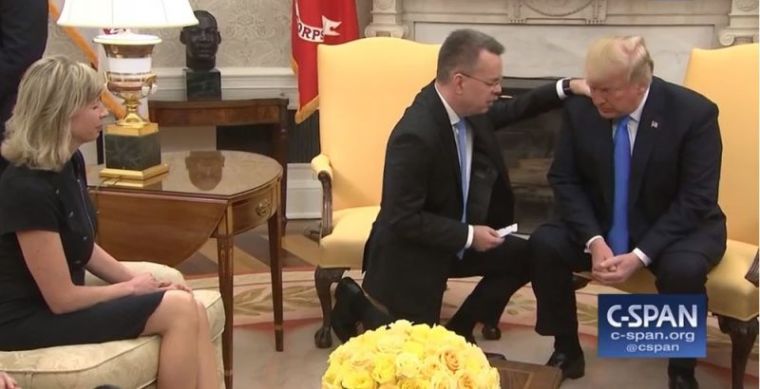 4. Andrew Brunson and Asia Bibi released from prison
Christians worldwide celebrated the widely publicized releases of two Christian prisoners of conscience who had been imprisoned abroad for years with little sign of hope that they would be released.
First was the October release of imprisoned American Pastor Andrew Brunson, who had been detained for about two years and slapped with trumped-up terrorism charges in Turkey that some feared could have gotten him 35 years in prison.
Brunson, a North Carolina native, had pastored in Izmir for over 23 years before he and his wife, Norine, were arrested in October 2016.
Although Norine was later released, Andrew Brunson was held for about 17 months before he was charged with supporting an Islamic movement blamed for the July 2016 coup attempt and accused of having connections to Kurdish militants.
Brunson had strongly denied the charges and advocates were adamant that the Turkish government was using Brunson as a "pawn" because Turkey President Recep Tayyip Erdoğan sought the extradition of Islamic cleric Fethullah Gulen from the United States.
Advocates who attended the handful of court hearings held at a converted old basketball gym in Aliaga said that prosecution's case relied too heavily on "false witnesses" who could only provide second- and third-hand information.
President Donald Trump and Vice President Mike Pence vowed earlier this year to impose sanctions on Turkey if it did not release Brunson. Although the Turkish court allowed Brunson to leave prison and transfer into home confinement in July, Pence and Trump were not satisfied.
The U.S. Department of Treasury's Office of Foreign Assets Control announced sanctions against two top Turkish officials in August. That was followed up by an announcement from Trump that the U.S. was going to double Turkish steel and aluminum tariffs, which caused the Turkish economy to further plummet.
In October, a Turkish court convicted Brunson of aiding terrorism and sentenced him to 3.1 years in prison. Brunson was released on time served and his travel ban was lifted.
On Oct. 13, Andrew and Norine Brunson returned the U.S. accompanied by Tony Perkins, a commissioner on the U.S. Commission on International Religious Freedom.
The second widely celebrated release is that of Pakistani Christian mother Asia Bibi (also known as Aasiya Noreen), who sat on Pakistan's death row on the charge of blasphemy for about eight years before she was acquitted by the nation's Supreme Court in October.
Bibi, who was a field laborer from the Sheikhupura District of Punjab just outside of the city of Lahore, was accused by Muslim women with whom she worked of insulting Islam during an argument in 2009.
In Pakistan, blasphemy is a crime that can be punishable by death with life imprisonment.
Although Bibi denied the charges, she was later convicted and sentenced to death by hanging in December 2010. Bibi's case had become the focal point of calls to reform Pakistan's blasphemy laws. She was supported by Punjab Gov. Salman Taseer, who was assassinated in 2011 after calling for Bibi to be pardoned.
Bibi's death sentence was upheld by the Lahore High Court in October 2014. Her appeal to the Pakistan Supreme Court was delayed a number of times before a three-judge Supreme Court panel decided to acquit Bibi on grounds that the prosecution "categorically failed to prove its case beyond reasonable doubt."
The ruling caused much outrage among radical Muslims in the Muslim-majority nation.  Thousands of Muslims took to the streets in cities across the country to call for Bibi's death and the death of the justices who were responsible for her acquittal.
The demonstrations were led by radical groups like Tehreek-e-Labaik Pakistan. Days after Bibi's acquittal was announced, TLP leaders worked out a deal with government leaders to have the Supreme Court review its decision to acquit Bibi.
A review of the decision could take months or even years and as part of the agreement with TLP, Bibi is not permitted the leave the country.
Bibi has been released from prison and is in hiding with her family.
Reports have indicated that Bibi's family has asked European and North American nations for asylum but nothing imminent has been reported about Bibi's asylum status.
Samuel Smith contributed to this report.