The Christian Post's top 10 news stories of 2018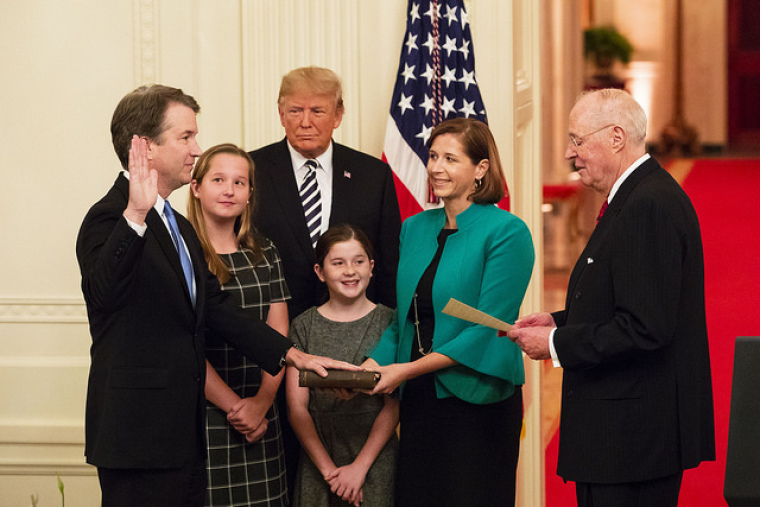 3. Brett Kavanaugh changes Supreme Court balance after contentious hearings
The confirmation of Judge Brett Kavanaugh to the U.S. Supreme Court was seen as the most contentious hearing process for a judicial nominee in the nation's history.
Pro-abortion groups saw his confirmation as shoring up a 5-4 conservative majority on the court that could potentially end Roe v. Wade, they warned, as over 200 pro-choice protesters were arrested during the four days of Senate confirmation hearings.
Despite the onslaught of protests at the hearings and outside the Supreme Court and senators' offices — not to mention the thousands of wire coat hangers and death threats sent to the home and offices of pro-choice Republican Sen. Susan Collins of Maine, in an attempt to frighten her into voting against Kavanaugh's confirmation — the judge was confirmed by the U.S. Senate by a vote of 50-48 on Oct. 6.
Despite warnings from pro-choice activists that Kavanaugh would upend abortion rights and decimate Planned Parenthood, on Monday, Kavanaugh and Chief Justice John Roberts (appointed by former Republican President George W. Bush) both sided with liberal justices on the court in declining to hear an appeal in the cases of Andersen v. Planned Parenthood of Kansas and Mid-Missouri and Gee v. Planned Parenthood of Gulf Coast.
In his dissent, Justice Clarence Thomas, who was joined by Justices Samuel Alito and Neil Gorsuch, speculated whether the majority of the high court might have refused to take the cases because it had to do with Planned Parenthood.
"So what explains the Court's refusal to do its job here? I suspect it has something to do with the fact that some respondents in these cases are named 'Planned Parenthood,' he said, noting that the question surrounding the cases technically "has nothing to do with abortion."
Thomas argued that the court should have heard the appeals since they deal with an "important and recurring" question of "whether Medicaid recipients have a private right of action to challenge a state's determination of 'qualified' Medicaid providers."
Following the court's decision, Collins, who was a key vote in favor of Kavanaugh's confirmation, said she felt "vindicated" after the court declined to hear the cases.
Collins' faith that Kavanaugh would uphold abortion rights in cases considered by the court is also the reason why some pro-lifers initially opposed Kavanaugh, because they didn't see him as being pro-life enough. 
While Planned Parenthood and Democrat lawmakers have warned in fundraising emails that Kavanaugh would strip abortion rights away from women, The Christian Post reported earlier this year that those claims are unfounded.
Pro-Life Action League Executive Director Eric J. Scheidler said that claims made in a recent report from the Center for Reproductive Rights that said 22 states would immediately ban abortion were exaggerated.
"At most, only a couple of states with extremely conservative legislatures might even attempt something like a total ban on abortion," said Scheidler. "[It's] far more likely is that states would seek to further restrict abortion, in line with the view of most Americans, with measures like banning late-term abortion and holding abortion facilities to health and safety standards.
"I'd expect to see the Supreme Court uphold greater restrictions on abortion than we've seen so far, such as the bans on abortion after 20 weeks that have been passed in some states," Scheidler added. "But more immediately, I would expect a court with Brett Kavanaugh on the bench to vigorously uphold the civil rights of pro-life activists, and the religious freedoms of all Americans.
Kavanaugh's confirmation was nearly derailed in September when, after the confirmation hearings, Sen. Diane Feinstein, D-Calif., revealed that she had received a letter dated July 30 from Rep. Anna Eshoo, D-Calif., that contained an allegation of sexual misconduct against Kavanaugh and had withheld the information from her Republican colleagues on the Senate Judiciary Committee for six weeks.
In the letter, Christine Ford claimed that at a house party during the 1980s, a 17-year-old Kavanaugh "pushed" her into a bedroom where he attempted to "disrobe" her but was unable to because she was wearing a one-piece bathing suit under her clothes. Ford alleged that when she screamed for help, Kavanaugh covered her mouth with his hand and she "feared he may inadvertently kill me." Another teenager was in the room with them, whom she named as Mark Judge. Ford said she was able to escape the bedroom after the boys toppled off the bed onto the floor, which is when she got up and ran into a bathroom where she locked herself inside.
Both Ford and Kavanaugh gave their testimonies before the Senate Judiciary Committee. Ford said she was "100 percent certain" that Kavanaugh had attacked her, and Kavanaugh defended himself from the accusations, which he said were false.
The FBI conducted a supplemental background investigation finding "no corroboration of the allegations made by Ford," as well as allegations of misconduct that came from Deborah Ramirez, who told the New Yorker magazine that Kavanaugh might have been the student who exposed himself to her at a party when they were at Yale. No one could corroborate either woman's claims.
The FBI questioned nine named witnesses and contacted a tenth to produce a 46-page report along with six previous FBI background investigations of Kavanaugh for Senators and the White House to review.
The office of Senate Judiciary Committee Chairman Sen. Chuck Grassley, R-Iowa, also released its summary of the FBI report and concluded, "There is no corroboration of the allegations" made by Ford or Ramirez.
Another woman, Julie Swetnick, who's older than Kavanaugh, claimed that she willingly attended several gang rape parties where she saw Kavanaugh "spike the punch" that girls drank. She later said in an interview with MSNBC that she only saw Kavanaugh hand out red Solo cups to girls. Swetnick was represented by attorney Michael Avenatti, who became famous for representing porn star Stormy Daniels.
Grassley later made a criminal referral to both Avenatti and Swetnick for making false statements to Congress. No one Swetnick named in her sworn testimony could corroborate any of her claims.
Ford and Kavanaugh both reported receiving death threats and in their testimonies before the Senate Judiciary Committee spoke about concerns for their families' safety.
Two GoFundMe accounts, which Ford mentioned in her testimony (here and here), have raised over $845,000 to cover her travel, security and living expenses. She's continuing to raise more funds. 
Similarly, a GoFundMe account set up for Kavanaugh to pay for his security expenses raised over $600,000. The funds have since been donated to several Catholic charities in Washington, D.C. after the justice declined to accept the money.
President Donald Trump nominated Kavanaugh in July to replace retired Supreme Court Justice Anthony Kennedy, who was a swing vote on the court.
In 2003, Bush nominated Kavanaugh to the D.C. Circuit Court of Appeals. Democrats delayed his conformation for three years and he wasn't confirmed until 2006. During those three years, Kavanaugh served as staff secretary in the Bush White House.
Melissa Barnhart contributed to this report.