The Christian Post's top 10 news stories of 2019, Part 1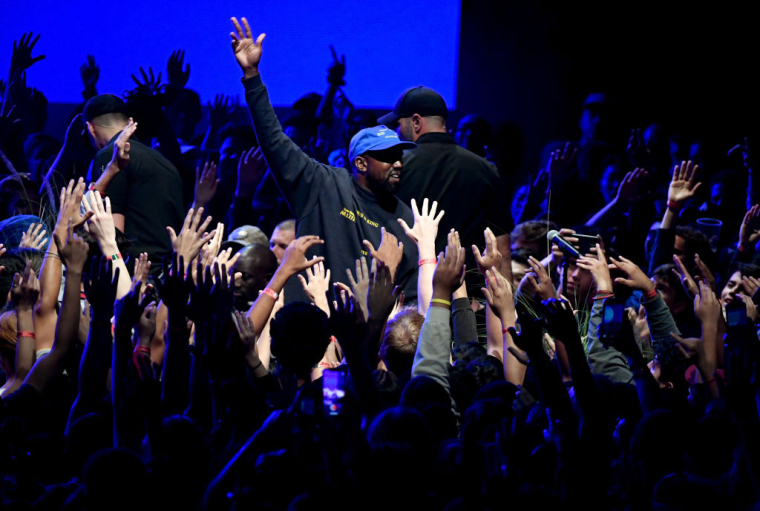 8. Celebrities proclaim Jesus
2019 proved to be the year of outspoken Hollywood stars as numerous celebrities, some of them, unexpectedly, unashamedly talked publicly about their belief in Jesus Christ.
Artists such as Kanye West, Justin Bieber and Chance the Rapper have kicked their public profession of faith into high gear this year while others shared messages they received from God, or their wish to use their talents in service to Christ.
Here's a list of some of the celebrities who've boldly confessed their faith, talking about salvation, communicating with God and His transformative power.
Kanye West 
Following many years of projecting a god complex through his alter ego Yeezus, Kanye West started to rap a different tune in 2019 with his church gatherings called Sunday Service events. The gatherings happened every weekend this year and featured some preaching as well as a gospel choir that reimagined mainstream songs with Christian lyrics. West said he became a born-again Christian during this process and has now devoted his life to "working for God."
His first real gospel album, Jesus Is King, also made history on the Billboard Charts, ranking No. 1 on five charts as well as dominating the Top 10 slots on both the Hot Christian Songs and Hot Gospel Songs charts.
Jesus Is King is the rapper's first faith-based album and this week it topped the all-genre Billboard 200, Top R&B/Hip-Hop Albums, Top Rap Albums charts, Top Christian Albums and Top Gospel Albums.
His impact is even rubbing off on his celebrity family, The Kardashians, who all are avid attenders of his services. His wife, Kim even revealed that she had her own "awakening" and would change her sexy image after her husband confronted her about dressing "too sexy" in public because it was affecting his Christian convictions.
West shows no sign of slowing his new music ministry down and has said he is gearing up to release a holiday album, Jesus Is Born.
Dolly Parton
Country icon Dolly Parton has always professed to be a Christian but this year with the release of her new Netflix anthology series she told The Christian Post that her faith will inform every project she produces for the rest of her life. 
"I just try to use the talent that God gave me," Parton told CP. "So when I write songs, and with anything I do, I always pray about it and hope I do the right thing. I ask for forgiveness if I didn't do the right thing. I really love the fact that I've had a chance to do these songs and see them come to life and to just be able to stand here and do it. So I thank God for all of it."
The 73-year-old star also took her peers to church with three powerful Christian performances at the 2019 CMA Awards show. Along with co-hosting the Wednesday show with Carrie Underwood and Reba McEntire, Parton hit the stage for a Christian medley. The performance began with for King & Country and their collaboration "God Only Knows," moved along with Christian rocker Zach Williams singing his hit song, "There Was Jesus" and ended with Parton's rendition of "Have a Little Faith in Me." 
In another interview with CP, Parton proclaimed that her purpose in life is to "do something for God." The singer said, "Until He says stop, I'll keep going."
"I'm going to try to get more into doing more uplifting songs," she maintained. "Just like 'God Only Knows' and 'Have a Little Faith in Me' and 'There was Jesus.' Not all religious songs, but just songs that are kinder, more fun, more uplifting, make you feel good about yourself, make you feel good about life and other people. I'm hoping to try to spread a little light."
Justin Bieber
Pop superstar Justin Bieber has been extremely vocal about his Christian conversion this year ahead of and also following his religious marriage ceremony to his wife, Hailey Baldwin.
Hillsong Church NYC pastor Carl Lentz officiated the ceremony, a source who attended the wedding told The Christian Post and before the ceremony, the bride's father, Stephen Baldwin, said in a video posted online by TMZ that the couple wanted to keep God at the center of their wedding ceremony and the wedding was filled with many of their pastor friends. 
Bieber, who is currently on a break from touring to work on his spiritual growth has spent this year posting messages about God and was even seen leading worship at pastor Judah Smith's Churchome.
"Sang at church last night. God is pulling me through a hard season. Having trust in Jesus at your worst times is the absolute hardest. But He is faithful to complete what He started," Bieber wrote on Instagram. 
Churchome pastor, Judah Smith has been a mentor to Bieber for many years and has helped the star leave behind his destructive bad-boy ways to become the man he is today. The Canadian born star has also been actively sharing Smith's new guided prayers on Instagram for his millions of social media followers.
Chance The Rapper
Grammy Award-winning artist Chance the Rapper, whose real name is Chancelor Jonathan Bennett, released a new album The Big Day this year and during nearly every promotional stop for the profanity-laced album, he talked about his faith in Jesus. 
In an interview with Queen Radio on Apple Music's Beats 1 hosted by Nicki Minaj, Chance got candid and said his wife "saved" him by abstaining from sex.
"My wife literally saved my life by becoming celibate and going and getting baptized," he said, admitting that before he witnessed her commitment to faith he never really knew where his strength came from. 
"This is all after Coloring Book, after I proclaimed that I love Jesus, and all that stuff," he revealed. "You're never fully, fully sanctified. So I had to keep figuring it out. I had to do the Grammy's by myself. I had to do a lot by myself. Then when my girl [who is also the mother of his child] was gracious enough to have me back, it changed my whole life."
The Chicago native has also told multiple outlets that his wedding this year ignited guests' interest in God. He described it as a "miniconcert" featuring gospel singers Kirk Franklin, Fred Hammond, and Hezekiah Walker.
"The whole union, between us and how we talked about what we planned it for, we wanted it to be a union for God. So we wanted it to be something that He could be proud of and something that we could use that space to develop that," he shared on "Sway in the Morning".
When the wedding was over and they moved on to the reception, Chance said many of the guests came up to him and shared how the ceremony led them to start thinking about God.
The rapper has also openly commended Kanye West on many occasions for his new evangelistic mission.
Chris Pratt
Actor Chris Pratt kicked off the new year, last January, declaring that he was on the Biblical Daniel fast with his church. Pratt demonstrated his outspoken Christianity by marrying Katherine Schwarzenegger "before God and friends" in June, as they both stated on their public post celebrating the big day. 
"Yesterday was the best day of our lives!" both Pratt and Schwarzenegger wrote on Instagram along with a photo of the two hand in hand.
The "Avengers: Infinity War" star went on to share the details of his special day.
"We became husband and wife in front of God, our families and those we love. It was intimate, moving and emotional. We feel so blessed to begin this new chapter of our lives," Pratt gushed.
The "Guardians of The Galaxy" star has been linked to Zoe Church in Los Angeles, California, which is pastored by Chad Veach. 
Selena Gomez 
Popstar Selena Gomez has been very vocal about her Christian faith for some time now and at the tail end of 2019 she told the world that God has been speaking to her.
Gomez delivered her first single in four years recently and after its release, the singer says Jesus spoke to her.
Gomez shared her reaction on social media after the emotional single, titled "Lose You to Love Me," was published on YouTube. The song describes her emotional roller coaster love life, which some are associating to her relationship with Justin Bieber. 
"I'm literally just laying down and thanking Jesus… Where my father has taken me and placing me is exactly where I am meant to be," she shared on a note written on her phone and shared on Twitter. 
The 27-year-old entertainer then shared what she believed God told her. 
"He said to me 'Selena hold on, I hurt when you hurt. I cry when you cry but I will NEVER, EVER leave your side. Work with me, walk with me and watch how I do it,'" Gomez described.
"He always surprises me and I re-fall in love with Him every single time. In my worst moments, like awful, most painful moments -I never stopped falling to my knees wanting and needing only His love. See the enemy keeps trying to tear me down and it's just not gonna happen. Not today. Not the next.."
It's not the first time Gomez said God spoke to her this year, Jennifer Lopez shared a message she received from Gomez, who attended one of her Las Vegas shows in October and said "God was speaking to her" throughout the star's performance. 
"I wanted to tell you how much you inspired me tonight!!! I haven't felt that free in my entire life! Lol," Gomez said to Lopez in a private Instagram message after attending one of Lopez's final performances.
"I just wanted to tell you how amazing God thinks you are!!! He was speaking to me through your show tonight!!," Gomez continued.
Duane "Dog" Chapman
Lastly, "Dog the Bounty Hunter" star Duane "Dog" Chapman, a former bail bondsman who has made a name for himself on reality TV by being stern and crass, also has unashamedly been talking about how his Christian faith is helping him after the loss of his wife, Beth Chapman, earlier in the year.
Now a widower after Beth's death in July, he revealed in his first interview following her death that his Christianity has been an anchor for him. Chapman also shared the Bible verse he wants read to him before he dies. 
"After I've seen how she went slow, I said, 'Lord, I've figured it out, I want to go fast. But you got to let someone at least read Genesis 1:1 to me,'" Chapman told "Entertainment Tonight." 
That Bible verse says: "In the beginning, God created the heavens and the earth."
"All my staff have been advised, if something happens to me, I wanna hear Genesis 1:1 so that I know that means to say, 'Lord forgive me' …" he added, explaining that he wants to make sure he's consecrated before he meets God since his job often brings out his vulgarity.
After Beth Chapman's death, he said he's been struggling with loneliness and is still "looking to God" to help him navigate this new season. 
During a house call in September by popular physician Dr. Oz, Chapman likened Oz to entertaining an angel, as the Bible talks about, as his friend has a serious conversation with Chapman about his future and health.
Jeannie Law contributed to this report.