The Christian Post's top 10 news stories of 2020 (part 1)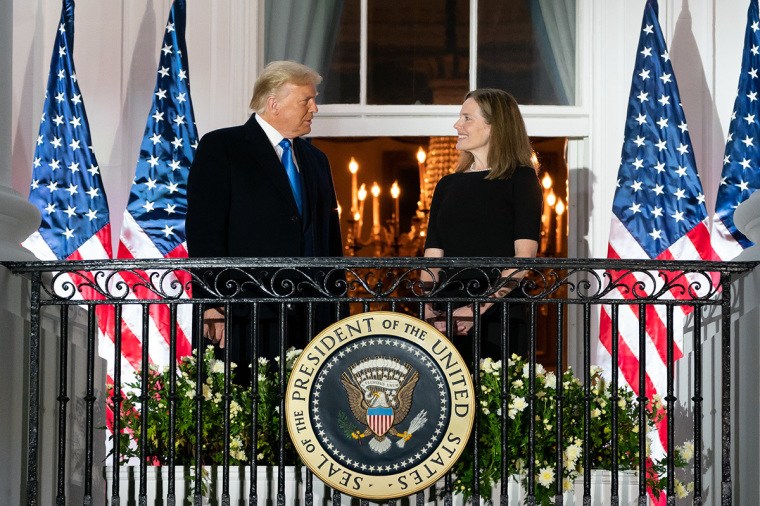 6. U.S. Supreme Court Justice Amy Coney Barrett

Following the death of longtime U.S. Supreme Court Justice Ruth Bader Ginsburg on Sept. 18, President Donald Trump nominated Judge Amy Coney Barrett to fill the vacancy.
Barrett had already received considerable national attention in 2017 when she was nominated by Trump to serve on the Seventh Circuit Court of Appeals.

At the time, Sen. Dianne Feinstein, D-Calif., expressed concern that Barrett's Catholic faith would hinder her ability to remain impartial: "I think in your case, professor, when you read your speeches, the conclusion one draws is that the dogma lives loudly within you, and that's of great concern when you come to big issues that large numbers of people have fought for years in this country."
Barrett was quickly seen as a frontrunner to replace Ginsburg, as the president announced that he planned to nominate a woman to fill the vacancy caused by her death. On Sept. 26, Trump nominated Barrett to serve as an Associate Justice on the Supreme Court in a ceremony in the White House Rose Garden.
Barrett's nomination to the Supreme Court came just five weeks before the 2020 presidential election. Republicans faced allegations of hypocrisy by Democrats for working to confirm Barrett during an election year despite the fact that they refused to hold hearings for Merrick Garland, whom outgoing President Barack Obama nominated to fill the Supreme Court seat of the late conservative Justice Antonin Scalia in March 2016, during the previous presidential election year.
At the time, Republicans made the case that the American people should decide the fate of the Supreme Court by voting in the upcoming presidential election. Democrats made similar arguments throughout Barrett's confirmation process.
Barrett's confirmation hearings began on Oct. 12, as members of the Senate Judiciary Committee and Barrett herself made their opening statements. Democrats repeatedly made the case that Barrett's presence on the court would put the Affordable Care Act in jeopardy, while Republicans touted the judge's credentials and background as a practicing Catholic and a working mother of seven. In her opening remarks, Barrett expressed admiration for the legal philosophy of Scalia.
On day two of her confirmation hearings, senators began questioning Barrett. In one of the more notable moments of the day, Barrett held up a blank notepad when asked by Sen. John Cornyn, R-Texas, to "hold up what you've been referring to in answering our questions."
Additionally, Sen. Mazie Hirono, D-Hawaii, lambasted Barrett for her use of the term "sexual preference," alleging that the term "is used by anti-LGBTQ activists to suggest that sexual orientation is a choice." According to Hirono, "It is not. Sexual orientation is a key part of a person's identity." The Trump campaign and conservatives were quick to point out that Democrats had also used that term, including then-Democratic presidential candidate Joe Biden. 
On the third day of confirmation hearings, Sen. Lindsey Graham, R-S.C., spoke about the historic nature of Barrett's Supreme Court nomination. "This hearing, to me, is an opportunity to not punch through a glass ceiling but a reinforced concrete barrier around conservative women," he said.
Describing Barrett as a "woman who's unashamedly pro-life and embraces her faith without apology," Graham predicted that her confirmation "will be a great signal to all young women who … share your view of the world that there's a seat at the table for them."

While one Republican-appointed woman, Sandra Day O'Connor, has served on the Supreme Court in the past, she was seen as a moderate not a conservative and voted with liberal justices on key abortion cases. All other female Supreme Court justices were Democrat appointees who sympathize with progressive judicial philosophy.
The final day of Barrett's confirmation hearings featured witnesses testifying for and against her confirmation to the Supreme Court. One of the witnesses in favor of Barrett's nomination, Laura Wolk, was the first blind woman to serve as a law clerk on the Supreme Court. Wolk recalled how Barrett, whom she had as a law professor at Notre Dame University, went out of her way to provide her with the assistive technology she needed to excel in law school.
As Barrett's confirmation hearings wrapped up, Feinstein was caught on a hot mic making comments about Barrett that were similar to her infamous "dogma" remarks that she made three years earlier: "She's been pro-life for a long time. So I suspect with her it is deeply personal and comes with her religion."
One week after the confirmation hearings concluded, the Senate Judiciary Committee voted along party lines to advance Barrett's nomination to the full Senate. On Oct. 26, the Senate voted 52-48 to confirm Barrett, with all Republicans except Sen. Susan Collins, R-Maine, voting in favor of her confirmation and all Democrats voting against.
Barrett's confirmation to the court makes her the third Supreme Court Justice appointed by Trump, the fifth woman and the second Republican-appointed woman to serve as a Supreme Court justice. Following Barrett's appointment, the Supreme Court consists of six Republican-appointed justices, three of whom were appointed by Trump, and three Democrat-appointed justices.
Following Barrett's confirmation, Rep. Alexandria Ocasio-Cortez, D-N.Y., issued a call to "expand the court" while Biden raised the possibility of rotating Supreme Court justices. The push to pack the Supreme Court arises from a desire to dilute the 6-3 Republican majority by appointing liberal justices to the bench, despite the fact that Chief Justice John Roberts and Justices Neil Gorsuch and Brett Kavanaugh have all sided with the liberal justices on several cases.
While Sen. Amy Klobuchar, D-Minn., expressed concern that Barrett's work on behalf of Republicans in the Bush v. Gore case that decided the results of the contested 2000 presidential election would lead to her ruling in Trump's favor in any litigation surrounding the 2020 presidential election, Barrett and the other Supreme Court justices declined to hear a lawsuit from Texas that challenged the results of the election in four battleground states.
In a ruling striking down New York's coronavirus restrictions on houses of worship, Barrett provided the fifth vote for the majority. Roberts, a Republican appointee, sided with the four Democrat-appointed justices in ruling that the restrictions did not violate the U.S. Constitution.
Ryan Foley contributed to this report