'The Shack' Makes 'Divine' Box Office Debut; Christians Warn of Portraying God as Woman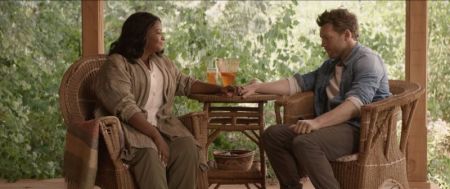 "The Shack" exceeded box office expectations in its premier weekend with one of the best openings for a faith-based film. But as moviegoers watch a woman play God on the big screen, some Christians want to clarify whether they should be more "inclusive" or "gender-blended" when referring to God.
"[T]he Bible never titles God as our Mother. But the question is worth looking at more carefully because in dozens of places the Bible uses feminine language for God," Tony Reinke, author of Newton on the Christian Life: To Live Is Christ, writes in his blog post titled "Our Mother Who Art In Heaven?"
Reinke made it clear that God is spirit and not a sexual or biological being. Though there are instances throughout Scripture where feminine imagery — such as giving birth or nursing a child — is used to describe God's actions or character, Reinke argued that when it comes to titles, feminine ones are never used in referencing God.
"That explains why in Scripture we find many masculine titles for God: Lord, Father, King, Judge, Savior, Ruler, Warrior, Shepherd, Husband, and even a handful of metaphorical masculine titles like Rock, Fortress, and Shield. While feminine titles for God — Queen, Lady, Mother, and Daughter — are never used," he wrote.
"The Shack," based on the 2007 novel of the same name by William P. Young, took in $16.1 million from 2,888 theaters, which is the best performance of a Christian movie since "Heaven Is for Real" in 2014.
Forbes described it as a "divine" opening and "top tier business" for a film of its kind.
As The Hollywood Reporter pointed out, "The Shack" came in at No. 3 behind the X-Men installment "Logan" and "Get Out."
The Lionsgate film starring Sam Worthington and Octavia Spencer tackles questions of suffering and crises of faith in the midst of loss and depression.
Worthington told The Christian Post in an interview that staring in the film helped him understand his own relationship with God.
"I came to religion very late, in my 20s and it was never something that was thrust on me as a young kid. It's something that I discovered, and my choice," the actor told CP. "I'm still on this journey of discovery [myself] and I think part of my journey was getting involved with 'The Shack.'
"I could see myself in Mack, the arguments he had towards God, towards what happen to him and how frustrated and angry [he was]. In my 20s and my 30s that's exactly the type of person that I was. I was looking for something and I didn't even know where to begin."
In both the book and film, God is presented as a woman named Papa who appears to the main character as he struggles with a family tragedy.
In making his case that God should not be referred to as "Mother," Reinke also argued that Jesus arrived on earth as a biological male.
"From this point onward, as the nature of God becomes more and more clear — specifically as the contours of the Trinity emerge in the New Testament, and the Father-Son dynamic becomes more fully developed — we find a sharp drop-off with the feminine metaphors for God," the author said.
As for the feminine imagery used throughout the Bible, it was commonly applied to men — not just God — including the Apostle Paul.
"Obviously, Paul's maleness is never brought into question by these female metaphors," Reinke noted.
With all that said, Reinke clarified that males are not more godlike than females.
He cited theologian John Piper:
"Everything created in woman that sets her off from man comes from God and reflects something of him," Piper said. "Woman was not modeled after some other god. There is no other god. She was modeled after God."
"When the Bible says she and he were created in the image of God, it means she is also made after the model of her Creator," he continued.
"So, it is important to say that in his essential divine being, not referring to his incarnate union with humanity, but in his essential, divine essence, God is not male and God is not female. Maleness and femaleness are God's creation, as biological bearers of masculinity and femininity, both of which are rooted in God."
Nevertheless, God revealed himself with masculine titles, Reinke stressed, and Christians should "receive those titles by faith because, in the words of theologian Bruce Waltke, 'It is inexcusable hubris and idolatry on the part of mortals to change the images by which the eternal God chooses to represent himself' (Old Testament Theology, 244)."