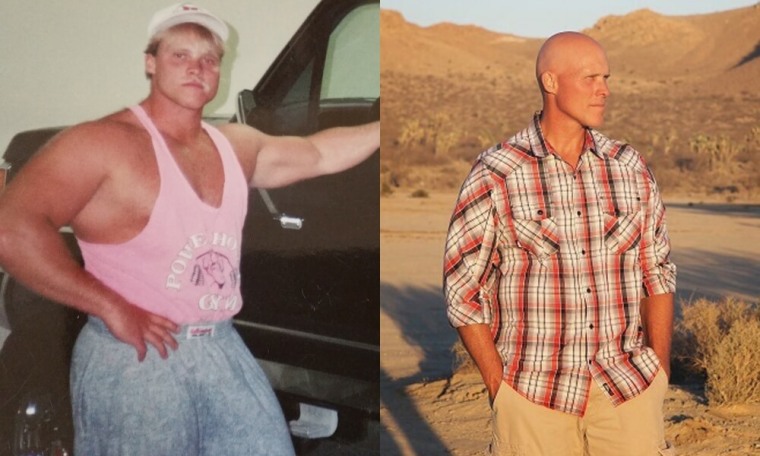 Although I believed I was healthy and fit, by the time I reached my twenty-second birthday, my 6'2'' frame had skyrocketed to 270 pounds and I was diagnosed with borderline hypoglycemia. My blood pressure and my cholesterol levels were high, my health was rapidly deteriorating, and I was told that I might need to take medication for the rest of my life.
As a result, I was denied life insurance and was instructed by my physician to "go on a strict diet." I was shocked! I knew that if I didn't change my life, my life would change me! I immediately drove to a bookstore and purchased a diet book convinced that it would help. It worked, but only temporarily.
Within a few months, I gained back all the weight I had lost. I continued to try different diets for several more years; all of them failed miserably. As a result, I became angry and frustrated. Many of the diets presented what I wanted to hear, and not what I needed to hear to lose weight and keep it off.
It shouldn't be about selling products, pills, and false promises — the truth is enough. The truth is that we are losing the war against obesity. And unless we change the way we approach weight-loss, it will not improve.
In general, the majority of diet promoters continue to focus on what we want to hear and not always on what we need to hear. We need a solution, not a sales pitch! Weight-loss is not as difficult as we make it. It becomes more difficult when we waste time on pills and products that do not work.
You are endowed with the God-given ability to change your life, and it simply begins with a decision. Decide today that you're going to take control and change your life.
I've found that most people want the fastest way to lose weight. But the fastest way is not generally the best way. When we cut corners, results are short-lived. In many cases, "quick" weight-loss means starvation and the use of stimulants — neither produces permanent weight-loss. Additionally, there are serious health risks involved. The biblical process of change requires patience, consistency, and obedience in doing what is right.
It's unfortunate that we live in an age when immediate gratification has taken precedence over delayed gratification. We are told that weight-loss can be quick and easy. As a result, we waste time and money on fitness products that promise the world but fail to deliver worthwhile results.
A pill may help you lose weight initially, but does it keep it off? No.
We want desperately to believe that it can. The majority of diet advertisers thrive on the principle that people will purchase products based on emotional response and urgency. As a result, many have been largely conditioned to believe that they can do the least amount of work possible in the shortest amount of time where weight-loss is concerned. That doesn't work and it never will! "Lose weight quick" is a great marketing slogan but it's not realistic.
An important part of change is changing the way you view the weight-loss process. Set your mind on a slow, consistent pace that will change your habits rather than a "quick fix." Diets sell because they give hope, and a sense of direction. You may feel that you've finally found the answer to your weight-loss dilemma. But failure is almost always certain because most cannot live with the restrictive or unrealistic nature of today's diets.
"Dieting," as we've come to understand the word, causes one to focus more on food, not less! Additionally, the word "diet" sets the mind for a temporary experience, but a temporary experience cannot solve a long-term problem. Failure, then, is programmed before one even begins!
Initially, people are highly motivated and disciplined when they begin a "diet." Many immediately stop eating fast food, stop consuming alcohol, stop eating sweets, and start exercising excessively. But as time passes, they fail to exercise as often, they don't watch calories as closely as they once did, and they lose the motivation they once had. As a result, they fall back into old habits, and behaviors, and eventually a lifestyle. But you can prevent this by introducing changes at a gradual pace.
What it takes to lose weight is what it takes to keep it off. Therefore, don't attempt to change your entire lifestyle overnight. For example, cut back on sugar consumption (i.e. soft drinks and junk food) and add exercise to your daily routine one or two times a week. A few weeks later add another day of exercise and limit junk food consumption again to once or twice a week; continue until a balance is reached and you feel in control.
Succeeding at weight-loss requires a continuous balancing act between choices. If you eat an unhealthy breakfast, for example, you can compensate by eating correctly throughout the rest of the day. Don't get frustrated; the key is to make more right choices than wrong ones.
It's essential to make good choices. Once you make a choice, it then makes you. Choices feed habits, habits define lifestyle, and lifestyle determines your future. Learning to make good choices is an important step in establishing long-term success.
You've made a choice to change. That change will soon produce new habits that, according to research, can be developed in as little as 21 days. Stay with it. But when you fall, and you will fall ... fall forward!
That bears repeating because it is crucial to your success: when you fall, fall forward!
Use the opportunity to learn and quickly get back on course again. Perseverance leads to success.
This principle of perseverance, or falling forward, helped me more than anything else. Don't let discouragement stop you. Move forward! Everyone gets discouraged, but those who learn to move forward despite discouragement eventually reach their destination.​
​Watch, Overcoming Food Addiction here: https://vimeo.com/25117942​​
Shane Idleman is the founder and lead pastor of Westside Christian Fellowship in Lancaster, California, just North of Los Angeles. Shane's sermons, articles, books, and radio program can all be found at
shaneidleman.com
or
wcfav.org
. Follow him on Facebook at:
facebook.com/confusedchurch
.