'They are devouring our sons': Moms of gender-confused boys unite, detail their anguish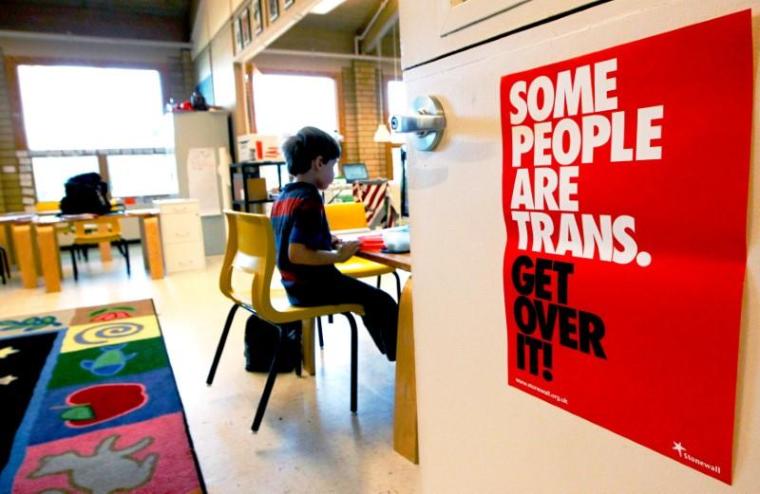 Paulina Hinson
Paulina Hinson from the Las Vegas metro area has a son, Kevin, who identifies as transgender and a lesbian. Nearly two years ago, Kevin made a surprise announcement when he was 15 that he had gender dysphoria, even though he never showed any signs of such confusion. 
Hinson said her son had been thinking about it and then started going online. He expressed his desire to take hormone blockers and begin a medicalized gender transition as soon as possible. 
Another male friend from his childhood felt similarly, and the two boys reinforced their newfound identities. 
At first, Hinson thought it was a phase that would not last long and that he was confusing some of his mental health issues with gender issues. In elementary school, he was evaluated after some recurring patterns of behavioral problems. But the professionals could not give a formal diagnosis other than ADHD. 
Hinson describes Kevin as "really bright" intellectually but said he struggled in school and "has trouble making friends because he does not talk on their level." 
Because Hinson realized the increasing ideological capture of the medical field with gender ideology, she feared taking her son to the doctor to explore further what might be ailing him. After his self-diagnosis, he sank into a deep depression and distress. 
Though Kevin has a girlfriend, he believes he is transgender. So he also calls himself a lesbian. 
"It's confusing. It doesn't make any sense," she said, noting that he gets mad when she tries to point out that lesbian means female homosexual. 
At one point, when she tried to explain the dangers of taking hormones, she said he told her: "Well if you would accept me as female, I won't do hormones."
"I said: 'Honey, female is a sex, and you will never be female because you don't have the chromosomes to ever be female,'" she said. 
Asserting biological facts has not broken his resolve, though Hinson continues to plant seeds of truth, hoping it will sink in somehow. 
Kevin has said that when he turns 18, which is approximately 18 months away, he will go to Planned Parenthood — which is now one of the leading providers of "gender-affirming" services — to obtain cross-sex hormones. 
Hinson's husband is on the same page and has tried to speak to him about the positive things about being a man. But it is an ongoing battle. 
Despite Kevin's wish to be female, he agrees with his mother that males should not be allowed to compete in women's sports and that sex-segregated facilities like restrooms should remain separated by sex. 
All Kevin's friends call him by his new female name even though he has never presented as a female with clothing or makeup. In short, he does not want to become a man and finds manhood thoroughly unappealing. 
"My life has forever changed, and my idea of the world is forever skewed," she added. "And the trust I had in people in the medical industry is forever changed. And the way I look at people … I can't believe that adults in the medical profession would go along with this lie and this myth."
Adding to her distress, Kevin is her only child, and it took years for her to become pregnant after suffering from a miscarriage. 
"All I ever wanted was to be a mom and for this to happen to my only child is just devastating," she explained.
"I literally just wanted to die. I felt no sense in going on. I just wanted to leave my life." 
As far as she knows, she and her husband are the only voices in their son's life that do not agree with his beliefs about his identity. She hopes that because he has vocal dissenters in his life who he knows love him, it might enough for him to reconsider his plans. 
"Planned Parenthood made a deal with the devil, and I hope this closes them down," she said.
"I used to think they were good in that they helped low-income women get medical services. But now they're not doing that. And all the organizations, even the places that used to help people with AIDS, now it's all about trans. Any LGBT group ... it's all about trans. All these places made a deal with the devil, and I have to hope that it comes back to bite them."
Hinson also spoke of how this experience has changed her philosophically: "I'm searching other truths. And I'm reading other things that I never used to read." 
"I really thought that journalists, the regular papers, had to have sources, so they had to tell the truth. And I used to always listen to NPR. Now, they are so skewed. It drives me nuts," she said. "They insert their opinion in there, and years ago, they didn't do that."
NPR's coverage of transgender issues is "awful," she stressed. 
"Children are being groomed online by adults," she said when asked what the public at large misunderstands about the transgender movement. Hinson noted that the youth who are same-sex attracted or on the autism spectrum are especially vulnerable because they always felt there was something different or wrong about them.
"The answer that these kids are getting is that there is something wrong with them [their body] and that the solution is that they are trans," Hinson explained.
"They're being told a lie … The medical industry is devouring and grooming our boys to be medicalized for life."
Hinson said she often hears in the parents' group about how young girls are pushing and encouraging boys into a trans identity. The boys become like "their doll" to dress up, play with and have fun. 
Before her son came out as trans, she recalled watching an episode of Bill Maher where Debra Soh, author of The End of Gender: Debunking the Myths about Sex and Identity in Our Society, was a guest. 
Soh spoke about how most gender-confused youths grow out of it after puberty and argued that it was not good to introduce hormones. 
"I was totally in agreement with it. I thought what parent would ever give their kid hormones if they could grow out of it?" Hinson said.
She subsequently stumbled upon a podcast where Soh was a guest. Soh referenced a parent group. Hinson found the name of the group in the comments section and looked it up. One thing led to another, and she was soon connected to other mothers in similar situations. She said she was grateful to know she was not alone. 
"They are confusing kids. They're ruining families. You thought you could have a child and make a difference," she said. "It's like they're taking away the core of a family. And I look at everyone who is having a child, and I'm like, 'Don't do it,' because you have no control over your child. Parental rights have been taken away. The schools are complicit in pushing this agenda."
She recalled reading about Communist Chinese Chairman Mao Zedong's rulership and how under his reign, children were instructed to turn on their parents and rupture the family structure. 
"I feel like that's what's happening. It used to be a world where the parents had control. But it's all taken away from us because our kid can complain to the school, and social services would be called because we're not affirming them in this lie. We could lose custody. That's a really scary, scary world we're in."