'They are devouring our sons': Moms of gender-confused boys unite, detail their anguish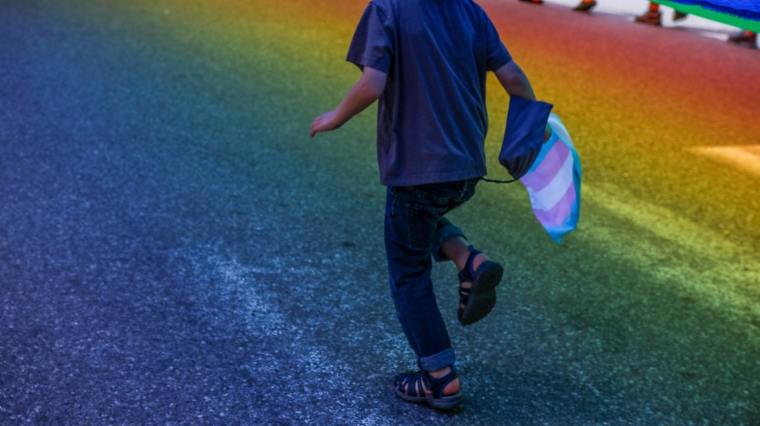 Lisa McCoy 
It is an especially scary world for Lisa McCoy, a Pittsburgh-area mother of two, a son and a daughter. 
A few of her daughters' friends had undergone some degree of gender-transition — three or four kids in every grade at her high school. 
One of her daughter's friends, a 15-year-old girl, has already preserved her gametes if she wants to have biological children later, freezing her eggs in a storage facility due to the effects of the hormonal agents she is now ingesting. A known side effect of the cocktail of gender-transition drugs is the foreclosure of fertility. 
Before the COVID-19 pandemic walloped the world, the McCoys were shocked to learn that their 14-year old son, Michael, started identifying as transgender. 
"It came out of nowhere, as far as I could see," she said in an interview with CP. 
In the fall of 2019, her son told her on the way home from a party where he had been hanging out with friends from school that he was "bi." By March, he wanted her to buy a dress for him to wear to a school event. But he insisted he was not a girl. He just wanted to goof around with his friends. The event got canceled due to COVID. However, a few days later, he sent McCoy a text message that read, "I am a girl, and my name is Melissa, but don't tell anyone else yet." 
Michael has ADHD and "gets extreme" about things and latches on to them with intensity. If he wants to learn something, he will learn everything he can about it and exhibit confidence that it is a part of his identity.
Weeks before this, Michael struggled with schoolwork, was battling depression and anxiety, and met with a counselor. McCoy thought the text message was just a bizarre episode of his struggles and didn't take it seriously. Later that night, when she called him by his given name and not his chosen female name, he exploded. 
"How dare you, that's not my real name!" she recalls him responding. 
McCoy was taken aback, and as the pandemic continued, the conflict intensified. Few people were sleeping in their house, and she found out that Michael had been on social media, especially TikTok, for most of the night. He had also been chatting with adults on a transgender hotline who coached him on what he should say to his family about his newfound identity. 
Many mornings he would come downstairs and say things like, "You're going to kick me out of the house when I'm 16 because that's what anti-trans parents do," or "I'm going to commit suicide because most of us do."
"He kind of lumped himself into that group of people immediately," McCoy said.  
She soon instituted a phone ban at a specific time of night but did not want to remove him entirely from engaging with his friends. She later discovered that several of his friends were teaching him how to apply makeup. This was not mere silly goofing around but friends affirming him as the opposite sex, she said. 
Several weeks ago, McCoy recounted that she made a mistake she regrets. She happened to mention during a discussion with the school psychologist that he was struggling with gender issues. 
"So the school put a plan in place that the counselor will meet with him every week to help him transition," she said. 
"So thank God we're not back at school yet, because I need to figure out how to get that erased from the document."
"We have a kid who is confused, and the world is trying to say 'this is who you are.'"
Now 14, Michael is a late-bloomer, having only recently begun a growth spurt and starting to sprout facial hair. 
McCoy told her son from the beginning that they would not take part in medicalized gender transition because she considers that child abuse. Her son has not fought back about that yet. 
Both Michael and his sister believe that gender is separate from biological sex but live in cognitive dissonance about the human body. 
"My daughter is 17, and she is totally in this world of 'What's the problem? So his gender doesn't line up with his biological sex. That's fine,'" McCoy recounted. 
"She can just roll it off the tip of her tongue, no problem. When I said to her, 'What do you feel about someone with male genitalia coming into your locker room when you're changing for swimming?' 
She replied: "'Why is that a big deal? I don't understand why that matters. Because they're really girls.'" 
"She totally doesn't get it at all," McCoy lamented, "There are no protections for her, and she doesn't care." 
And Michael routinely insists that no transwoman is going to attack anyone because that's not who they are. 
Soon after her son came out as trans, she connected with a 31-year-old male who has undergone a gender-transition who helped her understand many young people's mindsets. She joined a group of mothers of children and teens who were transitioning and was alarmed to discover that some of the mothers were in favor of it. One woman's daughter had undergone a double mastectomy two weeks earlier. 
"They're struggling. It's hard," she says of the moms in the group, as they have been led to believe this is the best course for their children. 
"Every one of their kids has mental health issues. Most of them are autistic. High-functioning Asperger's, that kind of stuff … This whole understanding of the world, it's a subculture I had no idea existed." 
McCoy is an evangelical Christian and describes herself as politically liberal but morally opposed to abortion. Growing up in a non-Christian home, she is familiar with the world of gays, lesbians, and bisexuals and was acquainted with how they were excluded from evangelical circles. 
In addition to the pro-trans yet struggling moms group, McCoy is also part of a community of evangelical Christians dealing with this issue with their children. For the most part, none of them have told any of their church members about what is going on in their families. 
Many churches simply do not know how to deal with it or don't know how to approach it effectively. So they pretend it does not exist, McCoy said. She reached out to many local youth pastors and found that only one had done any serious thinking about it. 
"One pastor said to me: 'If you want to call him by his girl name at home, that's fine, but you may not do that in this building if you want to be a member of this church.'"
The most difficult language she has seen from the medical establishment is that parents are abusing their children if they don't support their kids' transition. This refusal is sometimes referred to as medical neglect or "denying basic medical care."
She has never broached the subject with the pro-trans moms' group about detransitioners, individuals who once identified as trans but have begun reintegrating with their natal sex. 
The first time one of the mom's 20-year-old daughter posted a photo of herself on Facebook with a 5 o'clock shadow due to testosterone use, she was devastated, McCoy recalled. 
Another mom who took her daughter in for a double mastectomy called many of the moms crying. 
"She thinks she was doing the right thing. The world is telling her she's doing the right thing, but she's still struggling," she said. 
But even though it's hard for them to deal with, these mothers insist that their children are happy for the first time in their lives and that they were always severely depressed. 
McCoy fears that if her son persists in his desire to transition, she will not be allowed to grieve because society insists it's something to be celebrated. And though the threat of suicide is indeed a manipulative tool used to intimidate parents, the possibility that he just might end his life remains terrifying. 
"When your kid screams at you at 2 o'clock in the morning that he never thought you were his mother anyway, and you think: 'I have loved you for 14 years. I have given my life to you. You are such an extreme human being to raise to begin with.' … You wonder, am I insane? Did I miss signals my whole life?"
The general public believes that kids who desire to become the opposite sex have struggled their entire lives. But this is not true, she contends. She argues that this is a body dysmorphia akin to anorexia, and it's as though society is teaching anorexics how to starve themselves further. 
"You think that it's not insidious, and you think that it's not going to happen to you. You think that your kid is fine," she told CP. "But you have no idea what kid it's going to happen to, and it pops up out of nowhere. The schools think that they're being kind to kids when they start to say to them, 'Well, you can be anything you want to be.'"
McCoy said that her son once said to her: "'Why didn't you ever tell me this was a possibility when I was a little kid.'"
"I said to him: 'I didn't know it was possible. … It just didn't happen in the mainstream until recently,'" she asserted. 
The mother added that the world is trying to "normalize something that is not based on science while claiming to be based on science." 
Scrutiny facing the transgender movement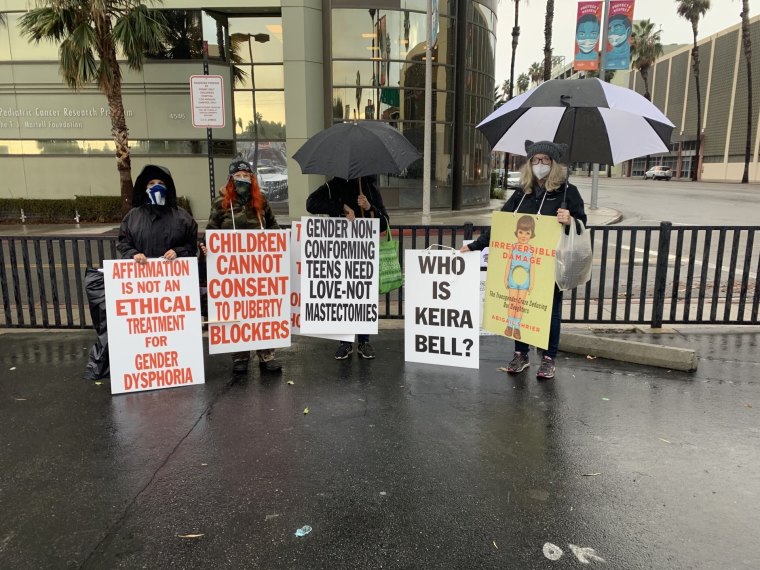 Some scrutiny of transgenderism is finally manifesting more visibly given emerging public policy debates related to trans-identifying males in women's sports and a U.K. court ruling in the judicial review late last year against the Tavistock gender clinic in London. Both have raised questions about the implications and consequences of gender identity ideology. 
In the Tavistock ruling, the court held that children younger than 16 lack maturity to give informed consent to puberty blockers and criticized several practices within the clinic. However, the U.K.'s high court ruled in a subsequent decision on March 26 that parents are allowed to give their consent for their children to take puberty-suppressing drugs as part of gender identity treatment without having to obtain a judge's permission.
The Tavistock review was brought about, in part, because of the efforts of Keira Bell, a female detransitioner who took puberty blockers and hormones as a teenager at the facility and went on to have a double mastectomy as a young adult. Bell wound up regretting it. She argued that she could not understand the consequences of what she was doing as a troubled youth suffering from various mental health issues and psychological struggles. 
But McCoy does not expect to see a substantial societal shift in the United States on the subject until the public realizes what is happening to boys.
"I think that if our society, if the men in our society, understand that we are castrating young boys, they're going to understand more. Because [if] a whole bunch of young girls who are being sterilized, we don't care about that because young girls aren't a big deal," she said, noting how women continue to be devalued in society. 
"But young boys? If we're taking young men and destroying their masculinity, I think that's going to start to capture something in our society."