This week in Christian history: Oxford Movement begins, Irish Archbishop executed, Teutonic Knights battle
Teutonic Knights defeated by Poland – July 15, 1410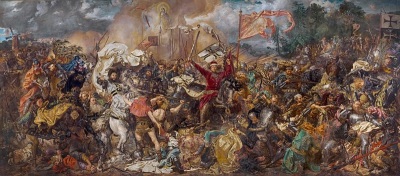 This week marks the anniversary of when the Teutonic Order of Knights, a Christian military order, was defeated at a major battle by the Kingdom of Poland and the Grand Duchy of Lithuania.
Known as the Battle of Grunwald, First Battle of Tannenberg, or the Battle of Žalgiris, the conflict saw Polish-Lithuanian forces defeat the Order after several hours of fighting.  
"Some Knights fled to nearby woods and marshes, others retreated to the village of Grunwald, where they organized a defense of wagons tied with chains (in anticipation of the Wild West centuries later). The defense was broken and it was said that the village people had joined in the killing," wrote Richard Cavendish of History Today in 2010.
"To make peace in 1411 the Order had to pay a substantial indemnity. The Polish-Lithuanian victory marked the beginning of the Teutonic Knights' decline as a military power and the battle has been ranked ever since as one of the most important in all Polish history."