Thousands of Children Find Forever Families as Nation Celebrates 15th Annual Adoption Day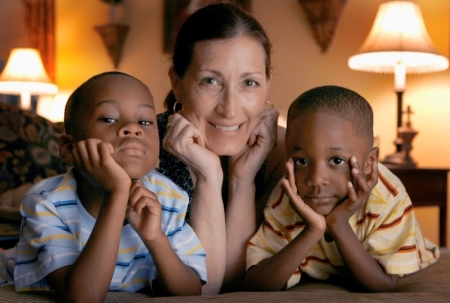 Thousands of children in foster care waiting for permanent and loving families are hoping their dreams will come true as communities and churches across the country celebrate the annual National Adoption Day on Saturday.
It's a day to celebrate adopted families as well as raise awareness of more than 100,000 children in foster care still looking for forever families every Saturday before Thanksgiving. It has helped nearly 50,000 children move from foster care to a forever family since its inception in 2000.
In courtrooms around the country, about 4,500 adoptions from foster care will be finalized Saturday, according to the Adoptions Together group. Last year, the same number of youth in foster care were adopted by their forever families as 400 cities participated in the 14th annual National Adoption Day celebration.
In the Washington, D.C., Maryland, and Virginia courtrooms, about 200 adoptions will likely take place Saturday, the group says, noting, however, that every year 30,000 teens turn 18 without permanent families.
It is estimated that the average wait for a foster child to be adopted is four years.
In Indiana, Bethany Lutheran Church is hosting a celebration Saturday at the church in La Porte, inviting those who have adopted, those who were adopted and those considering adopting to come celebrate, mingle and learn, according to The News-Dispatch.
In Massachusetts, more than 100 youth in foster care, between the ages of infancy and 16 years, were adopted into 85 families through courthouses in Boston, Brockton, Worcester, Hadley and Springfield on Friday, according to WGGB.com.
"There are too many children in foster care that need loving permanent homes and today is just a great day for those children to have created a new family for them that with give them love, guidance, caring and everyone opening up their hearts to each other," Andrew Rome, the state's general counsel with the Department of Children and Families, was quoted as saying.
Although 108 children across the state were given homes Friday morning, there are still more than 7,000 young children who need a place to call home.
In Texas, nine families have already adopted 12 foster children in Smith County's celebration of this year's National Adoption Day at Rose Heights Church, according to Tyler Morning Telegraph.
Immediately after each adoption in Smith County earlier this month, the children, parents and other family members posed for their first portrait as a legally recognized family, the newspaper says. A reception with cake, food and presents followed.
November is celebrated as National Adoption Month.
"This month, on the Saturday before Thanksgiving, we will observe the 15th annual National Adoption Day, a nationwide celebration that brings together policymakers, practitioners, and advocates to finalize thousands of adoptions and to raise awareness of those still in need of permanent homes," President Obama said in an address Oct. 31.
"To help ensure there is a permanent home for every child, my administration is investing in programs to reduce the amount of time children in foster care wait for adoption and to educate adoptive families about the diverse needs of their children, helping ensure stability and permanency," he stated.
"We are equipping State and local adoption organizations with tools to provide quality mental health services to children who need them and, because we know the importance of sibling relationships, we are encouraging efforts to keep brothers and sisters together. Additionally, last year I was proud to permanently extend the Adoption Tax Credit to provide relief to adoptive families. By supporting policies that remove barriers to adoption, we give hope to children across America."
National Adoption Day was started by a coalition of national partners, which included The Alliance for Children's Rights, Children's Action Network, Freddie Mac Foundation and Dave Thomas Foundation for Adoption.