Thousands of Pro-Life Supporters Rally Across US to Defund Planned Parenthood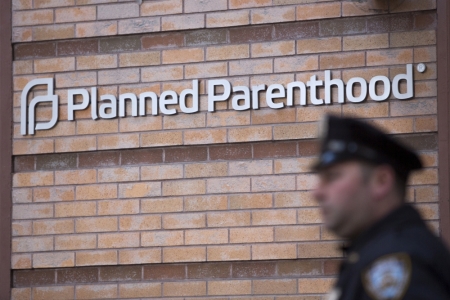 Gathering outside more than 200 Planned Parenthood clinics across the nation Saturday, thousands of pro-life supporters called for Congress and the federal government to cut off funding to the country's largest abortion provider.
Protesters gathered at Planned Parenthood clinics in 44 states and the District of Columbia with signs reading "Pray to End Abortion" and "Defend Life," according to The Associated Press.
The organizers, #ProtestPP, say, "The time has come to defund America's abortion giant! Planned Parenthood is the nation's largest abortion chain, killing over 300,000 babies each year, and nearly half of their billion dollar budget comes from our tax dollars."
"I'm here simply because I believe abortion is ending a life," Nancy Johnson, a pro-life supporter in Shrewsbury, N.J., told USA Today. "The money could be spent protecting life rather than taking a life."
The pro-life supporters were met with roughly 150 counterdemonstrations by supporters of Planned Parenthood, according to Reuters.
"All across the country, Planned Parenthood supporters are taking it upon themselves to organize in their communities on their own," Kelley Robinson, a leader of Planned Parenthood Action Fund Support, said in a statement. "Saturday, and every day, Planned Parenthood advocates and activists show that they refuse to be intimidated and they won't back down."
Lisa Blevins, who organized the pro-life protesters in Tempe, Arizona, told The Arizona Republic, "We're peaceful, prayerful people. We are based on prayer. We respond to them (the other protesters) by praying for and blessing them. We listen to them and we stay in peaceful prayer."
#ProtestPP is "a coalition of state and national pro-life groups calling for public protest in response to the recent horrifying revelations that Planned Parenthood has been involved in the illicit trafficking of aborted babies' body parts."
"The rallies … aim to educate the media and the public about Planned Parenthood's central role in the abortion industry and set the record straight about how limited their healthcare services really are," Eric Scheidler, national organizer of #ProtestPP and executive director for the Pro-Life Action League, earlier told The Christian Post. "For example, while Planned Parenthood provides less than 1% of annual pap tests, they provide 35% of annual abortions in the U.S."
Scheilder helped organized similar protests in 2015, with demonstrations held at around 300 clinics in response to the release of a series of undercover videos purporting to show Planned Parenthood officials violating federal law. "The massive media coverage of the undercover videos back in 2015 helped to make those protests especially large and numerous," he noted.
But the brouhaha is less this year. "We're not riding that kind of wave of publicity right now, so we've had to rise to the challenge of getting the word out through our own communications channels," Scheilder added.
Numerous pro-life supporters also took to Twitter to express solidarity. "Murder is murder, in the world or in the womb! #DefundPP," said one of the tweets.