Three Colorado Kids Shown Returning Wallet Full of Money by a Doorbell Camera
Kids say they thought returning the wallet 'would be a good thing to do'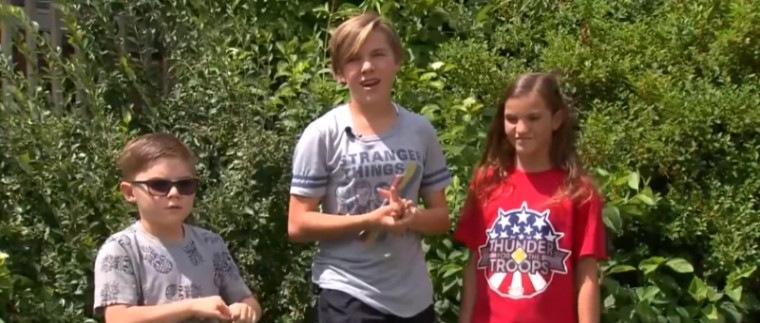 Three kids from Aurora, Colorado were captured on video by a doorbell camera as they returned a wallet full of money to its rightful owner.
A video posted on Facebook by Jamie Carlton shows three kids walking up to the doorway with one of them holding a wallet in hand. Upon ringing the doorbell, they are greeted by a security system informing them that the people in the home were away and that a camera was recording them.
After hearing the message, one of the kids tells the homeowner that they found a wallet outside of their car and that they would leave it near the doorway so that no one else could stumble upon it and take what was inside.
The kids then walk away and go back to their bikes.
Carlton called the kids "amazing" for what they did and said that their parents should be proud of them.
The kids have since been identified as 13-year-old Haylie Wenke, her brother Reagan, who is 6 years old, and their friend Ashley Dayton, according to the Good News Network.
Speaking to CBS Denver, Haylie said that part of the reason for why they returned the wallet is because they feared that someone else might take it.
They were caught off by the robotic voice that greeted them as they rang the doorbell. Ashley said that they were "freaked out" when that happened.
Hailey added that they made the effort to return the wallet for other reasons beyond being scared that someone else may get it.
She told KDVR.com that they thought returning the wallet "would be a good thing to do." She added, "It just feels good because we really didn't need the money. So we just decided to give it back."
However, Haylie is cognizant that not every kid in their situation would've done exactly what they did.
The owner of the wallet is grateful that it was Hailey, her brother and their friend who stumbled upon his previously lost belonging.
Nigel Drake, the son of the man who posted the now viral video, told 9news.com that he doesn't think a lot of people abide by the same morals the kids do. He also recalls dropping the wallet while he was taking some things inside the house.
He shared that it was "heartening" to watch the video.
Drake also said that he and his dad are still trying to come up with a good reward for the kind kids.