Tim Farron, UK Lib Dem Leader Who Resigned for Evangelical Faith, Now Says Gay Sex Is Sinful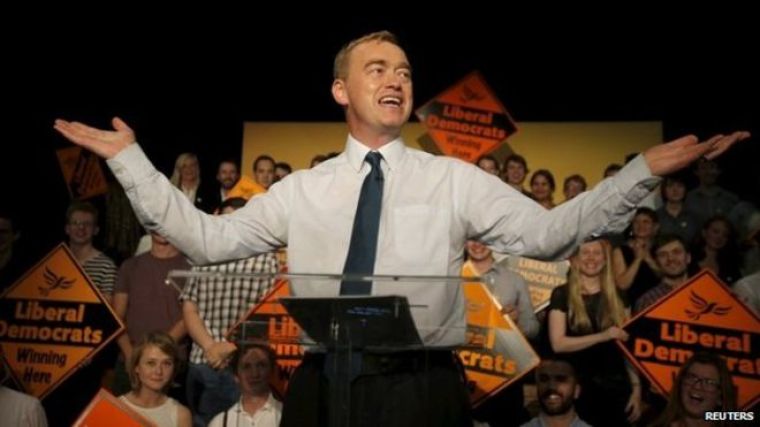 Tim Farron, the former leader of the Liberal Democrats party in the U.K., who last year resigned over his evangelical faith, has clarified his position on homosexuality and said he believes gay sex is sinful.
Speaking with Premier's Inspirational Breakfast program in an interview posted on Wednesday, Farron said his decision to quit as head of the party last year was the right one, given that his Christian views drew so much media scrutiny and attention.
"I either had to be compromising my faith, saying things that are not true, or be true to my faith. And frankly, I came to a situation where I sucked all the attention from being the mouth piece of the party, [which] took away from our main message," he said.
Farron was pressured by several media organizations last year to reveal his stance on whether he believes gay sex is sinful.
In April he told BBC Radio that he doesn't believe that it's a sin. But in his latest interview with Premier, he explained that he felt pressured at the time and said things he now regrets.
"Foolishly and wrongly, [I] attempted to push it away by giving an answer that, frankly, was not right," he admitted.
Farron argued that he was put in "tricky" situations.
"In the end, if you're a Christian you've got a very clear idea of what you think a sin is. It is us falling short of the glory of God. That is something that all of us share," he said.
"To be asked that question is to persecute one group of human beings, because sin is something we are all guilty of. If you're not a Christian, what does sin mean? It's to be accused of something, it's condemnatory. We're talking different languages," he continued.
"Maybe I could have explained that, and the biblical teaching on sex and sexuality. But let's be brutally honest, with the exception of programs like this you don't get more than 20 seconds to get your message across."
The former Liberal Democrats leader rejected the idea that Christians are heavily persecuted in the U.K. for their beliefs, though he pointed out that Christianity is always supposed to be counter cultural.
He said that part of the media's attention that circled around him was not only that he was a mainstream politician who believed in the Bible's teachings, but that many were unable to accept that at the same time he was also a liberal on the political spectrum.
Still, he admitted to feeling "isolated" when his faith was being questioned last year.
"I know that others were praying for me but there is a sense in which I was isolated," he recalled.
"I had a wonderful team around me at HQ but with one exception, there were no Christians; it was not their fault they didn't understand the issue."
When announcing his resignation in June 2017, Farron stated: "The consequences of the focus on my faith is that I have found myself torn between living as a faithful Christian and serving as a political leader."
"A better, wiser person than me may have been able to deal with this more successfully, to have remained faithful to Christ while leading a political party in the current environment," he continued.
"To be a political leader — especially of a progressive, liberal party in 2017 — and to live as a committed Christian, to hold faithfully to the Bible's teaching, has felt impossible for me."
Last year, media organizations asked a number of key British societal leaders, including Justin Welby, the Archbishop of Canterbury, whether they think gay sex is sinful.
"You know very well that is a question I can't give a straight answer to," Welby told GQ magazine in response.
"I don't do blanket condemnation and I haven't got a good answer to the question. I'll be really honest about that. I know I haven't got a good answer to the question. Inherently, within myself, the things that seem to me to be absolutely central are around faithfulness, stability of relationships and loving relationships," he added.