Tim Kaine: Hillary Clinton Is Ready to Be President Because of Her Faith, Heart and Experience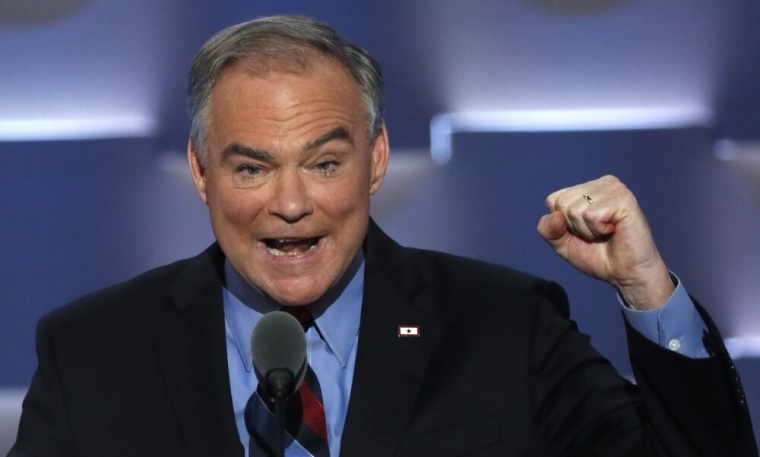 Democratic vice-presidential nominee, Sen. Tim Kaine of Virginia said Hillary Clinton, his party's presidential nominee is ready for the top job in the White House because of her faith, heart and experience but trashed her Republican rival Donald Trump as a dangerous conman who should not be trusted.
In his remarks delivered at the Democratic National Convention in Philadelphia, Pennsylvania Wednesday night, Kaine wasted very little time before firing shots at the New York billionaire.
"I want to thank my beautiful wife Anne and my three wonderful children, Nat, Woody, and Annella. Nat deployed with his Marine battalion two days ago to protect and defend the very NATO allies that Donald Trump now says he would abandon," Kaine said in the opening lines of his speech that was strategically punctuated with remarks in Spanish.
The devout Catholic formally accepted his party's nomination for vice president and credited his parents for instilling in him strong values and faith.
"My parents, Al and Kathy, taught me about hard work, and about kindness, and, most importantly, faith. I went to a Jesuit boys school – Rockhurst High School. The motto of our school was 'men for others.' That's where my faith became vital, a North Star for orienting my life. And I knew that I wanted to fight for social justice," he said. "That's why I took a year off law school to volunteer with Jesuit missionaries in Honduras. I taught kids welding and carpentry."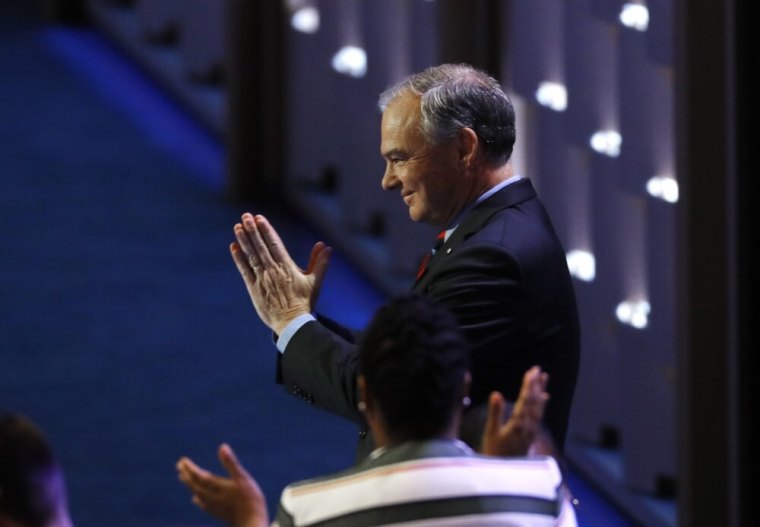 And it was during his time in Honduras working to help the less fortunate that Kaine became fluent in Spanish and he used it with gusto during his presentation on Wednesday night.
"The next President will face many challenges. We better elect the candidate who's proven she can be trusted with the job. The candidate who's proven she's ready for the job. And, when I say ready, I use 'ready' for a specific reason. When I lived in Honduras, I learned that the best compliment you could give someone was to say they were 'listo'– ready," Kaine said.
"Not 'inteligente'– smart. Not 'amable'– friendly. Not 'rico' – rich. But 'listo.' Because what 'listo' means in Spanish is prepared, battle-tested, rock-solid, up for anything, never backing down. And friends Hillary Clinton, she is 'lista,'" said Kaine.
He then pointed to Clinton's faith as a part of her readiness for the presidency while highlighting her record of social justice activism.
"She's ready because of her faith. She's ready because of her heart. She's ready because of her experience. She's ready because she knows in America we are stronger together. My fellow Democrats, this week we start the next chapter in our proud story," he said. "Hillary is ready. Ready to fight, ready to win, ready to lead."
In discussing Trump however, Kaine asked the audience at the Wells Fargo Center auditorium to examine the billionaire's record.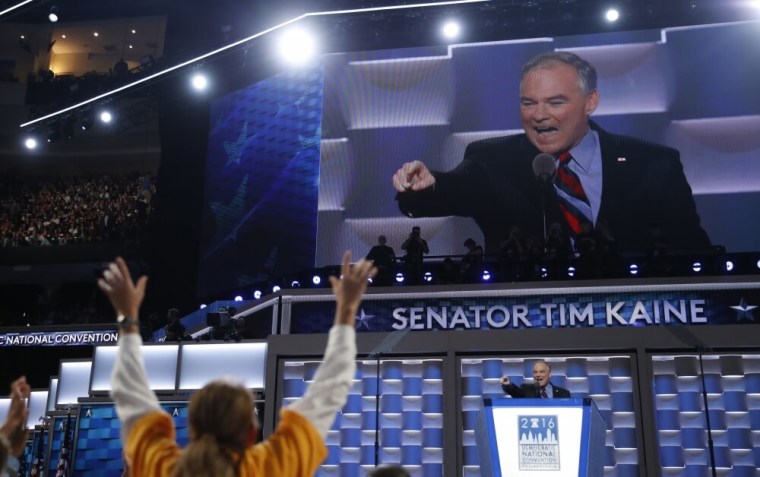 "Can I offer you a little tip? When you want to know about the character of somebody in public life, look to see if they have a passion, one that began before they were in office, and that they have consistently held on to throughout their career," said Kaine. "Hillary has a passion for kids and families. Donald Trump has a passion too: It's himself."
Kaine then pointed to Republicans including former first lady Barbara Bush and his Republican father-in-law, A. Linwood Holton, Virginia's 61st Governor, who are embarrassed by Trump's candidacy.
"Folks, you cannot believe one word that comes out of Donald Trump's mouth. And I'll tell you, to me it just seems like our nation is too great to put it in the hands of a slick-talking, empty-promising, self-promoting, one man wrecking crew," Kaine said.
"But don't take it from me. Take it from former first lady Barbara Bush. She said she didn't know how any woman could vote for him after his offensive comments about women."
Pointing to his Republican in-law, he said: "Anne's parents, Lin and Jinks, are here today, 90-plus and going strong. Lin's still a Republican. But he's voting for a lot of Democrats these days. Because any party that would nominate Donald Trump for president has moved too far away from his party of Lincoln. And if any of you are looking for that party of Lincoln, we've got a home for you right here in the Democratic Party."
"Now look, this journey I have told you about has convinced me that God has created a rich tapestry in this country – an incredible cultural diversity that succeeds when we embrace everyone in love and battle back against the dark forces of division. We're all neighbors and we must love our neighbors as ourselves," Kaine continued.
"Hillary Clinton and I are compañeros del alma. We share this basic belief, it's simple — Do all the good you can. Serve one another. That's what I'm about. That's what you're about. That's what Bernie Sanders is about. That's what Joe Biden is about. That's what Barack and Michelle Obama are about. And that's what Hillary Clinton is about," he said.
Listen to Tim Kaine's complete speech below: