Tim Keller: How to Navigate Life With God's Wisdom From Proverbs (Interview)
A new daily devotional book from Tim Keller, one of the most esteemed pastors in the United States, draws upon the book of Proverbs to help Christians navigate life with God's wisdom.
"When you actually want God to direct your life — you want to know how should I be spending my money, how should I be regarding my money, raising my children — obviously there's good stuff all through the Bible on all these things, but there's really no place that gives so much attention to every area of life" than the book of Proverbs, said Keller in a phone interview Tuesday with The Christian Post.
Keller's latest book, God's Wisdom for Navigating Life: A Year of Daily Devotions in the Book of Proverbs, which he co-authored with his wife, Kathy, is a companion of sorts to their previous devotional, The Songs of Jesus, in which they wrote daily meditations on the Psalms.
And though the two books are right next to each other in the Bible and in many people's minds they go hand-in-hand because of how they entertain wisdom and spirituality, writing a daily devotional on the Proverbs proved more challenging, the author explained.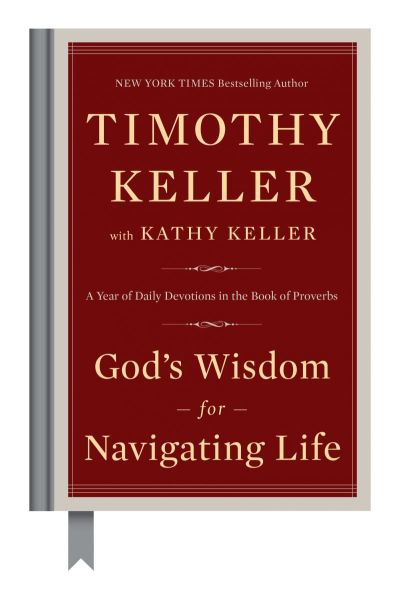 "It took two to three times more work to write the Proverbs book than the Psalms book, which we were not at all prepared for; we hadn't put aside that much time," he recalled of the writing process.
In The Songs of Jesus, the Kellers penned their meditations on four to seven verses in each of the 150 Psalms. Yet with Proverbs that is not so feasible since each of its 31 chapters includes several subjects.
"Three of them will be on words, four will be on raising children, and five will be on money. In the next chapter, the same thing will happen. It almost seems random," Keller said.
Therefore, what is required is to take everything the Proverbs say about the various themes they speak to, compare them to each other, and look at what they say in totality, he continued.
"For example, one proverb will say 'if you work very hard you won't be poor.' But about three chapters later there will be a statement that will say 'well, but you could work hard but still have people steal it from you,'" he said, paraphrasing the scriptures.
"So unless you put all those things all together you really can't see what the book as a whole [is saying] about every subject."
To account for this, Tim and Kathy spent many weeks categorizing them, and then spent more time taking them all in order to be able to exposit on the selected passage faithfully.
"Frankly, it took more wisdom to write the book on wisdom than we thought it was going to take," Keller mused.
A central theme in the book of Proverbs is showing how humanity is created by God for certain things. The Kellers note in their devotional for June 8, which highlights Proverbs 5:15-17, that the Hebrew word for "adulterous" woman the previous passage mentions literally means the "strange" woman.
"The theologians say that there is a created order, that our natures are ordered toward certain things," Keller explained to CP.
"If you buy a car and the owner's manual says not to put Diesel in the car ... what it is not saying is that if you put Diesel in someone will come along and they'll give you a fine. What they are saying is that you'll ruin the car if you put in Diesel because it isn't built for Diesel. The order of its being is such that if you put in Diesel you will disorder its design."
He continued: "So when [Proverbs] says adultery is strange, what it's actually saying is that we are built for commitment. Sex was actually God's way of saying 'I belong completely and exclusively to you for the rest of my life.' In other words, it's ordered toward marriage."
"It is in the long run against your design, it's not the way God designed life to work. And whenever you sin against God's law you sin against yourself too."
After each devotional, the Kellers include a prayer for the reader, and that was intentional, the author said.
"There's really nothing that God tells us in the Bible that it's just there to be known so we can say 'Aha, see I know that now.' You've got to get it into your heart. You've got to get it into your life."
Unlike the Psalms, which are filled with prayers and naturally incline people to prayer, Proverbs centers on thinking and the need to be wise.
"But then there's a danger where you could actually think 'as long as I've got it down, I've got it," Keller said.
The Kellers wrote each meditation beginning with commentary from Tim on the particular verse from Proverbs. Kathy turned it into an essay "because she's a better writer than me," he said, "and then I added the prayer."
Earlier this year, Keller stepped away from full-time preaching at Redeemer Presbyterian Church in New York City. As of May 20, Redeemer divided into three congregations and each parish has its own senior pastor and board of elders, but the churches collaborate extensively.
Keller is now on staff full-time with Redeemer City to City, a ministry training enterprise that coaches and funds leaders who start gospel movements in cities through church planting.