Tim Keller, John Piper, Andy Stanley Ranked Among Top 12 'Most Effective' Preachers in America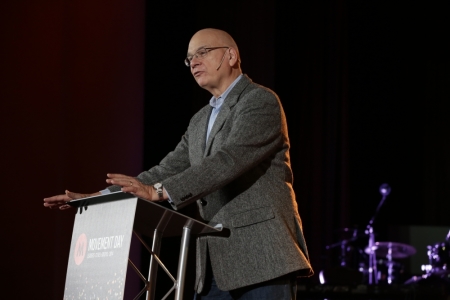 The top 12 "most effective" English-speaking Christian preachers have been named by Baylor University's George W. Truett Theological Seminary, among them are popular pastors Timothy Keller, John Piper, and Andy Stanley.
The seminary says that its top 12 list is based on a survey carried out by the Kyle Lake Center for Effective Preaching. First, a survey was sent out in February 2016 to over 500 professors of homiletics for their input on the criteria.
The experts identified seven main areas for effective preaching, listed as follows: biblical/exegetical; relevance; person of the preacher; theological/orthodox; sermon form; effective communication; and delivery.
The 12 preachers named in the resulting compilation were listed in alphabetical order this week, starting with Alistair Begg, senior pastor at Parkside Church in Cleveland, Ohio.
Some of Begg's distinctions include receiving an honorary doctor of divinity by Westminster Theological Seminary for "outstanding dedication to preaching, church leadership, and evangelism."
Next came Tony Evans, founding pastor of Oak Cliff Bible Fellowship in Dallas, Texas, who is the first African-American to earn a doctorate of theology from Dallas Theological Seminary.
The third preacher on the list was Joel Gregory, the George W. Truett Endowed Chair in Preaching and Evangelism at George W. Truett Theological Seminary of Baylor University in Waco, Texas. Gregory also serves on the Baptist World Alliance Commission on Worship and Spirituality.
Popular Redeemer Presbyterian Church in New York City founding Pastor Tim Keller came next, who is also a best-selling author.
Fifth was Thomas G. Long, the Bandy Professor Emeritus of Preaching and director of the Early Career Pastoral Leadership Program at Emory University's Candler School of Theology in Atlanta, Georgia. One of his books, The Witness of Preaching, was named by Preaching magazine as one of the 25 most influential books in the category for the last 25 years.
Sixth was Otis Moss III, pastor of Trinity United Church of Christ in Chicago, Illinois, who is also an ordained minister in the Progressive National Baptist Convention and the United Church of Christ.
John Piper, chancellor of Bethlehem College & Seminary in Minneapolis, Minnesota, came in seventh. Piper is also a best-selling author, having released more than 50 books in his career.
Next was Haddon Robinson, the Harold John Ockenga Distinguished Professor of Preaching at Gordon-Conwell Theological Seminary, who died on July 22, 2017, at 86.
Ninth was Andy Stanley, senior pastor of North Point Community Church, Buckhead Church, Browns Bridge Church, Gwinnett Church, Woodstock City Church, and Decatur City Church. Stanley also founded North Point Ministries, which is a worldwide Christian organization.
The 10th name listed was Charles Swindoll, senior pastor at Stonebriar Community Church in Frisco, Texas. Swindoll was also named as one of the 12 most-effective preachers in Baylor's original 1996 survey over 20 years ago.
Barbara Brown Taylor, an Episcopal priest, professor, author, and theologian, was the only woman on the list, at 11th, and was also included in the original 1996 Baylor compilation.
Finally, Ralph Douglas West, founder and senior pastor of The Church Without Walls in Houston, Texas, completed the list. West also serves as adjunct professor of preaching at George W. Truett Theological Seminary of Baylor University.
CNN also reported on the seminary's list, including video clips as examples of the preaching styles for each of the 12 figures.