Tim Keller: Reasons We Believe, Disbelieve Not 'Strictly Rational'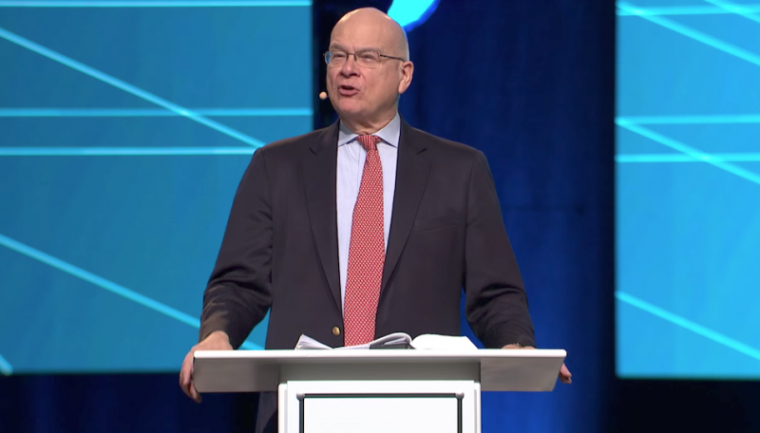 When engaging skeptics in debate, Christian apologists should remember that no one chooses their beliefs exclusively through rational reasoning, says bestselling author and pastor Tim Keller.
In an interview with Focus on the Family Radio that aired this week, Keller explained that "the reasons we believe and disbelieve are not strictly rational."
"And so, what'll often happen is, if you were hurt by a community, then their beliefs are not plausible to you. And then you come to another community and they embrace you and those beliefs are plausible to you," said Keller.
"A lot of them have to do with hurt in certain communities. So we've got our personal reasons, too. So when I find a skeptic who can hardly talk to me about the Christian faith, I realize they've been hurt or they have something going on there."
When talking with a skeptic that had bad personal experiences with church, Keller noted that "I just need to back away and not treat them as if they are little computers."
"Here's the input; here's the output, right. I gotta just stop that," continued Keller. "I'm not a Christian just simply because I sat and reasoned myself into it."
Later on in the radio discussion, Keller talked about seeing people who returned to the faith and how important having a stable family background contributed to that return.
"But I do see them coming back because if the family was a fairly functional family and the parents were loving and they had faith, it definitely stays with the young adult as the years go by," said Keller.
"It's a live option for them in a way that it might not be for somebody else. So I actually do see a fair number of people gravitate back or sort of come along back."
The discussion centered on Keller's 2016 book Making Sense of God, which centered on inviting those skeptical of Christianity to consider the faith's importance and relevance.
"As human beings, we cannot live without meaning, satisfaction, freedom, identity, justice, and hope. Christianity provides us with unsurpassed resources to meet these needs," noted the book's description on Amazon.
"Written for both the ardent believer and the skeptic, Making Sense of God shines a light on the profound value and importance of Christianity in our lives."
Keller's comments on the link between hurt and rejection of Christianity resembles the conclusions reached by Alex McFarland when interviewing skeptics for his 2011 book, 10 Answers for Skeptics.
In an interview with The Christian Post in November 2011, McFarland explained that most of his interviewees became doubters because of personal pain.
"Through nearly a year of research and numerous personal interviews, my goal was to really get 'inside the mind of the skeptic,'" said McFarland.
"The most common type of skeptics I meet are wounded skeptics. They have been hurt by church, religion, or by another Christian."