Tim Keller Thinks Evangelical Churches Can Help Skeptics by Doing This One Thing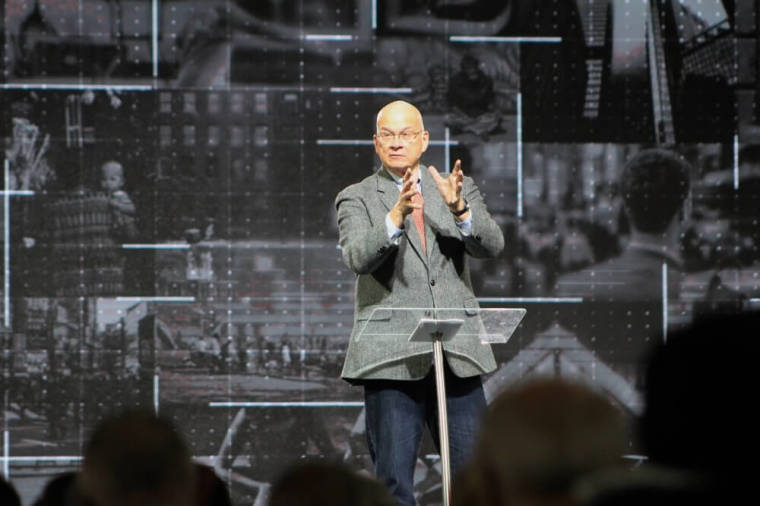 Listen. Tim Keller, founding pastor of the multi-campus Redeemer Presbyterian Church in New York City thinks evangelical churches don't do this very well.
And if they can learn to listen patiently, he thinks they might stand a better chance of effectively ministering to skeptics.
"We could do a far better job of patiently listening. And we should not talk until we can represent the skeptic's viewpoint with empathy so that a skeptic friend says, 'Yes, that is my hang up; I couldn't have put it better myself.' Then and only then should you try to talk to someone and recommend the Christian faith to them," Keller told The Huffington Post in a recent interview.
The New York Times bestselling author of The Reason for God, published in 2008 and most recently Making Sense of God: An Invitation to the Skeptical, published in September 2016, is well-known for his outreach to the religiously unaffiliated ― a growing number of Americans who identify as atheist, agnostic or "nothing in particular."
Keller, who will step down from the helm of Redeemer this summer, explained that Americans were becoming less willing to identify with a specific religion because the culture was changing and institutions are no longer seen as trustworthy.
"The best sociological explanation is that in our society people are becoming increasingly unwilling to trust or identify with any institution at all. We shouldn't, therefore, think of this as only a turning away from religion. It is actually just one aspect or result of what sociologist Robert Bellah and others called expressive individualism and the weakening of all 'strong ties' in community," he said.
"Expressive individualism insists that we define ourselves apart from family, tradition, religion, or any other external moral source. Freedom no longer is a means to an end where one is 'free to do XY and Z'. It becomes an end in itself. So now we fear staying with the same company for over five years, or we don't want to identify too strongly with political parties, or live our lives near where we were raised, or trust institutions, especially if they are very powerful or organized, and on and on," he explained.
In Making Sense of God, Keller invites skeptics to consider that Christianity is more relevant now than ever. In his discussion with The Huffington Post, he shared some of the things he has learned about skeptics over his decades-long career in ministry.
"One thing I've learned is that sociologist Peter Berger is right. The reasons for both embracing and rejecting religious faith are never merely intellectual and rational. Of course, the intellectual and rational play a role, but the reasons for all moves or paradigm shifts are also partly emotional and partly relational — dependent on positive and negative experiences with believers and nonbelievers," he said. "It is a great mistake to think that deep religious belief can't be highly rational, or to think that nonbelief can't be largely a matter of feeling and experience rather than reason."
While noting that he did not want to "over-generalize" his assessment of skeptics, he said it was a pattern he observed among the many he has engaged over time.
"I mention this pattern because I've learned a lot by processing with many people who reject religious faith because they were raised in an unusually rigid and close-minded setting. Later they find that they miss what philosopher Charles Taylor calls the 'fullness' — an assurance that life has ultimate meaning and a hope that is strong enough to get you through suffering," said Keller.
"When they realize they have lost something they begin looking in earnest for a different kind of religious faith than the one they had been raised in. Many never re-acquire faith, and some do. As I said, I don't want to give the impression I am talking about all or even most people who have rejected religion, but, at least in my experience, there are many who have experienced something like this," he added.
In the meantime, as the faithful and the skeptics work to overcome hostilities to better engage each other, Keller said they will also have to learn how to do this safely in a pluralistic context.
"Nowadays, I think the difficulty isn't just the hostility; it's also that we as a society are ill-equipped to really respect, dialogue and learn from each other when we disagree or have different political or religious views," he said. "I think many people want a pluralism that's healthy and honoring of each other's differences but we -– both the religious and the nonreligious –- don't know how to do this well."