Tim Tebow Believes Missionary Work Prepared Him for Minor Leagues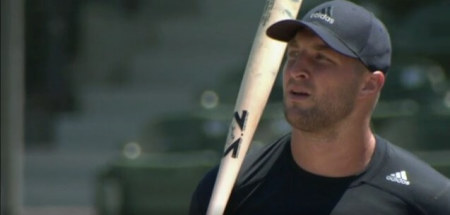 Tim Tebow's years of missionary work may have prepared him for minor league baseball.
Last week the former college football champion Tebow signed with the New York Mets instructional league and was warned about the less than lavish lifestyle that he would have to undertake. According to The Washington Post, Tebow's agent warned him about the humble grind of a minor league baseball player, one that the Christian athlete has no qualms about.
"First of all, what you need to understand is I have taken so many long jitney rides in the Philippines and Thailand and so many countries. I have taken so many bucket baths in third-world countries and had times when there's no running water, there's no electricity," Tebow said. "I'll be all right. I can handle that. I will be totally fine."
He went on to further explain some of the living conditions he has endured as recently as this summer.
"Sometime this summer, I was in the Philippines for three weeks," Tebow said. "It's not like we had the chance to take a shower every night. I'll be okay."
Tebow has had a shaky NFL career over the past few years, with a tough time getting signed since his 2012 stint with the New York Jets. However, the former NFL quarterback said he was willing to make sacrifices to pursue his baseball dreams that he has had since childhood.
"This isn't about publicity. It's definitely not about money," he told reporters earlier this month. "I took a pay cut to do this. For me, you pursue what you love regardless of what else happens. If you fail or fall flat on your face, and that's the worst thing that can happen, it's OK."
While his baseball pursuits have been the subject of jokes on social media, Tebow questioned why his pursuit of the sport was under scrutiny.
"When did pursuing what you love become such a bad thing," he asked. "I'll make all the sacrifices to be the best I can."
Jimmy Sexton, Tebow's NFL agent, has faith in the athlete doing well transitioning to baseball.
"Obviously we support Tim in his pursuit of a baseball career, as we have in all his ventures," said Sexton, according to ESPN reports. "Tim's athletic ability, his work ethic, his leadership and his competitiveness were evident in football and will show in baseball. Knowing Tim's passion and desire, we won't be surprised by anything he accomplishes."