Tim Tebow Grants Wish of Brothers Who Prayed to Have Cancer Together (WATCH)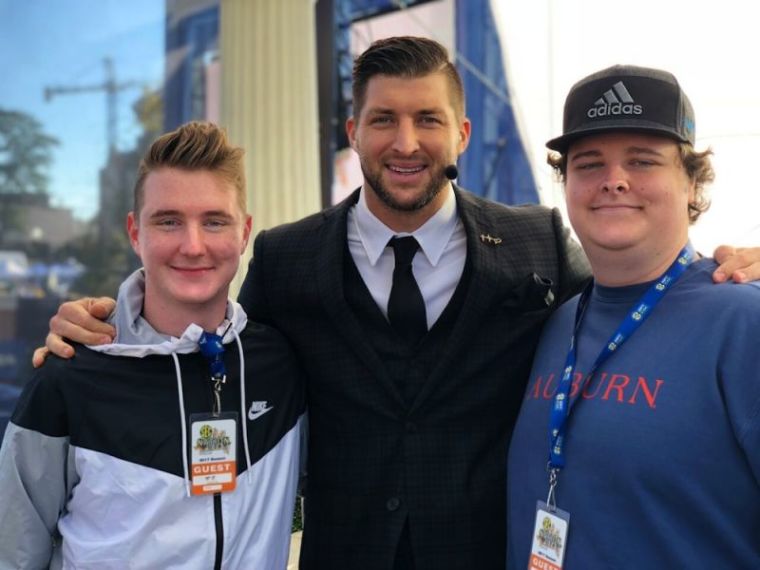 Tim Tebow's philanthropic organization is revealing how the athlete was blessed after granting the wishes of two brothers who were stricken with cancer after one prayed to experience the disease with his brother.
Preston Jackson, 22, and his brother, Parker, 19, were both diagnosed with pancreatic neuroendocrine cancer just six weeks apart last year. The siblings' father was already battling the genetic disease but when Parker was diagnosed, Preston prayed that he would be, too, so that his younger brother wouldn't have to endure those hardships alone.
Six weeks later, he received the same diagnosis. And this isn't the brothers' first health-related issue.
The brothers are also battling brain tumors and wanted a chance to meet 30-year-old professional football and baseball star.
Through the help of his Tim Tebow Foundation's W15H Program, the athlete, author, motivational speaker and philanthropist was able to make that happen last month. The boys and their family were flown to Opelika, Alabama, on a private jet, stayed in a four-star hotel and were treated to upscale dining.
They were given VIP behind-the-scenes access to the recording of ESPN college football show "SEC Nation" and got the chance to sit on the sidelines during the highly anticipated Auburn Tigers and Georgia Bulldogs game. Tebow and members of his foundation also prayed over the brothers, and surprised them with a personal lunch and gifts.
As if that were not enough, they were able to fulfill one of their dreams which was playing catch with Tebow. The athlete made those dreams come true at the Auburn University football stadium.
While Tebow's foundation was able to bless the cancer stricken brothers, the athlete insists that his charity's work also blesses him.
"One of the greatest gifts is that TTF is able to meet so many inspiring kids through our W15H program. Preston and Parker are two amazing brothers who are fighting a rare form of cancer, but are doing it with so much courage and passion," he said. "We set out to bless our W15H kids, but every time we are also blessed beyond imagination by their stories and perseverance."
This week, Tebow's foundation released a video of the events which can be viewed below.
Tebow previously told People magazine that he hopes his legacy extends beyond his accolades and reflects the people he is able to help through his foundation.
"I hope that when I'm 90 years old, I've accomplished a legacy that isn't all about me," he said. "I hope it's a legacy about the people who our foundation helps."