Tim Tebow Hopes to Impress MLB Scouts With Baseball Skills in Quest for New Career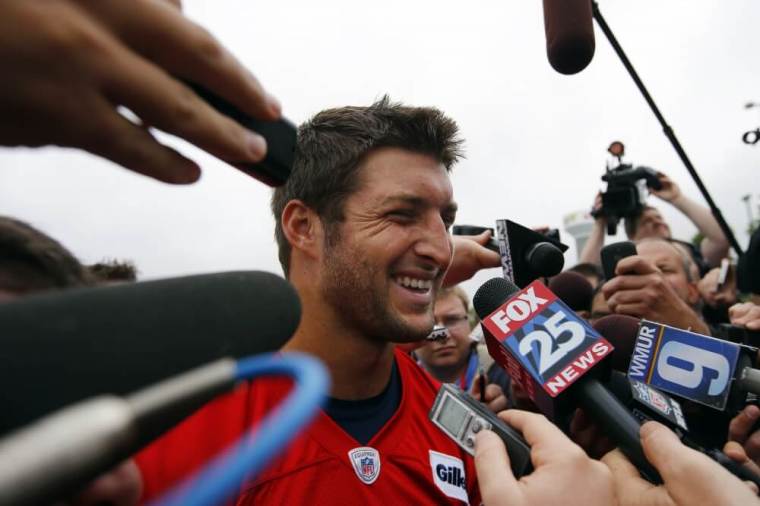 Now that former NFL quarterback Tim Tebow wants to become a professional baseball player, the sports figure is hoping to wow at least one of his MLB prospects into offering him a contract.
More than 20 MLB teams will attend the Heisman Trophy winner's workout on Aug. 30 in Los Angeles, according to ESPN.
Tebow hasn't played baseball since his junior year at Florida's Nease High where he was a 2005 all-state baseball player and hit .494 with four home runs, 30 RBIs and 10 doubles, helping the team to reach the Final Four of the state's playoffs.
According to USA Today's High School Sports, Tewbow's former high school baseball coach Greg Mullins, who coached Tebow for two seasons — including his junior year in 2005 — said of the sports figure, "Everybody should know this: He [Tebow] wasn't just a great football player, he was a great baseball player too. I believe he could have played in the big leagues."
Tebow has also received support from former MLB players Gary Sheffield and Chad Moeller.
According to ABC News, Moeller spoke highly of Tebow's MLB potential in a recent statement: "I am beyond impressed with Tim's athleticism and swing, and it goes without saying that he has shown a high level of discipline and strong work ethic. I see bat speed and power and real baseball talent. I truly believe Tim has the skill set and potential to achieve his goal of playing in the Major Leagues ... "
But not everyone is so convinced about Tebow's MLB potential.
NBC Sports' Mike Florio challenged Moeller's recent endorsement, saying Moeller was "bought and paid for."
"Tebow's bought-and-paid-for baseball whisperer, Chad Moeller, recently claimed that Tebow could thrive immediately at the highest levels of a much-harder-than-it-looks sport."
Florio quoted Moeller as saying, "He [Tebow] could pull off .220 in the big leagues right now, without doing anything else, simply because his swing's really, really good and his mental toughness is flat-out off the charts."
Forio countered saying, "If that were true, however, Tebow already would be under contract with a Major League team."
Earlier this week, Monday Morning Quarterback reported that Seattle Seahawks quarterback Russell Wilson — who played baseball in college and was drafted by the Colorado Rockies in 2010 before playing for league affiliates the Asheville Tourists and Tri-City Dust Devils — was asked if he had any advice for Tebow.
 Wilson replied: "Hope he can hit a curveball. Baseball's pretty hard."