Tim Tebow Responds to Critics Who Oppose His Pursuit of a Career in Baseball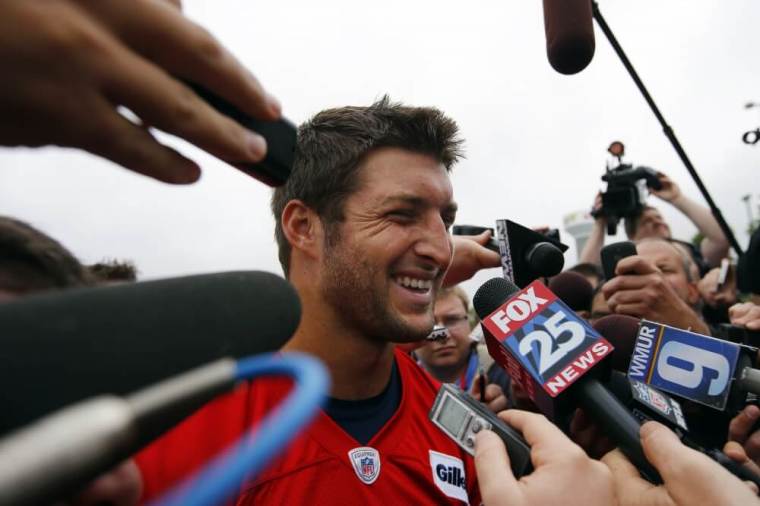 Some critics might be questioning Tim Tebow's intentions for trying to start a professional baseball career, but the former NFL quarterback insists that he's willing to make sacrifices in order to fulfill his dreams.
"This isn't about publicity. It's definitely not about money," he told reporters, according to USA Today Sports. "I took a pay cut to do this. For me, you pursue what you love regardless of what else happens. If you fail or fall flat on your face, and that's the worst thing that can happen, it's OK."
While his baseball pursuits have been the subject of jokes on social media, Tebow questioned why his pursuit of the sport was under scrutiny.
"When did pursuing what you love become such a bad thing?" he asked. "I'll make all the sacrifices to be the best I can."
Jimmy Sexton, Tebow's NFL agent, has faith in the athlete's success in transitioning to baseball.
"Obviously, we support Tim in his pursuit of a baseball career, as we have in all his ventures," said Sexton, according to ESPN. "Tim's athletic ability, his work ethic, his leadership and his competitiveness were evident in football and will show in baseball. Knowing Tim's passion and desire, we won't be surprised by anything he accomplishes."
With the pursuit of baseball becoming his priority, it seems Tebow is ready to close the book on his NFL dreams. After winning two college football championships at the University of Florida, Tebow struggled to find his place in the NFL after being drafted to the Denver Broncos in 2010.
In 2012, he signed to the New York Jets for one season but had trouble making a squad past the preseason when getting opportunities with the New England Patriots in 2013 and Philadelphia Eagles in 2015. Now, Tebow's agent says he's ready to switch sports.
Tebow is also gearing up for the release of his new book, Shaken: Discovering Your True Identity in the Midst of Life's Storms, which will be released next month.
"In Shaken, Tebow explains why neither the highs nor the lows of his life can define him — and he reveals how you, too, can find an unshakable identity and purpose," a description of the book reads, in part. "In revealing passages, Tebow pulls back the curtain on his life, sharing the vulnerable moments of his career that have shaken him to his core — while also teaching the biblical principles that will enable you to keep the faith, no matter what comes your way."