Tim Tebow Describes His Future Wife on 'Ellen'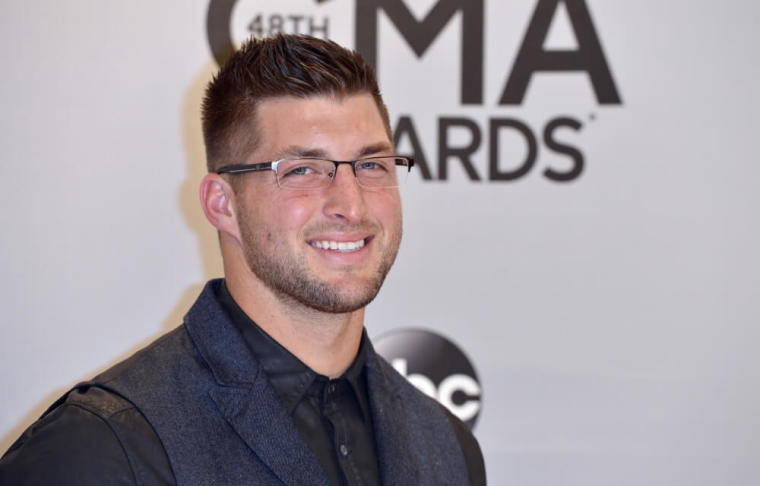 While Tim Tebow is known more for sharing his Christian faith than his private life, the NFL hopeful has told Ellen DeGeneres everything he's looking for in a dating partner and future spouse.
During a segment on "The Ellen DeGeneres Show" Wednesday, Tebow told the daytime talk show host that he was atill single, which led the audience to errupt in cheers.
After DeGeneres asked the 28-year-old SEC analyst what he was looking for in a partner, he sheepishly responded: "Obviously, someone that I'm extremely attracted to. But I think there has to be more there, there has to be depth, you know. You have to have similar beliefs, you have to have chemistry, character. But there has to be something more than just glitz and glamour."
When DeGeneres asked if Tebow dates a lot, he said, "some, yea. When I find the right one."
Last year, rumors surfaced that Tebow was romantically involved with former Miss USA 2012 Olivia Culpo. The New York Daily News reported that the rumored couple broke up on Thanksgiving Day because Culpo did not want to abstain from sex with Tebow, a virgin.
"He was really into her. He was sending her love letters and cute notes and professing his love for her," a source reportedly told the newspaper.
"She had to break up with him because she just couldn't handle it," the alleged source added. "He still hits her up, but she just can't deal with the sex thing. He's pretty adamant about it, I guess."
Subsequently, TMZ reported that those claims were false.
"Well, sources close to the situation tell us Tebow and Culpo's romantic relationship never went beyond the rumor stage. We're told the chatter started after Olivia and Tim met in church a few months ago — and even though their reps denied it, a lot of people ran with it," TMZ reported. "Our sources say Tim did show interest in Olivia, and they hung out a few times WITH mutual friends ... but never had a one-on-one date."
The athlete has previously been linked to actress Camilla Belle and reality television star Jana Duggar. In 2014, reports surfaced that Christian reality television patriarch Jim Bob Duggar wanted the athlete to date his daughter, Jana.
In 2014, Tebow was questioned about finding a wife after years of telling the public that he's a single man, and spoke about the importance of looking for more than a pretty face.
"Of course it's important to be attracted to someone, but it really needs to be about who they are on the inside. I've always been attracted to girls whose hearts are the biggest thing about them," he told People. "People can be very sweet and kind to others who can do a lot for them. I want to find a girl who will be the same person to those who can't do anything for her in return."