Tim Tebow's Book 'Shaken' Speaks to 'Trusting God When Our Lives Take an Unexpected Turn,' Says Judah Smith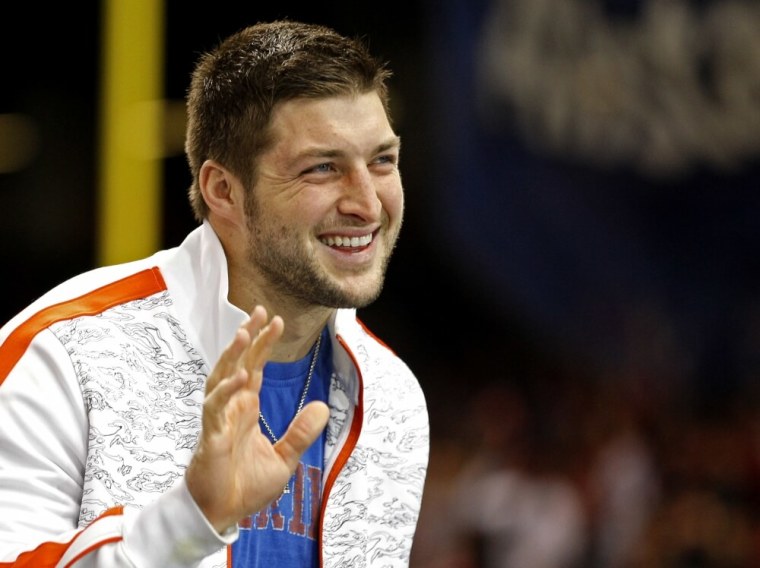 Most of the world won't get to read Tim Tebow's second book until it debuts next month, but some well known Christian pastors are already singing its praises.
Ahead of the release of Tebow's book, Shaken Discovering Your True Identity in the Midst of Life's Storms, pastors and New York Times best-selling authors Mark Batterson and Judah Smith are already giving it high marks.
"Shaken shows us a side of Tim Tebow that we've never gotten to see before," Batterson, author of The Circle Maker who heads National Community Church in Washington, D.C., said in remarks about the book. "Tim comes alongside his reader and says, 'I've been there too,' and proceeds to show us how God is faithful even when our entire lives feel shaken to the core."
Judah Smith, lead pastor of The City Church in Seattle, Washington, whose best-selling book, Jesus Is, said: "Whether or not you've followed Tim's career, Shaken speaks to something we've all had to deal with — trusting God when the plans for our lives don't work out as we expected. Tim shares his journey from the Broncos to the Jets to the Patriots and beyond with refreshing honesty. He comes alongside us as a friend and gives us hope for the days our lives take an unexpected turn."
Smith is convinced that people will finish the book having more love for the football-turned-minor league baseball player.
"Whatever Tim does he does with all his heart, and this book reflects that incredible commitment," he added. "I love Tim, and by the end of this book, you will too!"
Well known apologist and president of RZIM, Ravi Zacharias, said he was encouraged to hear about Tebow's book.
"Tim is a remarkable example of one who combines strength and boldness with kindness and compassion, and I'm always encouraged to hear of how he is using his tremendous platform to share the love and truth of our Lord with those who need it most," Zacharias said.
Shaken will be released on Oct. 25 and reveals Tebow's inner thoughts about his career disappointments and how he has overcome them all.
"In Shaken he explains why neither the highs nor the lows of his life can define him — and he reveals how you, too, can find an unshakable identity and purpose," a description of the book reads. "In revealing passages, Tebow pulls back the curtain on his life, sharing the vulnerable moments of his career that have shaken him to his core — while also teaching the biblical principles that will enable you to keep the faith, no matter what comes your way."
Tebow led the University of Florida Gators to a national championship as the team's starting quarterback in 2008, after being the first college sophomore to win a Heisman Trophy in 2007.
Although he struggled to find his place in the NFL after he was drafted by the Denver Broncos in 2010 and subsequently released and signed by the New York Jets in 2012, followed by the New England Patriots in 2013 and Philadelphia Eagles in 2015, but never made it past the preseason.
Now Tebow is embarking in a professional career in baseball, starting in the Mets' minor league team.
North Carolina Panthers quarterback Cam Newton also praised Tebow's book, saying: "Tim has always inspired me with his dedication to grow and improve in all aspects of life, especially his faith. With this book, Tim encourages readers to keep moving and stay strong while battling life's obstacles."