Tim Keller to Step Down as Senior Pastor at Redeemer Presbyterian Church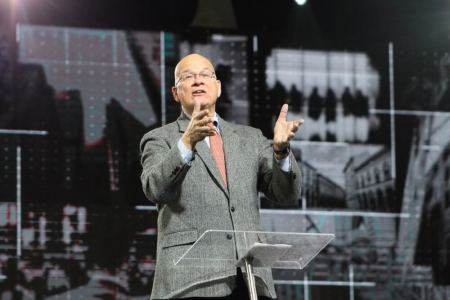 NEW YORK — After July 1, Tim Keller, founding pastor of the multi-campus Redeemer Presbyterian Church in New York City, will no longer be at the church's helm.
Bethany Jenkins, a church member who directs a faith and work initiative for The Gospel Coalition, first revealed the move in a tweet Sunday.
"Big day for @RedeemerNYC, as @timkellernyc announced he's stepping down as senior pastor as of July 1. Perfect hymn followed," she noted. The fitting hymn that followed was "Lead On, O King Eternal," according to Jenkins.
Keller, 66, started Redeemer in 1989 with his wife, Kathy, and three young sons. For more than twenty years he has led the diverse congregation of young professionals that has grown to a weekly attendance of more than 5,000.
He is also chairman of Redeemer City to City, which starts new churches in New York and other global cities, and publishes books and resources for faith in an urban culture. In over ten years they have helped launch over 250 churches in 48 cities. Keller's books, including the New York Times bestselling The Reason for God and The Prodigal God, have sold over 1 million copies and have been translated into 15 languages.
Though stepping down from his church, he noted that he wasn't retiring from ministry.
Marty Taylor, arts pastor at Church on the Move in Tulsa, Oklahoma, had wished him a happy retirement, tweeting, "Thank you @timkellernyc for the great leadership and wisdom you've brought to Christ's church. May you continue to do so in retirement!"
Keller responded, "I'm not retiring. Moving into a strategic role of raising up leaders and training the next generation."
Keller wasn't immediately available for further comment on Monday but he reportedly announced his decision at all eight Sunday services held at the three Redeemer campuses in Manhattan Sunday. He noted that he drove around to all the services on Sunday.
According to one report, Keller will work full-time teaching in a partner program with Reformed Theological Seminary. He will also work with Redeemer's City to City church planting network.
"There's a certain level of him that's going to mourn the connection with a congregation and being their pastor," Keller's wife Kathy noted in the report. "It's a loss. But there's also something very exciting that he's going to."
Jenkins explained on Twitter that Keller's move had "been years in making" and that the lead pastors of the three campuses will continue in their current positions.
"Our 3 lead pastors. They've already been leading us well for years. Seamless transition," she noted.
According to the church's website, Redeemer began the process of multiplying into three generative congregations around the city in 2011.
"These congregations, each with its own lead pastor, will be unique in some ways, but Redeemer will remain one church body located east, west and south of Central Park. As three 'sister' congregations united by our preaching," it noted.
Under Keller's leadership, the congregations were expected to develop plans for serving their neighborhoods more distinctively and on a deeper, more transforming level.
"The hope is that the three congregations will eventually multiply further into 6 to 9 neighborhood based congregations within 5 to 10 years," the church noted.
Among the things the church hopes to achieve with this move are: Long-term community development in NYC that transforms poor communities into prospering mixed income neighborhoods; new university graduates who receive training and mentoring in integrating their faith and work; affordable high quality day care and after school programs encouraging families to stay in the city long term; neighborhoods across the city openly welcoming and embracing the presence of Christian churches; churches that are resourced by world-class experts from agencies in faith and work, social justice, evangelism and community building and churches that are using gospel-based resources designed to change hearts and form new communities of believing individuals united in serving their cities with the love and hope of Christ.