Tony and Lauren Dungy Reveal Keys to Their Successful Yet 'Uncommon Marriage;' to Host Simulcast Event to Encourage Christian Couples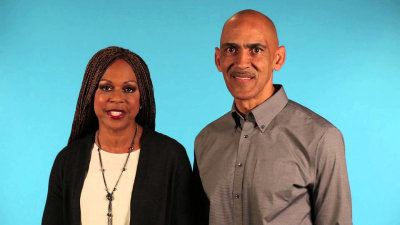 Tony Dungy, history-making NFL coach and bestselling author, has penned with wife Lauren Dungy a new book titled Uncommon Marriage: Learning about Lasting Love and Overcoming Life's Obstacles Together that gives an intimate look at how the evangelical Christian couple has managed to keep their relationship thriving for 31 years.
"We've learned there's no secret formula to a happy marriage," says Mr. Dungy in a preview video of the book. "We've walked together hand-in-hand to meet life's challenges head-on."
"We don't feel like experts, but we do have a story to share and principles we've learned that we hope can connect with issues you're experiencing in your marriage," says Mrs. Dungy.
Calling the book-writing experience a walk down memory lane, she adds, "It has given Tony and me the chance to reflect on the many experiences we've shared, and to be reminded of what a gracious and loving God we have who has walked beside us each step of our life journey together."
Uncommon Marriage, said to present "practical marriage advice that is truly uncommon," was made available this week along with the Uncommon Marriage Bible Study for couples and small groups. The Dungys, who have nine children, have also scheduled a nationwide simulcast for Saturday, March 1, specifically for churches who think members would benefit from their practical advice on equipping married couples to "survive tough issues and flourish with joy, purpose, and partnership."
Tony Dungy's previous books include Quiet Strength: The Principles, Practices, and Priorities of a Winning Life and Uncommon: Finding Your Path to Significance, both New York Times best sellers. He made NFL history in 2007 when he became the first African-American coach to lead a team (Indianapolis Colts) to a Super Bowl victory. In addition to serving as an NBC football analyst, the retired coach has founded The Dungy Family Foundation and All Pro Dad, among other nonprofits.
A description of Uncommon Marriage from publisher Tyndale is below, followed by a Q&A with the Dungys.
What does it take to build a marriage that will last? Tony and Lauren Dungy have together known the highest of highs and the lowest of lows. They fell in love, built a family, and made sports history when Tony became the first African American head coach to win the Super Bowl. Yet they've also gone through difficult, relationship-testing setbacks, including job loss and devastating personal tragedy.

In a culture where it seems harder and harder to make marriage last, what has kept the Dungys strong through it all? In Uncommon Marriage, Tony and Lauren share the secrets that hold them together, revealing what they've learned so far about being a good husband or wife; getting through times of loss, grief, or change; staying connected despite busy schedules; supporting each other's dreams and goals; and helping each other grow spiritually.