Tony Dungy Clarifies Michael Sam Comments, Gay NFL Player Reacts: 'Thank God He Wasn't The St. Louis Rams Coach'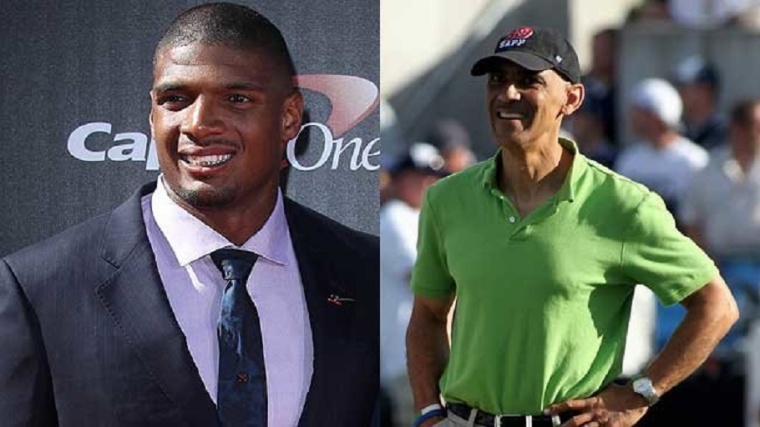 Retired NFL coach and the first African-American head coach to win the Super Bowl, Tony Dungy, clarified comments he made several weeks ago stating he wouldn't have drafted openly gay football player Michael Sam after they sparked a media storm Monday. Sam, who was drafted by the St. Louis Rams, has since reacted by saying: "Thank God he wasn't the St. Louis Rams Coach."
"I was asked whether I would have drafted Michael Sam and I answered that I would not have drafted him. I gave my honest answer, which is that I felt drafting him would bring much distraction to the team," noted Dungy in a statement Tuesday.
"What I was asked about was my philosophy of drafting, a philosophy that was developed over the years, which was to minimize distractions for my teams. I do not believe Michael's sexual orientation will be a distraction to his teammates or his organization," he said.
"I do, however, believe that the media attention that comes with it will be a distraction. Unfortunately, we are all seeing this play out now, and I feel badly that my remarks played a role in the distraction," he continued.
Dungy, who formerly coached the Indianapolis Colts and the Tampa Bay Buccaneers, told Tampa Tribune reporter Ira Kaufman weeks ago that: "I wouldn't have taken him [Sam]. Not because I don't believe Michael Sam should have a chance to play, but I wouldn't want to deal with all of it. ... It's not going to be totally smooth ... things will happen."
The comments sparked a media firestorm including excoriating comments from prominent media personalities like Keith Olbermann who tagged Dungy as "The Worst Person in the Sports World" for his position.
Sam responded Tuesday, telling Nick Wagoner of ESPN: "Thank God (Dungy) wasn't the St. Louis Rams coach (laughs). I have a lot of respect for coach Dungy. And like everyone in America, everyone is entitled to their own opinions."
In an op-ed Tuesday, ESPN writer Dan Graziano said Dungy's comments were reckless.
"Everyone is entitled to his or her opinion, but when your opinion carries as much weight as Tony Dungy's does, you have to be careful about how you wield it," he wrote.
"The harm in what Dungy has said about Michael Sam lies not in his motivation for saying it, but in the impact it could have on the league, the player and the players who would follow in Sam's footsteps. Dungy's words -- and the fact that it was someone as respected as he is who said them — serve to legitimize one of the excuses teams might have had, and might still have, for not employing an openly gay player," he added.
But in a response on Facebook to Graziano's op-ed that has been liked nearly 700 times, Thomas Hovden said: "So it is discrimination to say Michael Sam will be a distraction, but perfectly fine to say Tim Tebow is a distraction because of his faith? Funny how an agenda can choose what is OK and what is discrimination. Michael Sam will be a distraction due to the media that will follow him, just like Tebow was."