Tony Dungy: Richard Sherman's Apparent Mocking of Michael Crabtree After Interception Not Appropriate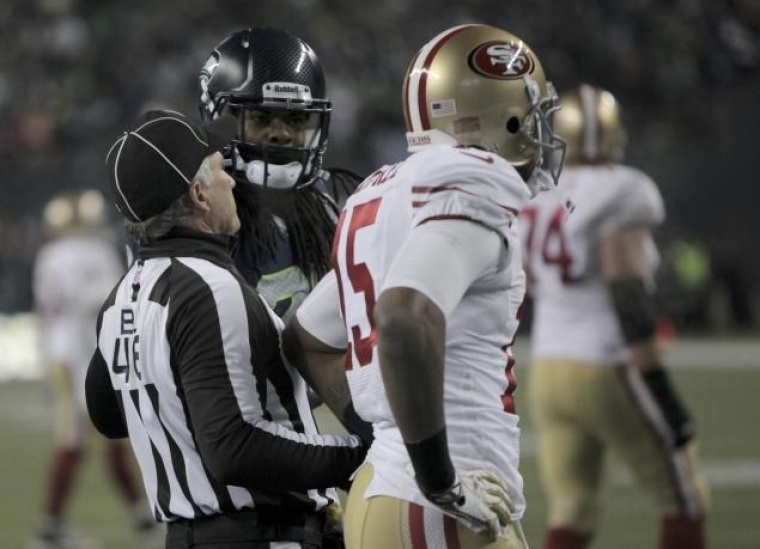 NBC Football Night in America commentator and former NFL coach Tony Dungy said he wasn't as concerned about Seattle Seahawks Richard Sherman's controversial on-field interview after the playoff game against the San Francisco 49ers as he was about the defensive back's actions immediately following his victory-saving play. Dungy, a leader in Fellowship of Christian Athletes, released a video (below) of his thoughts about the controversy on his blog on the All Pro Dad website Wednesday.
"I wasn't focused in as much on his interview as I was on what happened directly after the interception on the last play," Dungy said. "He went and really approached Michael Crabtree, appeared to be mocking him a little bit, Crabtree pushed him a little bit, and they get into a little confrontation.
"To me, that was not the time for that. I would rather have seen Richard Sherman go back to the sidelines, celebrate with your teammates, you are on your way to the Super Bowl, don't harass another player," he said.
Dungy, who was a head coach of the Tampa Bay Buccaneers from 1996 to 2001, and head coach of the Indianapolis Colts from 2002 to 2008, chose to focus on Sherman's actions prior to the on-field interview in which he was interviewed on Fox Sports by Erin Andrews and was asked to describe the play.
"I'm the best corner in the game,'' Sherman yelled. "When you try me with a sorry receiver like Crabtree, that's the result you're gonna get. Don't you ever talk about me."
Andrews then asked Sherman, who was talking about him. "Crabtree,'' he said. "Don't you open your mouth about the best, or I'm gonna shut it for you real quick."
Sherman's comments became part of a national conversation and caused more than a flurry of criticism on Twitter and Facebook. Sherman has since apologized, saying he was most concerned by the people who called him a thug.
Dungy said that he would have rather seen Sherman talk about how good he is after celebrating with his teammates.
"I'm all for that, [however] that's not my style, that's not what I would recommend, but I think that was his platform to do it," the Super Bowl winning coach with the Colts in 2008 said. "But I just didn't like the fact that when your opponent is devastated like Crabtree was, that's not the time to get in their face. I thought he should have showed a little more class."
Since his retirement, Dungy has been an active community leader with All Pro Dad, Fellowship of Christian Athletes and The Boys and Girls club. He and his wife, Lauren, have eight children. Dungy's new book, Uncommon Marriage: Learning About Lasting Love and Overcoming Life's Obstacles Together, is scheduled for release on Feb. 4.