Top 10 Highlights From Trump's First State of the Union Speech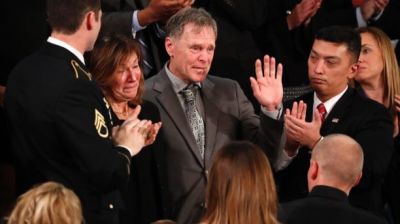 10. North Korea, the most "brutal dictatorship" of them all
Trump said that government oppression does not get any worse than North Korea, a country which has been listed for years by persecution watchdogs, such as Open Doors USA, as the worst place in the world for Christians and other minorities.
The president touched upon Kim Jong Un's "reckless pursuit of nuclear missiles," which he admitted "could very soon threaten our homeland," and shared the stories of Americans and other nationals who have suffered horrifically at the hands of Kim's regime.
The first story he mentioned was about Otto Warmbier, a University of Virginia student who was charged with crimes against the state while visiting North Korea, and sentenced to 15 years of hard labor. He was returned to America last year on the verge of death, and passed away days after his return, displaying signs of torture.
Another witness he brought up was Ji Seong-ho, who endured starvation with his brothers and sisters while growing up in North Korea, and was tortured by officials after returning from a visit to China, when he was suspected of meeting with Christians.
"Seong-ho traveled thousands of miles on crutches across China and Southeast Asia to freedom. Most of his family followed. His father was caught trying to escape, and was tortured to death," Trump described, adding that today he lives in Seoul.
"Seong-ho's story is a testament to the yearning of every human soul to live in freedom," he said.
The full transcript of Trump's SOTU address can be found here.