Top 10 Highlights From Trump's First State of the Union Speech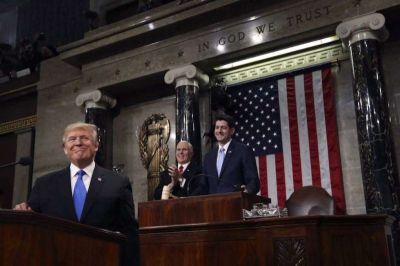 1. MAGA is a "righteous mission"
Trump started his speech by telling Congress his administration has been focused from the very beginning, ever since he first stood at the House chamber almost a year ago, on delivering the promises of his famous MAGA slogan:
"Each day since, we have gone forward with a clear vision and a righteous mission — to make America great again for all Americans."
"Over the last year, we have made incredible progress and achieved extraordinary success. We have faced challenges we expected, and others we could never have imagined," he added.
"We have shared in the heights of victory and the pains of hardship. We endured floods and fires and storms. But through it all, we have seen the beauty of America's soul, and the steel in America's spine."