CP's top 10 most popular stories of 2018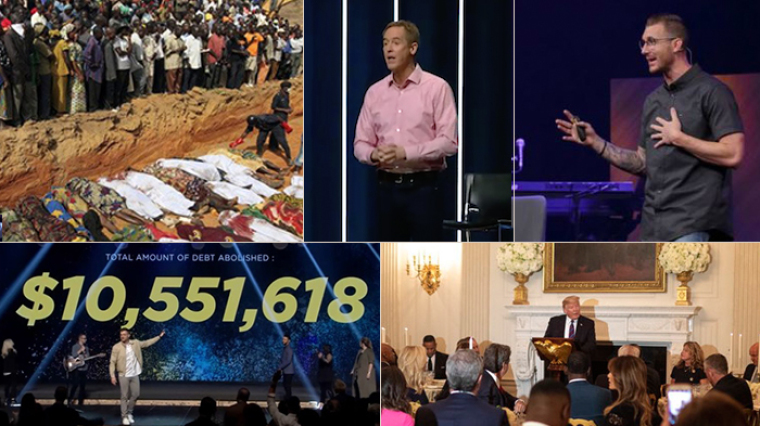 The Christian Post has put together its list of most-read stories in 2018.  They ranged from theological issues and generosity to tragedies around the world. Here are the top 10 most popular stories:
10. White House hosts 100 evangelical leaders for state-like dinner: 'This is spiritual warfare'  
President Donald Trump hosted some 100 evangelical pastors and leaders at the White House ahead of the midterm elections. During the August dinner, Trump thanked them for their support while also highlighting all the promises he has kept.
Conservative evangelicals have continuously weathered criticism for their support of Trump but many have argued that Trump has indeed fulfilled his promises and that if asked, they would not refuse a seat at the table in order to provide their perspectives and counsel on issues.
9. David and Tamela Mann release R&B album offering Christian couples clean music to 'make love' to 
Many readers found news of this love-making album by gospel artist Tamela Mann and her husband refreshing.
Us Against the World serves as a Christian alternative to otherwise "nasty love music."
"It's about music to make love, not to have sex," David Mann said.
8. Televangelist Benny Hinn admits going too far with prosperity gospel in wake of Billy Graham's death 
In a surprising statement after the passing of evangelist Billy Graham, controversial televangelist Benny Hinn confessed that some, including himself, have "gone to the extreme" in preaching the prosperity gospel.
While arguing that "prosperity" is in the Bible, Hinn admitted that not everything he learned from preachers during his younger days was biblical.
Hinn also rejected the commonly held notion that he flies private jets. He flies commercial, he said.
7. Texas megachurch pays off over $10 million in medical debt for 4,229 families this Easter 
In a generous move, Covenant Church in Texas decided to redirect funds that it would have otherwise spent on Easter advertising to pay off the medical debt of thousands of families.
More than 4,000 families became free of medical debt that totaled over $10.5 million.
This was done by donating $100,000 to an organization that purchases medical debt for pennies on the dollar.
6. Canadian man faces 2 years in prison for passing out Jesus saves pamphlets at gay pride parade 
This past summer, a Christian bus driver in Toronto was charged with a "hate crime" for something he did two years ago — hand out pamphlets at a gay pride parade that said homosexuality is associated with STDs and could lead to "eternal peril."
Bill Whatcott was sued, fired from his job and jailed for four days.