Trump Defends Pope's Handling of Catholic Sex Abuse Crisis: 'The Best Anyone Can Handle It'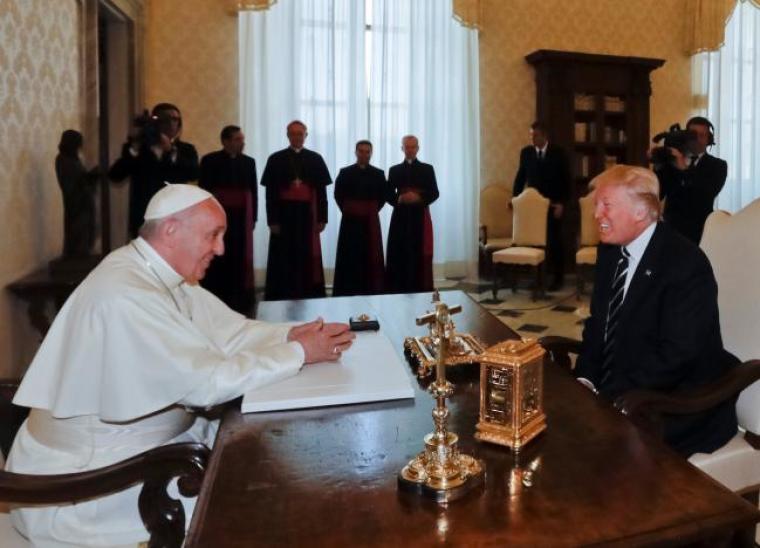 President Donald Trump has seemingly defended Pope Francis' handling of the Catholic Church's sexual abuse crisis.
As Pope Francis continues to face mounting pressure over accusations that he was made aware of Cardinal Theodore McCarrick sexual misconduct years ago, Trump told The Daily Caller in an interview in the Oval Office that he believes the Pope has handled the situation as well has he could.
"[T]he Pope is handling it, I guess the best anyone can handle it," Trump was quoted as saying. "How is he going to handle it?"
Trump added that the whole saga that gained national attention most recently after the release last month of a grand jury report on the sexual abuse crisis within the Catholic Church in Pennsylvania is "sad." The report highlighted 300 predator priests and implicated prominent archbishops accused of mishandling reports of abuse within the church.
"It's so sad to watch," Trump said.
The president added that given "the numbers, the length of time ... going back 70 years," he thinks "it's having a really negative impact on the Catholic Church."
"To me it's one of the sadder stories because I respect so much the Catholic Church. And to me it's a very sad story," he stated.
Trump also commented on McCarrick, who served as the archbishop of Washington during the 2000s. MacCarrick resigned from the College of Cardinals in July after he was accused of sexually abusing children and seminarians for decades. Pope Francis also ordered McCarrick to a "life of prayer and penance."
The president was a bit shocked by the accusations against McCarrick.
"I'm surprised at McCarrick," Trump said. "[E]veryone knew him and so incredible to see these things. It's devastating for the Catholic Church."
Trump's remarks on the Catholic Church comes after Pope Francis drew the ire of Trump during the 2016 Republican presidential primaries by suggesting that Trump or any politician who would build walls to separate people at the border was not a Christian.
Pope Francis and Trump met face-to-face last May when Trump visited the Vatican during an overseas trip in which he also visited Saudi Arabia and Jerusalem.
Last week, female Catholic leaders signed onto a letter sent to Pope Francis asking for answers to questions surrounding Archbishop Carlo Maria Viganò's recent 11-page letter.
Viganò claimed that Pope Francis had removed sanctions enacted against McCarrick by Pope Benedict XVI and made McCarrick his "special counselor," even though the Pope knew "knew from at least June 23, 2013 that McCarrick was a serial predator."
"Several crucial questions raised by Archbishop Viganò's statement, however, require neither lengthy investigations nor physical evidence," the letter reads. "They require only your direct response, Holy Father."
The letter has been signed by over 35,000 people and was an effort led by Catholic professors, businesswomen, scholars and theologians.
The letter voiced concern about the way in which Pope Francis responded when reporters asked him last week about Viganò's statement. Pope told the media that he "will not say a single word on this" and told reporters to "read the statement carefully and make your own judgment."
"To your hurting flock, Pope Francis, your words are inadequate," the letter warns. "They sting, reminiscent of the clericalism you so recently condemned. We need leadership, truth, and transparency. We, your flock, deserve your answers now."
Specifically, the letter asks the Pope if Viganò's claim was true that he was told in June 2013 that Cardinal McCarrick had "corrupted generations of seminarians and priests" and that "Pope Benedict ordered him to withdraw to a life of prayer and penance."
"Is this true? What did Archbishop Viganò convey to you in June 2013 about then-Cardinal McCarrick?" the letter asks. "When did you learn of any allegations of sexual abuse or sexual misconduct with adults by then-Cardinal McCarrick?"
The letter also calls on the pontiff to clarify when he learned of Pope Benedict's restrictions on McCarrick and asks the Pope to confirm or deny if he released McCarrick from any previous restrictions.
The letter asked the Pope not to keep the Church's faithful at "arm's length on these questions."
"We are faithful daughters of the Church who need the truth so we can help rebuild," the letter assures. "We are not second-class Catholics to be brushed off while bishops and cardinals handle matters privately. We have a right to know. We have a right to your answers."
In his Monday morning homily, the Pope seemingly addressed the situation by stating that "silence" and "prayer" is the way to respond to "people who only seek scandal."