Trump Defends Roy Moore Despite Sexual Misconduct Allegations: 'He Totally Denies It'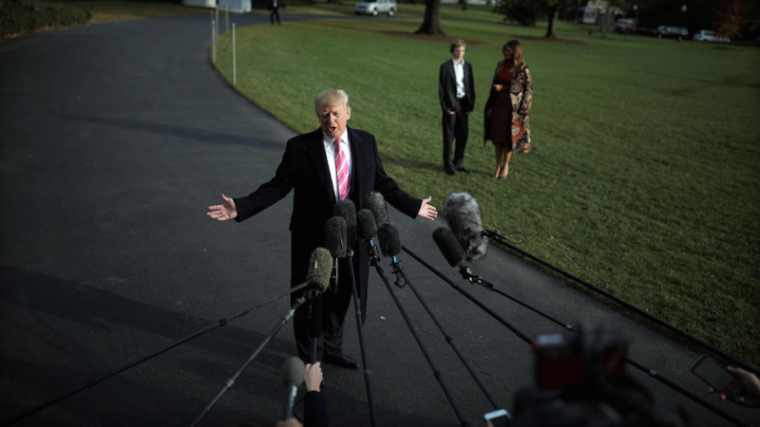 President Donald Trump defended embattled U.S. Senate candidate Roy Moore on Tuesday, saying the Alabama Republican had denied allegations of sexual misconduct and emphasizing that he did not want Moore's Democratic opponent to win.
Trump has previously said that Moore should step aside if the allegations were true.
Trump, speaking to reporters at the White House before leaving Washington for Florida, left open the possibility of campaigning for Moore, saying he would make an announcement on that next week.
"Roy Moore denies it, he totally denies it," Trump said.
Trump's position is a break from that of other national Republicans. Republican U.S. Senate Majority Leader Mitch McConnell and other prominent lawmakers have pressed Moore to quit the race.
Trump's comments represent a shift in strategy by the White House, which has largely tried to keep its distance from the Moore controversy.
White House spokeswoman Sarah Sanders has said repeatedly that Alabama voters should decide the election, and Trump stood by his position that Moore should step aside if the allegations were true. The White House also backed the Republican National Committee's decision to withdraw support for the controversial former state Supreme Court chief justice.
Moore's campaign has been in turmoil since the Washington Post published a story detailing the accounts of three women who claim he pursued them while they were teenagers and he was in his 30s. More women have since spoken out with allegations of their own.
Moore, 70, has denied any wrongdoing.
Reuters has been unable to independently confirm any of the accusations.
Before the allegations came to light, Moore was heavily favored to defeat Democrat Doug Jones, a former federal prosecutor, in the special election on Dec. 12.
Republicans are eager to hold on to their slim 52-48 majority in the Senate.
Trump said he did not want Jones to win. "We don't need a liberal person in there, a Democrat."
He added: "Roy Moore denies it. That's all I can say. And by the way, he totally denies it."