Trump Denies Telling Soldier's Grieving Widow 'He Knew What He Signed Up For'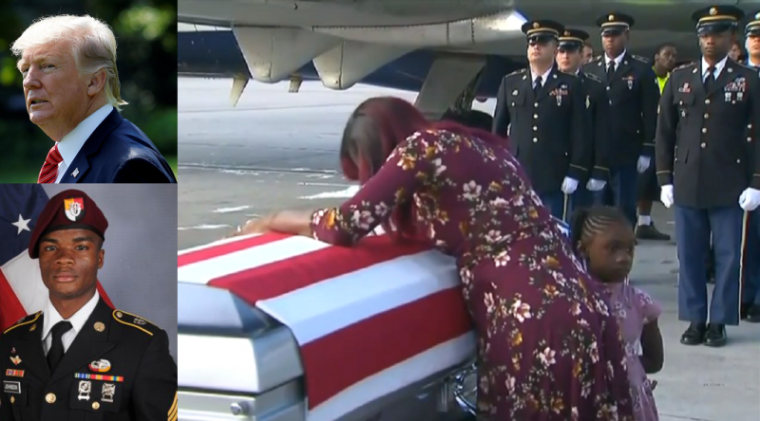 President Donald Trump denied claims Wednesday morning that that he told Myeshia Johnson, the grieving widow of Sgt. La David Johnson who was among four U.S. soldiers killed by enemy fire during an October 4 ambush in Niger that he "knew what he was signing up for."
"Democrat Congresswoman totally fabricated what I said to the wife of a soldier who died in action (and I have proof). Sad!" Trump said in a tweet at 6:25 a.m. that has since gone viral.
Rep. Frederica Wilson, D-Florida, told CNN that the 24-year-old widow and her family were on their way to receive her husband's remains when President Trump called and engaged her in conversation for about five minutes.
"Basically he said, 'Well, I guess he knew what he signed up for, but I guess it still hurt,' " Wilson told Don Lemon, who said she listened to part of the call on speaker phone while in a vehicle with the family.
Earlier on Tuesday, Wilson insisted to ABC 10 that: "Yeah, he said that. So insensitive. He should have not have said that. He shouldn't have said it."
Responding to Trump's denial on Wednesday morning, Wilson further explained on CNN that she also had proof including witnesses to the heartbreaking conversation the president had with Myeshia Johnson.
"Well I don't know what kind of proof he could be talking about. I'm not the only person that was in the car. And I have proof too. This man is a sick man. He's cold-hearted and he feels no pity or sympathy for anyone. This is a grieving widow. A grieving widow who is six months pregnant. This is a young woman. She's only 24 years old," Wilson said.
According to ABC 10, president Trump called the young widow who also has a 2-year-old son and 6-year-old daughter with her late husband, about 4:45 p.m. The call occurred shortly before the late soldier's remains arrived at Miami International Airport on a commercial Delta Airlines flight about 5:15 p.m. Tuesday.
News of the call has since sparked angry responses from veterans and other supporters on social media.
Nearly $300,000 has been contributed in just one day to a GoFundMe campaign established to raise money to support scholarships for Sgt. Johnson's children as of Wednesday.
"Mrs. Johnson, your fellow Americans are grateful for your husband's service and sorry for your loss. We don't want you to have to worry about paying for your children's education," wrote one donor Debbie Ryan.
Others donors such as Gerald Eastman did not hold back their disdain for Trump's alleged conversation with Myeshia Johnson.
"Thanks for your sacrifice for our nation, even though his Commander in Chief, our so called president, obviously doesn't give a d**n, likely because of his race. May you and your three children with La David prosper and follow the example of their exemplary American hero father, may the pain of your tremendous loss dim with time, and may you find some measure of the great love you lost in the future," Eastman wrote in part.
Trump's controversial call comes a day after he criticized former President Obama for not always reaching out to the family of fallen soldiers. A claim he later backtracked on, saying he didn't know whether Obama called families. 
The president was questioned about why he hadn't contacted the families of victims of the Niger attack and he said: "If you look at President [Barack] Obama and other presidents, most of them didn't make calls. A lot of them didn't make calls. I like to call when it's appropriate, when I think I am able to do it," Trump said Monday.
"They have made the ultimate sacrifice. So generally I would say that I like to call. I'm going to be calling them. I want a little time to pass. I'm going to be calling them."